Rick And Morty Season 4 Just Added A Bunch Of Incredible Guest Stars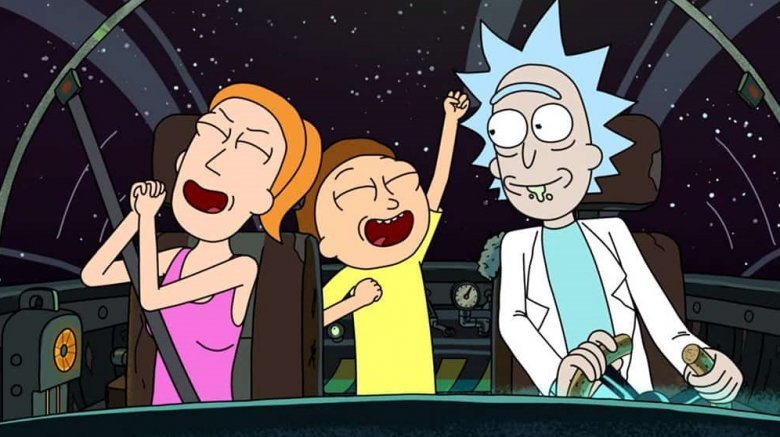 Wubba lubba dub dub! Rick and Morty has tapped a sterling selection of stars to appear on its upcoming fourth season. 
Speaking with Entertainment Weekly, series co-creator Justin Roiland revealed that four big-name actors are lending their pipes to Rick and Morty season 4, due out on Adult Swim this November. 
The foursome of Hollywood heavyweights guest-starring on the fourth season of Rick and Morty are Billions actor Paul Giamatti, Thor: Ragnarok (and Thor 4) director Taika Waititi, Academy Award-nominated actress Kathleen Turner, and New Zealander actor Sam Neill. 
Both Roiland and fellow Rick and Morty mastermind Dan Harmon kept mum about the characters Giamatti and Turner will play, but Roiland did offer a small nugget about what Neill will get up to on Rick and Morty season 4 — or, rather, what he won't be doing. He also teased something juicy about Waititi's role on the new season.
Asked if Neill will riff off his Event Horizon or Jurassic Park characters Dr. William Weir and Dr. Alan Grant, Roiland confirmed that he wouldn't. He then revealed that Neill's character and Waititi's character are members of the same species — which makes sense because both men are from New Zealand. As Roiland explained, "We wanted a Kiwi flavor to their species."
It's anyone's guess whether these four Rick and Morty season 4 guest stars will be humans, aliens, robots, or some kind of terrifying mix of all three that the strung-out alcoholic scientist Rick Sanchez (Roiland) and his neurotic grandson Morty (also Roiland) encounter on their next round of adventures. Based on Roiland's comments, it's likely that Neill and Waititi are playing otherworldly creatures, while Giamatti and Turner might provide their unmistakable voices to larger-than-life characters that give Rick and Morty a real tough time in space. 
In any case, Rick and Morty season 4 is shaping up to be something quite incredible with these new additions — which is promising, relieving, and more than welcome after a years-long wait between seasons and some less-than-fantastic storylines that unspooled on season 3. We may not know much about the fourth season of the eccentric sci-fi series, but one thing's for certain: it's coming back soon and clearly isn't playing around. 
Tune into Rick and Morty season 4 on Adult Swim this November. If you want to get off your couch and in on the action, enter the contest to become a character on the upcoming season.