Late SpongeBob SquarePants Creator Made A Secret Cameo On Every Episode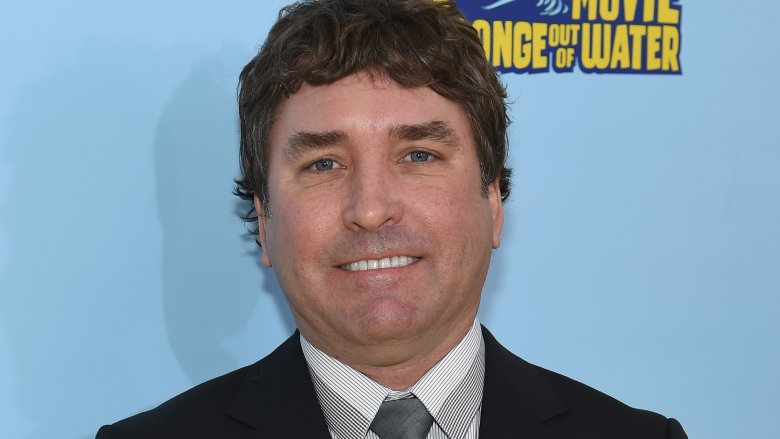 Dimitrios Kambouris/Getty Images
 Stephen Hillenburg's memory will live on forever. 
The late SpongeBob SquarePants creator, who sadly passed away in November of 2018 following a battle with ALS, made a secret cameo appearance on each and every episode of his massively successful animated series — and he'll continue to make that same cameo until the series ends.
At the show's presentation at San Diego Comic-Con 2019, the SpongeBob SquarePants "SpongeBob's Big Birthday Blowout!" 20th anniversary panel, it was revealed that Hillenburg appears in the series' title sequence as the mouth and the lips of the pirate painting who sings the catchy tune that kicks off each new story (via Entertainment Weekly). 
Squidward Tentacles voice actor Rodger Bumpass shared, "I don't know if its common knowledge or not, but when you see the opening and there's that painting of the pirate and there's lips moving, that's Stephen."
Tom Kenny, who lends his pipes to the chipper yellow sponge SpongeBob SquarePants on the classic Nickelodeon show, added that he thinks someone found the painting in a random thrift store, bought it at a reduced price, and brought it to the studio. Though the painting apparently didn't appear to be anything special, the SpongeBob SquarePants crew clearly found meaning in it, and used it to immortalize the man who brought the underwater adventure to life. 
Elsewhere during the series' Comic-Con panel, the cast took time to remember Hillenburg and honor the bright, unmatched talent he was. 
"SpongeBob has conquered the world. He's in every county on earth, he's on every conceivable product he can be on, but... it just reminds me of a time when SpongeBob only existed in Stephen Hillenburg's desk drawer," said Kenny. "I remember when he had me come over to his place and said, 'I'm thinking about pitching this to Nickelodeon,' and he took out that, it was just like, wow. It blew my mind. I'd never wanted to be in a show so bad."
Bill Fagerbakke, the voice of SpongeBob's dim-witted starfish best friend Patrick Star, added (via Variety), "SpongeBob to me represents Steve in a really profound way. The nature of that character is what the whole show is built on and so it's kind of built on his spirit in that way."
Just as Hillenburg is a part of SpongeBob forever, the series will endure through pop culture for years to come and be remembered as one of the best animated series to ever come out of Nickelodeon. Currently in its 12th season with a 13th one already ordered, SpongeBob SquarePants is branching out into new territory to continue telling tales in Bikini Bottom. Where the core series centers on the eponymous Krusty Krab fry cook who can't drive a boat to save his life, its forthcoming spin-off series tentatively titled Kamp Koral winds the clock back to when SpongeBob was just 10 years old and having fun with his friends at summer camp — without a burger grill or a boating school in sight.
Kamp Koral doesn't yet have a release date, but SpongeBob SquarePants is still rolling out new episodes on Nickelodeon.