SpongeBob Squarepants Creator Stephen Hillenburg Dies At 57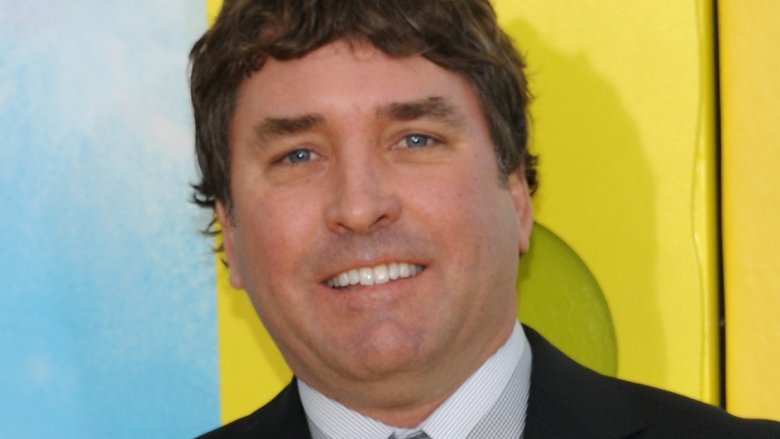 Getty Images
Stephen Hillenburg, the creator of the long-running Nickelodeon animated series SpongeBob Squarepants, has died. The Hollywood Reporter confirmed that he passed away on Monday, November 26 after a battle with the progressive neurodegenerative disease ALS (amyotrophic lateral sclerosis). He was 57 years old. 
Hillenburg revealed his ALS diagnosis in March of 2017. "I wanted people to hear directly from me that I have been diagnosed with ALS," he announced in a statement. "Anyone who knows me knows that I will continue to work on SpongeBob SquarePants and my other passions for as long as I am able. My family and I are grateful for the outpouring of love and support. We ask that our sincere request for privacy be honored during this time."
Word of Hillenburg's death was made public on Tuesday, November 27, when Nickelodeon released a statement that morning. 
"We are incredibly saddened by the news that Steve Hillenburg has passed away following a battle with ALS," the company stated (via Variety). "He was a beloved friend and long-time creative partner to everyone at Nickelodeon, and our hearts go out to his entire family. Steve imbued SpongeBob SquarePants with a unique sense of humor and innocence that has brought joy to generations of kids and families everywhere. His utterly original characters and the world of Bikini Bottom will long stand as a reminder of the value of optimism, friendship and the limitless power of imagination."
Nickelodeon also paid tribute to Hillenburg on social media. "We are sad to share the news of the passing of Stephen Hillenburg, the creator of SpongeBob SquarePants. Today, we are observing a moment of silence to honor his life and work," the company's Twitter account shared, beginning and ending the tweet with yellow heart emojis. 
Before gaining international fame with SpongeBob Squarepants, Hillenburg earned a degree in natural resource planning and interpretation at Humboldt State University in Northern California. He focused his studies on marine resources, something that helped him land a job at the Orange County Marine Institute, where he taught marine biology. During his time there, Hillenburg wrote an informative comic book called The Intertidal Zone and discovered his love for animation. 
Hillenburg eventually left teaching to study animation — specifically experimental animation — at the California Institute of the Arts. There, he created the animated shorts The Green Beret and Wormholes, both released in 1992. 
In 1993, Hillenburg began his professional relationship with Nickelodeon when he joined the company's ranks as a writer and director of Rocko's Modern Life, the series created by Joe Murray, whom Hillenburg met at the 1992 Ottawa International Animation Festival while debuting Wormholes alongside Murray's own short My Dog Zero. 
"I was planning on being a starving artist. ... [I spent] several thousand dollars to make a film and [realized] I may not make it back — I had loans out. Fortunately, Joe Murray saw my film at Ottawa and a couple of my shorts and he took a huge chance," Hillenburg explained in a 2009 interview with Comic Riffs. "It was like perfect timing."
Hillenburg eventually became the creative director of Rocko's Modern Life. While working on Rocko's Modern Life and in the time after the series concluded in 1996, Hillenburg focused his attention on developing The Intertidal Zone into a television series featuring the same concept, after Murray had encouraged him to do so. 
A few years and plenty of brainstorming sessions later, SpongeBob Squarepants was born — based on the original Intertidal Zone character Bob the Sponge. 
"'I wanted to do a show about a character that was an innocent, and so I focused on a sea sponge because it's a funny animal, a strange one. I thought he was a funny, nerdy, squeaky-clean square," Hillenburg told The New York Times in 2001. "It finally dawned on me that if I was going to do my own show, all those things I lectured about and obsessed about would make for an interesting world." 
SpongeBob Squarepants premiered on Nickelodeon on May 1, 1999, and has been running ever since. The series centers on the titular talking sponge (voiced by Tom Kenny), who works as a fry cook at the Krusty Krab; his pet snail Gary; his brainless best friend Patrick Star (Bill Fagerbakke); his curmudgeonly neighbor Squidward Tentacles (Rodger Bumpass); his cheapskate boss Eugene Krabs (Clancy Brown); his Southern scientist squirrel friend Sandy Cheeks (Carolyn Lawrence); his sometimes-foe, sometimes-friend Plankton (Mr. Lawrence); and his paranoid driving instructor Mrs. Puff (Mary Jo Catlett). The characters embark on all kinds of kooky adventures across their underwater town of Bikini Bottom. 
In its nearly 20 years on television, SpongeBob Squarepants has earned four Emmy Awards, two BAFTA Children's Awards, eight Golden Reel Awards, 15 Kids' Choice Awards, and a host of other accolades. Hillenburg himself received nine Emmy nominations — in the Outstanding Children's Program, Outstanding Animated Program (For Programming Less Than One Hour), and Outstanding Short Form Animated Program categories — for his work on SpongeBob Squarepants. 
The SpongeBob series spurred two feature films, The SpongeBob SquarePants Movie in 2004 and The SpongeBob Movie: Sponge Out of Water in 2015, as well as a Tony-winning stage adaptation, SpongeBob SquarePants: The Broadway Musical, which ran for 327 shows on Broadway before wrapping this September. 
Hillenburg's survivors include his wife, Karen, and his son, Clay. He's also survived by his mother, Nancy; his brother and sister-in-law, Brian and Isabel; and their children, Emma and Hazel.
Our thoughts are with Hillenburg's loved ones during this difficult time of mourning.