When Will Rick And Morty Season 5 Happen?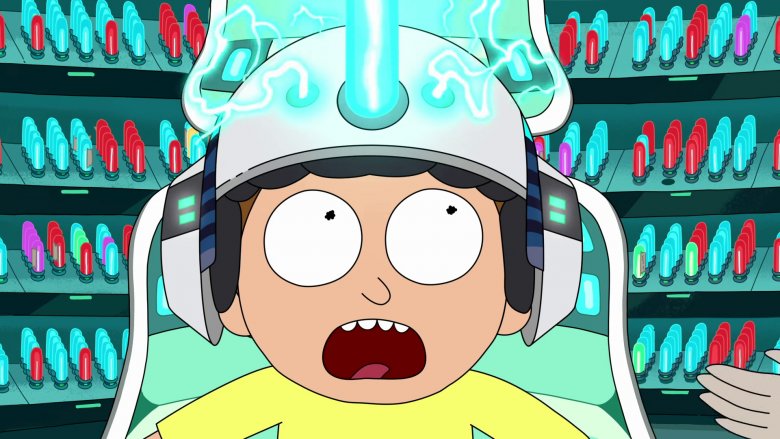 Rick and Morty season 4 is coming our way in November, but months ahead of that fated premiere date, fans have started to question when season 5 of the animated sci-fi series might happen. Co-creators Dan Harmon and Justin Roiland have an answer — and it's bound to make Rick and Morty loyals grin from ear to ear. 
Chatting with Entertainment Weekly in preparation for the Rick and Morty panel at this year's San Diego Comic-Con, Harmon and Roiland confirmed that the wait for new seasons of the series will "never" be as long as the two-year-plus gap between seasons 3 and 4. They also revealed that – gasp! – Rick and Morty season 5 is being written as we speak, and they're "rolling right into the next batch" of episodes. 
Roiland said that the "plan has always been to get [seasons] out quicker" after all the behind-the-scenes troubles that caused multiple setbacks in the production of Rick and Morty season 4. Harmon agreed, assuring that while he isn't sure how quickly he and Roiland can complete the fifth season of Rick and Morty, he knows the wait will "never be this long again." 
"There were so many things that had to be settled before we even started season 4, and it's really safe to say — as Justin says — we're literally writing season 5 while finishing season 4 just to force ourselves to commit to a certain schedule. Not to get anyone's hopes up, but it is structured into our deal that if we're going strong and fast there are options to deliver more episodes at a time," explained Harmon. "Adult Swim can say, 'These are on time and great. Do you want to do more instead of taking a break?' And we can then do more. I'd like to see that day. Just knowing it's possible makes me eager for it. I feel like a naughty boy when I'm late."
It's evident that the end-goal on which Harmon and Roiland have their eyes firmly fixed is a simple one: make kickass content that fans will truly enjoy. The third season of Rick and Morty infamously struggled with its storylines, a fact which the creative duo at the center of it all have acknowledged. In addition to all the contract negotiations and decision-making that held up the fourth season, the desire to grow, evolve, and make the series as good as it possibly can be moving forward was a reason for the wide berth between seasons. 
"Every single season there's a little bit of anxiety: Now what's our definition of having fun and being good? Are we going to continue to be difficult on ourselves because that seems to be an ingredient in the quality? It's our job to relax and be happy — because that's another huge ingredient. I think that happens on every show, but it's just weird when your job is to continue churning out something that you are proud of for its scarcity," said Harmon. "You never want to lose sight of your job. Every season you feel like your job is never the same."
Added Roiland, "We want every episode to be good. There are times we're like, 'Okay, this one will be the worst of the season,' and we're still compelled to do everything in our power to fix what we think is wrong with it. It could be considered one of the reasons the show takes so long. When we get the episodes back in color, it's easy to see if that we cut this and add that, it will elevate this episode significantly. Sometimes we get them back and are like, 'We need to roll our sleeves up and figure this out.' This season's been good. Pretty excited about this season."
Overall, it sounds very much like Harmon and Roiland have finally found their sweet spot when it comes to creating satisfying seasons in a more timely manner. Fans may have had to endure an agonizing wait for season 4, but they can sleep peacefully knowing that's the last time they'll ever have to suffer for Rick and Morty. 
The fourth season of Rick and Morty, confirmed to be 10 episodes long, will premiere on Adult Swim sometime in November. As soon as we hear any developments about Rick and Morty season 5, we'll update you.