Quentin Tarantino Admits This 'Loophole' Might Exclude Star Trek From His 10-Movie Rule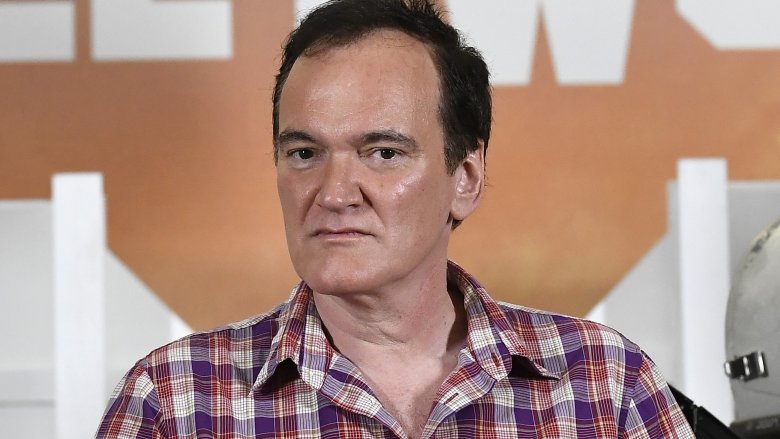 Kevork Djansezian/Getty Images
Cineastes of the world rejoice, because Quentin Tarantino may not be retiring quite as soon as we feared.
Yes, you read that right, kids. Per a recent interview with Cinemablend promoting his soon-to-be-released ninth film Once Upon a Time in Hollywood, the famously verbose filmmaker took a minute to address the status of his 10-movie rule — admitting that there may be a "loophole" in his plan to retire after directing his 10th feature film, and that it has a lot to do with whether he steps into the director's chair for that still-in-the-planning-stages Star Trek flick. 
The nature of that "loophole," you ask? It's the simple fact that Tarantino understands that he has the opportunity to argue that his movie career should end with a wholly original project, and a Star Trek feature simply would not qualify. On the other side of the same coin, though, Tarantino said that if he does commit to the Star Trek film, he would probably ignore the loophole. 
"I actually think, if I was going to do Star Trek, I should commit to it. It's my last movie. There should be nothing left-handed about it. I don't know if I'm going to do that, but that might happen," he explained. 
For those who haven't been paying attention of late, Tarantino's 10-movie rule is a self-imposed decree that the writer-director would leave cinema behind after making 10 films, and spend the rest of his days writing books, and plays, and such. That decree has taken a rather dire turn this year as Once Upon a Time in Hollywood is, in fact, being shopped as "The Ninth Film from Quentin Tarantino," and the two-time Oscar winner has already teased that his 10th (and potentially final) film may well be that big-budget, R-rated Star Trek sequel.   
While we're all eager to see what Tarantino might bring to a franchise flick on the scale of Star Trek, it would seem a bit odd for the notoriously independent filmmaker to end his lauded career by directing a studio-funded tentpole picture, particularly one that finds the director presumably working pre-existing narrative material whether he's written an original screenplay or not. Because whatever you think of Tarantino's work, you have to admit his films to date have delivered some of the most original cinematic spectacle to ever come out of Tinseltown (in spite of their overt "homages" to other films past and present). And, well, there's really no reason to suspect that Once Upon a Time in Hollywood won't be more of the same from the director in terms of grandeur and originality.
Whether Tarantino actually boards the USS Enterprise or not, it's worth noting that the "loophole" which would allow him to direct another movie post Star Trek is hardly the only "loophole" in the director's 10-film decree. First and foremost is the idea that he's only counting "original" projects from his unwieldy oeuvre amongst those 10. That strain of logic would, after all, require Tarantino to disqualify the one truly underrated gem amongst his credits: 1996's low-rent crime classic Jackie Brown — which the writer-director adapted from Elmore Leonard's novel Rum Punch. 
If we were to venture a little further into the spiraling abyss of Tarantino's "loophole" logic, we'd also need to acknowledge that the nine films he's counting toward his 10-movie rule begin with 1992's Reservoir Dogs, and completely ignores the existence of Tarantino's little-seen 1987 feature debut, My Best Friend's Birthday. Of course, there's also the issue of Tarantino's fast and furious car-chase chiller Death Proof to consider, because even if the film was originally released as the second act of Tarantino's Grindhouse collaboration with Robert Rodriguez, it still chimes with a feature length runtime. Oh, and are we officially acknowledging the Kill Bill double-feature as one or two movies in this timeline? 
As you can see, there are a lot of ins, outs, and possible "loopholes" regarding just how many movies Tarantino has directed to date. So the simple fact remains that if Tarantino wants to make a Star Trek movie, the Star Trek cinematic universe will invariably be all the better for it. And if Tarantino wants to claim a "loophole" allows him to make another movie after that, well, the world of cinema can only benefit from the existence of a new Quentin Tarantino film. Fingers crossed that everyone's favorite grindhouse auteur doesn't overthink the matter too much, and that we don't have to wait too long to find what he's got planned for the future.
Until then, Once Upon a Time in Hollywood (which hits theaters on July 26) is all but certain to sate the appetites of Tarantino fans.