Rick And Morty Season 4: First-Look Photos Tease New Places And New Faces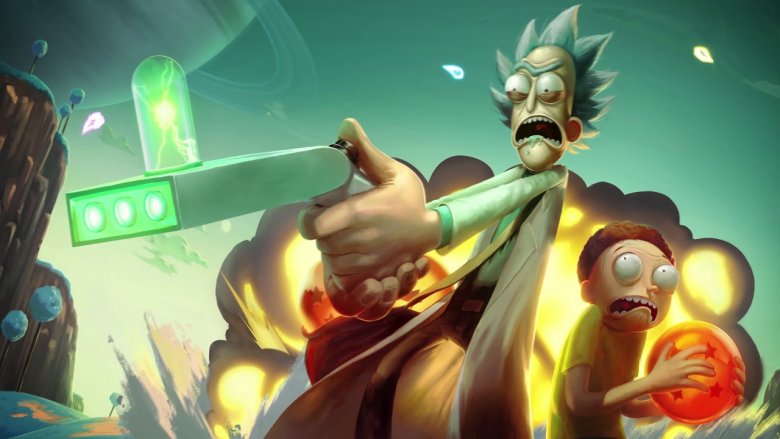 The wait for Rick and Morty season 4 grows ever shorter.
The beloved Adult Swim animated series returns to the small screen in November, and while we wait, our friends at Entertainment Weekly have a couple of sweet new images from the upcoming season for us to feast our eyes on.
Everybody loves Rick and Morty, but even the series' most ardent fans have had at least one gripe: the seemingly interminable waits between each season. By the time Rick and Morty season 4 finally hits the airwaves, it will have been over two years since season 3 concluded. This, however, is expected to change, as the show's unprecedented 70-episode renewal in May 2018 has allowed creators and voice actors Justin Roiland and Dan Harmon not only to map out their storylines more effectively, but to quit worrying once and for all whether each season of Rick and Morty would be the last.
For Rick and Morty season 4, Harmon has expressed that the pair intend to continue pushing boundaries in that special way that fans have grown accustomed to. Speaking with Emmy magazine shortly after the massive renewal, Harmon said, "It's a show that can literally go anywhere and do anything. It has a boundless margin for nihilism; in other words, you can't go too far. Not only narratively, but also tonally, there is nothing off the table for the show."
Well, Mr. Harmon, we would expect nothing less than for Rick and Morty season 4 to continue exploring in increasingly insane ways the questionable morality of Rick Sanchez, the smartest man in the universe, and his endlessly put-upon grandson Morty. In this first photo, however, the scientist looks positively peaceful: there are only a few stray details here which suggest anything other than a serene stroll on the lovely surface of some alien planet.
Wait just a minute. Those things in the foreground, are they... tentacles? Also, Rick appears to be enjoying the pleasant texture of that field of... er, space wheat, in much the same fashion that Russell Crowe's Maximus did in the framing shots of Ridley Scott's 2000 epic Gladiator. If you'll remember, it was revealed at that film's end that these scenes took place in the afterlife, and while it could just be a throwaway reference (the series has sure offered up its fair share of those), it might also allude to Rick and Morty season 4's storyline. Will Rick find himself in the great beyond? If so, how will he find a way to return? Heck, look at his face: does he even want to?
Next, we have this photo, which finds Rick surrounded by members of an alien species which just might look a little bit familiar.
That's right: those things sure look a heck of a lot like Crocubot, whom we met (and who met an incredibly grim end, due to his misplaced faith in his robotic logic) in season 3's "Vindicators 3: The Return of Worldender." Once again, this shot could turn out to be merely self-referential rather than a tie-in to the (incredibly messed-up) events of that episode; one of the joys of Rick and Morty is that you never know where Harmon and Roiland are going to take their narratives. One thing is for sure, though: those crocodile-things don't look like they're about to throw Rick a party. Okay, two things: Rick doesn't look scared at all. In fact, he looks more annoyed than anything else.
Well, these images barely constitute an appetizer as we prepare for the four-course meal that will be Rick and Morty season 4. But, there's good news: the show will present at San Diego Comic-Con this weekend, meaning that we can look forward to a plethora of news, perhaps the announcement of some guest appearances, and (hopefully) some footage from the upcoming season. Here's what we know fans can look forward to, via Collider: "Wubba lubba dub dub! The Emmy Award–winning series Rick and Morty is back for a highly anticipated fourth season, premiering November on Adult Swim. Executive producers and co-creators Dan Harmon (Community) and Justin Roiland (Adventure Time), and voice talent Spencer Grammer (Greek), Sarah Chalke (Scrubs), and Chris Parnell (Archer) invite fans to take a look at what they have cooking for the new season. Moderated by Rob Schrab (Creepshow, Community)."
The panel takes place on Friday, July 19, at 1:00 PM local time. Stay tuned, as we here at Looper will be bringing you all the Rick and Morty season 4 news that's fit to report this weekend.