Sherlock Holmes 3: Rocketman Filmmaker Dexter Fletcher In Talks To Direct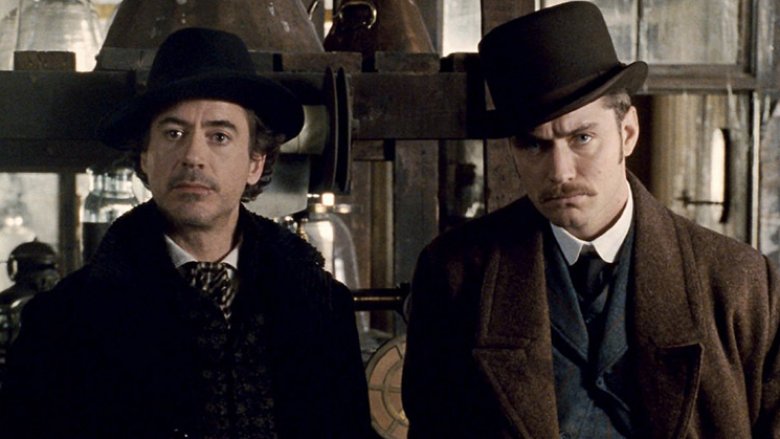 Start dusting off those deerstalkers (or posh crushed velvet fedoras in this case), 'cause Sherlock Holmes is finally coming back to a theater near you — and with a new director at the helm.
That's right, after a protracted absence from cinemas, Robert Downey Jr. is officially set to reprise his role as the famed occupant of 221 Baker Street in another big-screen Sherlock Holmes adventure. Per Variety, when the tentatively titled Sherlock Holmes 3 finally begins production, it will do so with a fresh face in the director's chair: that of Rocketman helmer Dexter Fletcher. 
For those of you keeping track of the beloved franchise, Fletcher is taking the Sherlock Holmes reigns from Guy Ritchie, who directed both 2009's Sherlock Holmes, and 2011's Sherlock Holmes: A Game of Shadows. If you're wondering why series' producers are moving on from Ritchie, well, he's a very busy man these days, having just helmed the live-action adaptation of Aladdin for Disney. Plus, he's hard at work putting the finishing touches on the upcoming Matthew McConaughey crime flick The Gentleman. There's also good reason to wonder how much interest Ritchie still has in the Sherlock Holmes world after the better part of a decade has passed since the last film hit theaters. There's even better reason to think that Sherlock producers didn't want to wait a day longer than necessary to bring a new Sherlock tale to the big screen.  
As for why there's such a large gap between A Game of Shadows and Sherlock 3, we'd point toward Downey Jr.'s rigorous MCU schedule over that period as the key culprit. With Iron Man officially in RDJ's past after that teary Avengers: Endgame goodbye, the man's schedule is once again wide open, and it appears a new Sherlock flick was at the top of his post-MCU to-do list.
It's worth noting, of course, that Sherlock and his trusty sidekick Dr. Watson have hardly been absent from pop culture in the years we've gone without a Downey Jr. and Jude Law-topped movie. For starters, Benedict Cumberbatch and Martin Freeman breathed new life into Sir Arthur Conan Doyle's iconic detective team via their masterful BBC hit Sherlock. There was also that hit-or-miss CBS series Elementary to factor into the mix. Hell, even Will Ferrell and John C. Reilly took a stab at the iconic duo (though their efforts were less than fruitful). Still, if there's one thing those series have proven, it's that the world is ready, even clamoring for more Sherlock.
Though the Sherlock franchise will certainly miss the kinetic energy Ritchie brings to all of his movies, the series appears to be in more than capable hands with Fletcher guiding the action. Though the actor-director has but four features to his credit, those films (particularly this year's gloriously stylized Rocketman ) have more than proven he's got a certain flair for drama. And even if Fletcher didn't get a legit "directed by" credit on 2018's Bohemian Rhapsody, he more than proved himself able of taking over a project from another filmmaker at any point in production and putting his own stamp on things. Either way, it will be interesting to see how Fletcher adapts to working on a film with the scale and budget Sherlock 3 is certain to sport.
Regarding where this new story goes, the Warner Bros. team has remained relatively tight-lipped with that info. When we last saw RDJ's and Jude Law's (also expected to reprise his role in the upcoming sequel) duo in action, they'd just taken out the iconic villain Moriarty in Game of Shadows, which was largely based on the Holmes tale "The Final Problem." If you're at all familiar with Doyle's source material, you know it ends with a very big question mark, though the film chose to fully address that question in its final moments. 
So, the question now is this: will Fletcher and co. pick up where Doyle did and go all in on "The Adventure of the Empty House" — i.e., the first of Doyle's tales from The Return of Sherlock Holmes — or will they choose one of the other 12 tales from that collection? It's possible, of course, that the series (which has always played a little loose with its source material) could also take a different track, and work one of Sherlock's better known tales like The Hound of the Baskervilles into the Return of Sherlock timeline.
While we're more than a little bit excited that a new game is officially afoot, we're still a couple of years away from finding out just which game Holmes and Watson will play. December 2021 cannot get here fast enough for us.