New It: Chapter Two Photos Bring The Losers' Club Back Together In Derry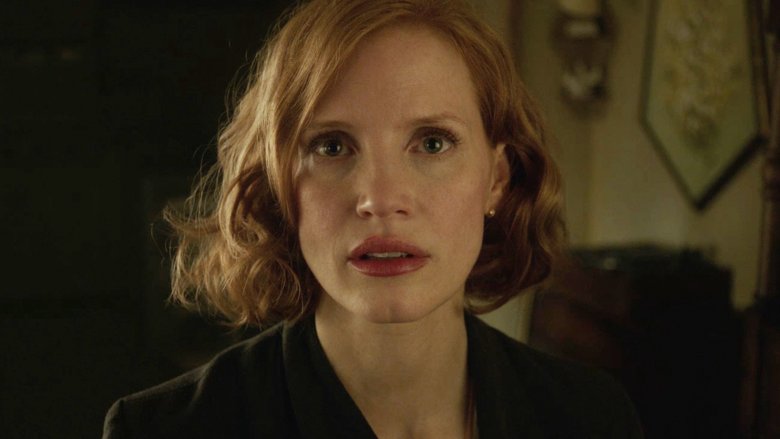 Get in, Losers — we're going to Derry. 
The Losers' Club will reunite 27 years after their first brush with the terrifying supernatural entity It (who took the form of the murderous clown Pennywise) in It: Chapter Two, the fast-approaching sequel to Andy Muschietti's 2017 hit. A previously released trailer teased the grown-up Losers converging once more in their hometown of Derry, Maine when It resurfaces to cause more death and destruction, and new photos rolled out by Entertainment Weekly give fans an even better look at the reunion of the adult Losers' Club.  
Released as part of EW's extra-special magazine issue ahead of San Diego Comic-Con, where It: Chapter Two will be a part of the annual "Scarediego" event on July 17, the snaps show the pre-teens from the first flick all grown up and preparing for another battle against it. They feature Jessica Chastain as Beverly Marsh, Bill Hader as Richie Tozier, James McAvoy as Bill Denbrough, James Ransone as Eddie Kaspbrak, Jay Ryan as Ben Hanscom, and Isaiah Mustafa as Mike Hanlon — all of whom have been affected in different ways by the events of their adolescence, ranging from being obsessed with defeating It (like Mike) to experiencing amnesia and forgetting the trauma entirely (like Bill). 
One snap shows McAvoy's Bill addressing the other five members, another teases that Ryan's Ben will sustain a pretty nasty injury somewhere in It: Chapter Two, and a third features Hader's Richie and McAvoy's Bill creeping through the sewers of Derry — one of Pennywise's signature hiding spots.
Additional photos put Bill Skarsgård's Pennywise front and center and display the young Losers' Club, who will appear in flashbacks, getting direction from Muschietti. Of course, EW also released two covers for its It: Chapter Two SDCC issue — one featuring the adult Losers and the other with Pennywise's painted, petrifying face plastered on it. 
It: Chapter Two looks to build upon its predecessor in just about every conceivable way: raising the stakes, upping the scares, making Pennywise more violent and bloodthirsty than ever before, adding more emotional heft to the story. These photos further prove that the sequel will check off those boxes with ease. 
Not only will fans have to prepare for horror and gore galore in It: Chapter Two, but they'll also be in for some real-life, heavy-hitting story elements, as the second half of the Stephen King novel upon which the film is based deals with everything from domestic violence to depression and suicide. The sequel will certainly be much darker than the original; let's just hope it's just as (if not more) successful. 
Get ready to float when It: Chapter Two arrives in theaters on September 6.