First Reactions Praise Lion King Remake As 'Piece Of Art'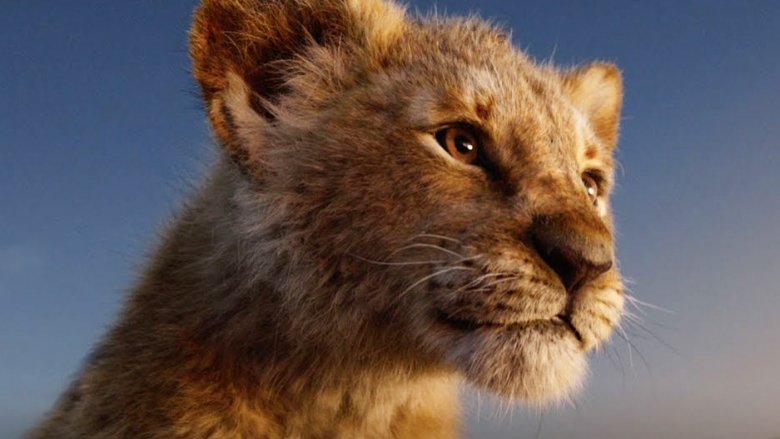 The House of Mouse has delivered a live-action fable worthy of a king.
First reactions are pouring in for Disney's live-action remake of the classic 1994 animated film The Lion King, and they are full of nothing but praise for its stunning visuals and brilliant voice performances.
That The Lion King is being received as a landmark in photorealistic computer animation should not come as a surprise. It's the handiwork of director Jon Favreau, who is probably best-known for helming the first two Iron Man pictures and for his continuing performance as Happy Hogan in the films of the Marvel Cinematic Universe (including Spider-Man: Far From Home, which is currently burning up the box office). But Favreau has pulled this trick before, with another live-action remake of a Disney classic: 2016's The Jungle Book, which was likewise widely praised for its sumptuously detailed, meticulously rendered CGI characters.
Favreau worked from a screenplay by Jeff Nathanson (Pirates of the Caribbean: Dead Men Tell No Tales), and had the pleasure of presiding over a cast that included the likes of Donald Glover (Solo: A Star Wars Story), Chiwetel Ejiofor (Doctor Strange), Alfre Woodard (Marvel's Luke Cage), Beyoncé Knowles-Carter (you know, the massive pop star), Keegan-Michael Key (Toy Story 4), and the great James Earl Jones (reprising his role as Mufasa from the original film). 
The flick also features music by original composer Hans Zimmer and the legendary Elton John, who composed tunes for the original, with an assist from lyricist Tim Rice. Knowles-Carter also chipped in to help John and Rice rework their iconic tunes, and together, they also whipped up a new original song — titled "Spirit" — for the film.
Folks who caught preview screenings flocked to Twitter to heap praise on the flick. Actress and cosplayer extraordinaire Mica Burton gushed over the movie's allegiance to the original while expressing appreciation for the modern updates and, of course, the visuals. "The Lion King... was more than anything I ever could've wanted," she wrote. "It was BEAUTIFULLY animated, paid the highest of honors to the original, and was packed with modern humor. Seriously. See #TheLionKing. Please. It's a piece of art."
The Wrap senior film reporter Beatrice Verhoeven was in full agreement, bursting at the seams with praise for every aspect of the film, in particular the performance of a certain pop music powerhouse. "Oh man #TheLionKing delivers," she wrote. "It's a visual masterpiece that will leave you smiling and crying the whole time. It's a true testament to the lasting effect Disney movies have on all generations. Timon and Pumbaa steal the show. And BEYONCE!!!"
Screen Picks editor and critic Kit Bowen acknowledged that the original film set a high bar to live up to, and the tone of her tweet implied that she was going to be a tough one for The Lion King to win over — but, win her over it did. "Did we need a live-action version of #TheLionKing? Maybe not," she opined. "The OG Lion King still holds my heart forever, but this version is beautifully crafted by Jon Favreau, aptly voiced by great talent and [gave] me all the feels [of] being back on Pride Rock."
Collider's Steve Weintraub wrote that the house came down at his screening, and predicted a colossal box office win for Disney. "Been lucky to have attended a number of world premieres but not sure I've ever heard as much clapping during a movie as I did tonight at #TheLionKing," he tweeted. "Was like being at a rock concert. Movie is going to make so much money." Weintraub also had a few more comments in a follow-up tweet: "The visual effects/animation in the film is INCREDIBLE. For the first time in maybe my entire life as the movie started I got really emotional. Just hearing the music wrecked me. While it's a story you know, it's soooooo well done."
One of the only halfway-negative comments in the whole bunch came from ScreenRant and Forbes critic Alisha Grauso, who first tweeted, "The Lion King is a dazzler. Gorgeous score, spot-on voice acting, but mostly, yeah, those visuals," before following up with, "That being said, #TheLionKing does illustrate the limitations of projecting human emotions onto photorealistic animals that can't convey human expression. More in my review when the embargo lifts!"
Also slightly less than super-impressed was Mashable editor Angie J. Han, who questioned the value of such an uber-faithful remake while conceding the craft that went into the picture. "#TheLionKing is exactly as advertised: a beat-for-beat remake of the original," she wrote. "Impressive animation and some ace casting choices (Beyoncé is a spirited Nala, John Oliver is an ideal Zazu) plus that music is still [great] — but it's more nostalgic rehash than fresh reimagining."
Overall, though, those fortunate enough to catch the flick early were absolutely blown away — and since we know you're wondering, yes, there's a certain key scene that retains all of the impact of the animated version. Wrote Collider's Wendy Lee Szany, "Nostalgia hits HARD with #TheLionKing. It's wonderful to see the story again on the big screen presented in a different way. The cast is amazing and to hear James Earl Jones as Mufasa again put a huge smile on my face. Oh yea, that stampede scene still gets me."
It sure seems like The Lion King is destined for critical and box office glory, and to be another huge win for Disney, which has had a year absolutely full of them. While Tim Burton's live-action take on Dumbo faltered slightly, May's Aladdin remake cleaned up at the box office — and let's not forget that the Mouse House's corporate subsidiary, Marvel Studios, is looking at by far the biggest year in its illustrious history. Oh yeah, and also falling under Disney's umbrella is Lucasfilm, which this winter will release the long-awaited final chapter in the "Skywalker Saga," Star Wars Episode IX: The Rise of Skywalker.
Yes, everything's coming up Disney, and it'll probably continue to do so as long as they keep cranking out brilliant, top-shelf mainstream pictures. We'll be front and center when The Lion King hits the big screen on July 18, and you can look forward to our signature brand of expert analysis as soon as we finish wiping away the tears of joy.