Sarah Paulson Reportedly Won't Have A Major Role On American Horror Story: 1984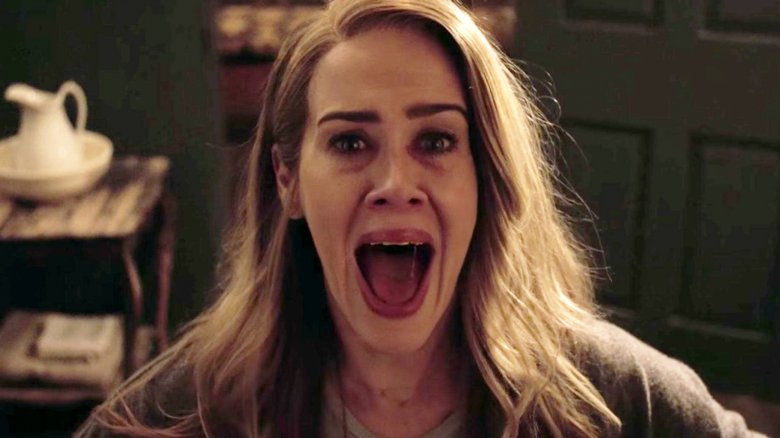 Here's an American horror story for you: Sarah Paulson is apparently taking a step back from American Horror Story. 
Variety has reported that Paulson, who has appeared on every single season of the Ryan Murphy-created horror anthology, will not star on the upcoming season of the series, entitled American Horror Story: 1984, in a "significant role." Deadline later noted that Paulson isn't "completely sitting out" of the ninth season, but will have a "smaller part."
Paulson's fellow AHS mainstay Evan Peters, another fan-favorite who has remained at the forefront of the series since its beginning in 2011, will not appear on the new season.
Though it's not unusual for actors to dip in and out of anthology series, this seems a pretty big deal for Paulson, as she has remained an important part of American Horror Story for eight straight seasons. 
The inaugural season, subsequently subtitled Murder House, saw her take on the role of medium Billie Dean Howard. Season 2, Asylum, featured Paulson as journalist Lana Winters investigating the Catholic-based institution Briarcliff. In the witchy third season of the show, Coven, Paulson was the daughter of the Supreme witch, Cordelia Foxx. For the fourth season, she played conjoined twins Bette and Dot Tattler (a.k.a. The Siamese Sisters), who were an attraction at a freak show. Paulson reprised her role as Billie Dean for season 5, Hotel, while also playing Sally McKenna, a drug addict who died at the Hotel Cortez. On the sixth season, Roanoke, Paulson brought Lana Winters back to life for an episode, but otherwise stuck to portraying yoga teacher Shelby Miller and Audrey Tindall, the fictional British actress who plays Shelby in a documentary. Paulson played anxiety-ridden restaurant owner Allyson "Ally" Mayfair-Richards on American Horror Story: Cult, the seventh season of the series, then went back to her Coven role as Cordelia for American Horror Story: Apocalypse. On Apocalypse, which was a crossover between Murder House and Coven, Paulson also played new character Wilhemina Venable and yet again returned to Billie Dean Howard. 
Clearly, Paulson has invested a lot of her passion and creative talents into American Horror Story — to global praise and quite a few accolades, including two Critics' Choice Television Awards. It's unclear why Paulson is taking on a smaller role for American Horror Story: 1984, said to be reminiscent of '80s slasher movies, though we can theorize that she probably just wants to star on a new project that requires her commitment at the same time 1984 does — like the leading role on Murphy's in-development series Ratched. We just hope that Paulson circles back to a starring role on American Horror Story season 10, which FX has already ordered. 
Paulson may not be a huge part of American Horror Story: 1984, but fans can look forward to seeing Emma Roberts (the ice queen Madison Montgomery from Coven and Apocalypse) return and Olympic athlete Gus Kenworthy join the anthology as well. 
American Horror Story: 1984 is set to premiere on FX on September 18.