Mouse Guard Director Confirms Film Is 'Dead,' Shares Test Footage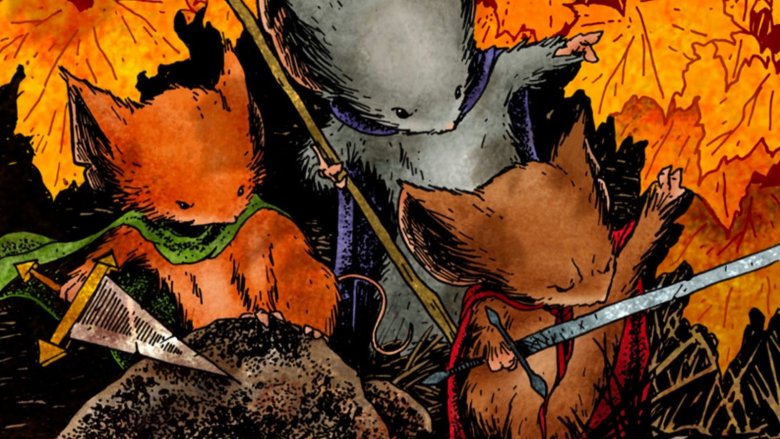 The Mouse Guard has disbanded.
Director Wes Ball took to Twitter to confirm that Fox Studios' adaptation of the Eisner award-winning comic book series is officially no more. His post featured a short video revealing test footage for the motion capture project.
Drawn from innovative and complex source material, Mouse Guard had the potential to be amazing. Ball offered his apologies to his cast and crew, who had been hard at work on the picture for months.
Yes sadly, its true. Our #mouseguard movie is dead.

Seems it's too big a risk. It's a damn shame really. We had something special. To my hella talented cast/crew: I'm sorry I couldn't push this one through. The past year with you all has been a blast. May the Guard prevail! pic.twitter.com/MGRq54uI6O

— Wes Ball (@wesball) June 26, 2019
Ball also shared a longer video which showed off test animation for the flick completed in August of last year. While obviously not as detailed as the finished product would have been, it gives us a pretty good idea of the fantastic world Ball and his animators were building.
In case you missed the other tweet. Watch some fun test animation here. https://t.co/2QBCijbOV0

— Wes Ball (@wesball) June 26, 2019
The Mouse Guard comic series, published by Archaia Press, has been going strong since 2006. It takes place in a world of sentient mice (and no humans) whose society is an analog for our world's Medieval times; the titular guard are a protective force who help ordinary, everyday rodents navigate a treacherous world full of predators.
The film had been in development since 2016, when Fox hired Matt Reeves (Dawn of the Planet of the Apes) to produce the project, with Gary Whitta (Rogue One: A Star Wars Story) handling scripting duties. The Maze Runner director Ball was brought on board to helm the picture in April 2018, and at that time, he teased a fascinating vision that would have sported a singularly unique tone — but his comments also amounted to a bit of grim foreshadowing.
"I'm not interested in doing a DreamWorks or Pixar-type movie," the director said on a conversation with Collider. "I'm interested in doing something closer to Planet of the Apes, where you're really gonna nail characters and show the harsh reality of what they live in. It's gonna be a little bit of both, probably, but at the same time because of the cost, I need as big an audience as possible. So I want 10-year olds to see this as much as 40 and 50-year olds, you know? That's the needle we have to thread, but for me personally... [It's] really exciting to me, that kind of film, that kind of target, but obviously set in this really harsh world of mice and swords."
Ball had assembled a sterling cast led by mocap king Andy Serkis, Game of Thrones' Thomas Brodie-Sangster, and Idris Elba, who came on board less than a month before the film was given the axe by Disney in April of this year. At that time, the House of Mouse suggested that its new subsidiary was free to shop the project elsewhere — but with a reported $170 million dollar budget in service of a property that isn't exactly a household name, this was destined to be a tough sell. Apparently, there have been no takers, because Ball and company have officially given up the ghost.
Fan who reacted to the filmmaker's announcement on Twitter were, to put it mildly, disappointed.
This is the saddest and most inspiring and disheartening tweet. So much amazing work.

— Joaquin Baldwin (@joabaldwin) June 26, 2019
More than one suggested that it may be appropriate for a certain megalithic streaming service to ride to the project's rescue.
Congrats on the amazing job, you guys really made sure to convey the epic scale of the small world of #Mouseguard. @netflix should really catch up on this one.

— Pascal Blanché 🌎 (@pascalblanche) June 26, 2019
@NetflixFilm @netflix something here hint hint.

— K4TSUN3 (@K4TSUN3) June 26, 2019
Many more, meanwhile, suggested that a book showcasing the project's beautiful concept art would at least make for a nice consolation prize.
An art of book with all that lovely work would be ace. 😕

— Jane E Davies (@UpstartThunder) June 26, 2019
It's perhaps the most unfortunate casualty of the Disney/Fox merger, which spelled doom for a plethora of projects including an adaptation of Angie Thomas' On the Come Up, the Woody Harrelson dramedy Froot Loops, and Channing Tatum's long-in-development X-Men spin-off Gambit. Perhaps Disney felt that, with its own animation arm and Pixar cranking out blockbusters like nobody's business, there was simply no room for a project as idiosyncratic and difficult to categorize as Mouse Guard. It's a shame, because those descriptors are too seldom used in the world of big-budget studio animation.