Batgirl: Daisy Ridley Reportedly Warner Brothers' Top Choice For DC Film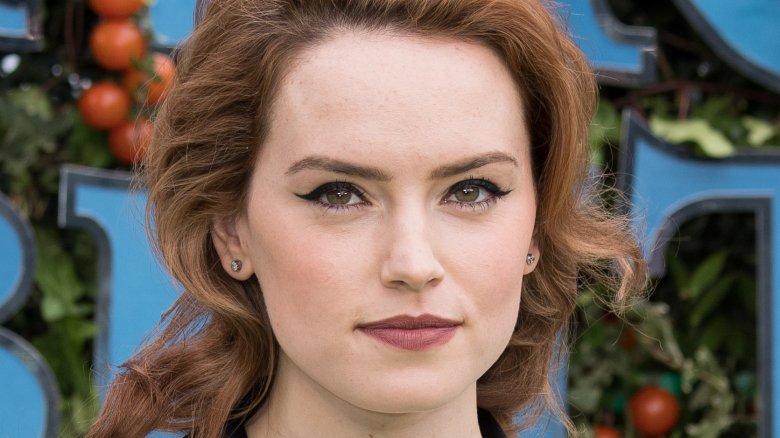 Jeff Spicer/Getty Images
With one blockbuster franchise winding down, Daisy Ridley may be moving on to another.
The star of the Star Wars sequel trilogy is reportedly the top choice to take on the role of Batgirl in the long-awaited "Worlds of DC" entry from studio Warner Brothers, according to We Got This Covered.
Our friends at WGTC cite unnamed inside sources who are saying that the deal is all but done, with Warner Brothers being very close to a formal casting announcement. If accurate, the move would put an exclamation point on an absolutely dizzying career trajectory for the young actress, who was plucked from relative obscurity just four short years ago to lead one of the most highly-anticipated entries in one of the biggest film franchises of all time.
Ridley had only starred in one previous feature — the low-budget, indie British thriller Scrawl — before being cast as the force-sensitive scavenger Rey in Star Wars Episode VII: The Force Awakens, which currently reigns as the highest-grossing film of all time domestically. The casting turned out to be spot-on, as Ridley gave a tough-yet-sensitive performance that featured amazing onscreen chemistry with co-star Adam Driver, who portrayed the film's villain Kylo Ren.
She reprised her role in 2017's Star Wars Episode VIII: The Last Jedi, and will do so again in this December's conclusion to the "Skywalker Saga," Star Wars Episode IX: The Rise of Skywalker. She's also appeared in the comparatively smaller features Murder on the Orient Express and Ophelia, but there just seems to be something about her that casting directors for big-budget tentpole features can't resist.
Ridley's casting would certainly generate a great deal of excitement for Batgirl, which has had a bit of a bumpy road to the screen. In early 2017, it was announced that The Avengers writer and director Joss Whedon had been tapped to helm a feature based on the character, but there was little to no movement on the film for the better part of a year. In February 2018, Whedon exited the picture, claiming that in his excitement to take on the project, he neglected to realize that he "really didn't have a story." 
Fortunately, Christina Hodson did. The Bumblebee scribe was hired by Warner Brothers in late 2016 to pen the screenplay for the forthcoming Birds of Prey (and the Fantabulous Emancipation of One Harley Quinn), and her work on that script so impressed Warners' brass that she was handed the Batgirl assignment after Whedon's exit. 
Speaking with the Los Angeles Times late last year, Hodson was over the Moon at the opportunity to write the first big screen vehicle for the iconic character. "I'm really excited — because she's Batgirl! She's all the things I love about Batman," she said. "I've always been more interested in humans than supernatural things and monsters. People are capable of profound good, but also profound evil. The things that people will do when you back them into a corner are amazing, terrifying, and wonderful at the same time, and it draws out these primal things in us — good and bad. And that, to me, is so fascinating."
It should be noted that, with regard to exactly which iteration of Batgirl we'll be seeing in the solo flick, there's a bit of a tangled web. The character of Barbara Gordon, the original Batgirl, is strongly associated with the Birds of Prey in her guise of Oracle; however, fans noticed that Gordon was conspicuously absent from the official character list for Birds of Prey, which was released in July of last year. However, present among those characters (and key to the film's plot) was a young girl by the name of Cassandra Cain, the daughter of a ruthless assassin who eventually takes up the Batgirl mantle in the comics.
Due to Hodson's involvement with both films, one might assume that Cain will be the Batgirl we'll see in the solo flick — but this appears not to be the case. It's been rumored that Birds of Prey and Batgirl, in fact, won't even be connected — which actually makes sense, given Warner Brothers' recent move away from universe-building and towards standalone, filmmaker-driven projects such as Todd Phillips' Joker.
If this is true, then Gordon's exclusion from Birds of Prey could be seen as a smart move aimed at avoiding confusion among audiences. It would also give Hodson free rein to give each project its own distinctive feel and tone, without having to worry about being beholden to serving the needs of a connected universe.
Of course, we'll simply have to wait to see how it all plays out, but one thing is for certain: Ridley would make an awesome Barbara Gordon. We already know from her turn as Rey that she has no problem with physical roles, and the Star Wars flicks have also given her ample opportunity to show off her formidable range. She also looks the part, and — at 27 — she's young enough to fill the cape and cowl for years to come, should that be required.
At any rate, it'll be very interesting to watch the continued rehabilitation of the "Worlds of DC" unfold before our eyes. This year's Shazam! was a lighthearted, goofy hit, while this fall's Joker looks to be the exact opposite of lighthearted and goofy. Birds of Prey will hit screens on February 7, 2020; no release date has yet been set for Batgirl, but if the announcement of Ridley's casting is indeed imminent, it stands to reason that the flick could find its slot in the very near future. We'll keep an eye out for any developments, and we'll report the news as it breaks.