Child's Play Remake Director Has An Idea For A Possible Sequel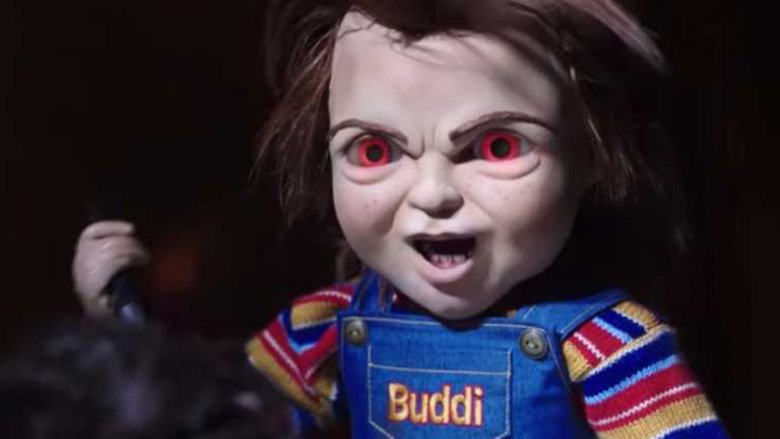 Contains spoilers for the Child's Play remake
Lars Klevberg is already thinking of setting up another playdate between moviegoers and their new best bud Chucky.
Sitting down for an interview with Bloody Disgusting, the Child's Play remake director opened up about his idea for a possible sequel to the new film, which opened in theaters on June 21. 
A step away from the hallowed horror franchise that started with director Tom Holland (not that Tom Holland) and screenwriter Don Mancini's 1998 original, Klevberg's Child's Play made the red-haired demon doll not a host for the soul of a slain serial killer but a highly intelligent "Buddi" doll who turns homicidal after he rejects his programming and gains sentience. Voiced by Mark Hamill, Chucky begins killing animals and humans all around him, trying to place the blame on his owner, 13-year-old Andy Barclay (Gabriel Bateman), while Detective Mike Norris (Brian Tyree Henry) investigates the brutal murders. By the end of the flick, it's revealed that Andy isn't the killer (duh!) and that Chucky truly was slaying people left and right. After Andy and his friends destroy Chucky, smashing his body to bits, Henry Kaslan (Tim Matheson), the CEO of the company who produces the Buddi dolls, issues a warning about Chucky's programming. Viewers watch as the Buddi dolls head to storage — and one starts short-circuiting inside its packaging. 
Klevberg told Bloody Disgusting that he hopes to focus on a variant of the Buddi line of products in a potential sequel — the Buddi Bears, the adorable-looking but incredibly violent robots who listen to Chucky's every command. 
"For me, this was just trying to make this the best movie possible. Like, never foreshadowing any detailed plan of where you want to go as a franchise. But yeah, for me I think I love the Buddi Bear concept," said Klevberg. "I love the other stuff, and I think we should spend — if that happens — later on, we should spend more time with those assets. I think that was presented a little too short in this movie, what the Buddi Bears are and can be capable of doing."
When the Buddi Bears show up in Child's Play, the film is already at its bloody apex, so there truly wasn't enough time to explore the robo-minions' powers. Klevberg noted that he didn't say everything he needed and wanted to with the first flick, and he's hoping that the brass at Orion Pictures and Metro-Goldwyn-Mayer give him the chance to make a Child's Play sequel. 
"For us, and the studio and the producers and me, we're all just focusing on this first movie and trying to do that as good as possible, and it's up to the audience to say that the studio and me are allowed to embark on the next one," the director said. 
While many were upset that Orion and MGM were remaking Child's Play without franchise creator Mancini on board, the new flick has surprised naysayers the world over. Critical and fan response to the new Child's Play has been fairly solid, and though the pic isn't certified fresh on Rotten Tomatoes, it still has the majority of people praising its unique approach to the established canon. Klevberg has his mind in the right spot when thinking of the premise for a possible second Child's Play movie, as his idea of focusing on the Buddi Bears more will help expand the world he created and let it stand separate (and hopefully equal) to the franchise films that came before it.
Until we know more about a potential Child's Play remake sequel, find out what the remake's ending really meant.