Far From Home TV Spot Gives Spider-Sense An Embarrassing New Name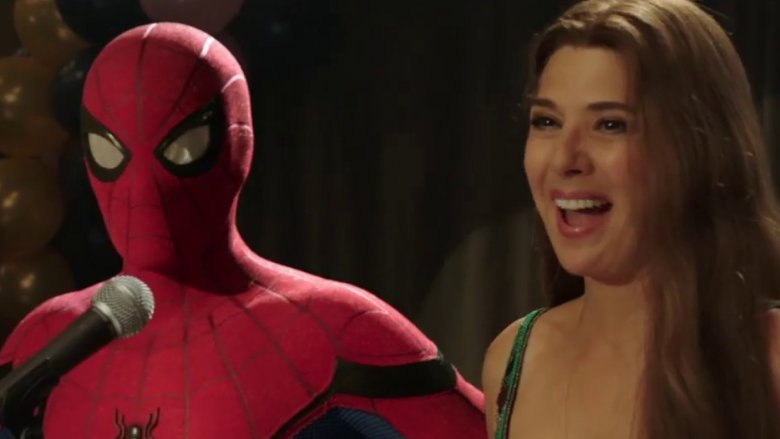 The Spider-Sense has a brand-new name — and it's definitely a turn for the worse.
In a new TV spot for the upcoming Spider-Man: Far From Home, which will hit theaters on July 2, Aunt May, as played by Academy Award winner Marisa Tomei, renames that tingling feeling her nephew, Tom Holland's Peter Parker, gets when danger is afoot. She's seen hurling a banana at Peter, then mocking him over the fact that he can "dodge bullets" but not a piece of fruit. 
"I thought that you could sense that with your... 'Peter Tingle,'" she jokes, to which Peter moans, "Please stop saying 'tingle,' May."
The "Peter Tingle" is the misnomer for the Spider-Sense that will stick in Far From Home, as the cast confirmed the fact to ComicBook.com's Brandon Davis. Silly as it sounds, it actually matches the tone of the new Spider-Man franchise thus far as well as Holland's take on the iconic hero.
As the third actor to play New York City's friendly neighborhood Spider-Man, Holland brings a certain amount of levity and lightness to the role, infusing the hero with an approachable and youthful energy that has driven all of his appearances so far. After his first appearance as the newest member of the MCU ensemble in Captain America: Civil War, Holland has made his mark in both Avengers: Infinity War and Avengers: Endgame as well as in his own film, Spider-Man: Homecoming. Far From Home, which takes place after the events of Endgame, will find Peter grappling with the death of his mentor, Tony Stark, as well as fighting off otherworldly threats during a class trip across Europe.
Thanks to Holland's jovial performance — as well as his off-camera antics (known for frequently spoiling Marvel films, Holland was often banned from looking at full scripts and even had "minders" among the cast to stop him from spilling the beans) — Peter Parker is more fun than ever, and this clip makes it clear that Far From Home will continue that same trend.
When Far From Home hits theaters just in time for the July 4 holiday weekend, it'll likely keep up Marvel's successful streak at the box office, especially since early reviews for the film are glowing, with critics calling it the best outing for Spider-Man yet. By keeping strong Marvel's love of pairing huge action set-pieces with plenty of solid jokes, Far From Home is certain to be the next Marvel hit — especially considering it's the official ending to the MCU's third phase and will make room for the next slate of projects to come over the next several years.