Early Reactions To Annabelle Comes Home Tease Fun, Spooky Thrill Ride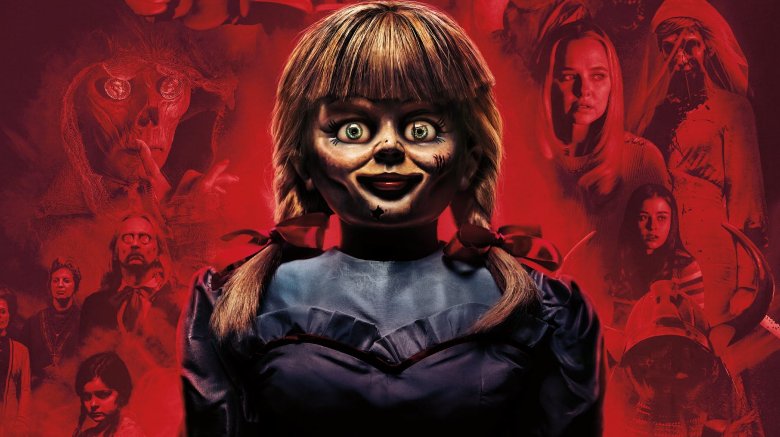 The latest chapter in the saga of everyone's favorite creepy doll looks like another winner.
Annabelle Comes Home has been screened for select critics, and while there's still a moratorium on reviews, the early reactions on Twitter have been overwhelmingly positive. The general consensus: series writer Gary Dauberman, making his directorial debut, has delivered an atmospheric, creepy thrill ride that bests the previous Annabelle flicks in terms of flat-out fun.
The new movie, rather than focusing on the doll's origins like the previous two, takes place in the present day and prominently features those intrepid demonologists Ed and Lorraine Warren, the main characters of The Conjuring and its sequel. Annabelle Comes Home chronicles the terrifying events that unfold when the Warrens sequester the doll inside their Artifacts Room for safekeeping, only to find that Annabelle's presence has unintended consequences. The doll, as it turns out, is a "beacon for other spirits" — and those spirits pose a grave threat to the Warrens' young daughter, Judy, and her pair of unlucky babysitters.
Conjuring universe mastermind James Wan has described the film as "basically A Night at the Museum, with Annabelle," and while its trailers have promised us plenty of creepy set pieces and jolting jump scares, those who caught preview screenings were generally pleased to find that Annabelle Comes Home is every bit as fun as that description implies. 
CinemaBlend's Eric Eisenberg opined that the Annabelle series just keeps getting better, and had praise for the cast as well as the movie's squad of deadly, demonic baddies. "Excited I can now say Annabelle Comes Home is excellent — solidifying the trilogy as a rare one that improves with each sequel," he wrote. "The cast is fantastic, the monster mayhem is surprisingly clever, and the whole experience is just super fun. It's a big win for The Conjuring Universe."
Silas Lesnick of MovieBill alluded to the fact that said baddies seemed scientifically calibrated to generate more spin-off movies for the Conjuring universe, but was pleased to report that the new introductions didn't feel forced, thanks to smart narrative choices by Dauberman (who also wrote the screenplay). "I'm thrilled to report that [Annabelle Comes Home] is great! It has a smart script, fantastic performances and it expands the Conjuring universe in some really clever ways," he wrote. "Mostly, though, it's just a ton of fun!" 
Eric Francisco of Inverse was similarly impressed with the film's array of supernatural threats, and went out of his way to express his opinion that the Conjuring universe is making its case to be considered the best horror franchise in the business right now, writing, "[Annabelle Comes Home] is an atmospheric thrill that cements The Conjuring franchise as THE horror movie universe to reckon with. There's plenty more than just parlor tricks in the Warrens' forbidden room than you might expect."
Actually, we'd expect a heck of a lot more than parlor tricks, but we digress. Now, while we admit that Wan's Night at the Museum comparison perked up our ears, Fandango's Erik Davis chimed in with a comparison to another quirky, chaotic comedy that somehow has us even more intrigued. "[Annabelle Comes Home] is like Adventures in Babysitting as a horror movie, and it's a damn good time," he wrote. "The scares are never repetitive, the humor is on point & there are plenty of creepy entities to freak you out. Plus, I love movies where it's up to the babysitter to save the day." That's... a very specific subgenre, Mr. Davis, but hey, we're with you.
Finally, we have a brief word from Jonathan Barkan of Dread Central, who was apparently intent on spoiling absolutely nothing. He wrote, "Caught Annabelle Comes Home last week with a special guest attendee... But seriously, I loved this movie. Had a genuine blast with it and I can't recommend it enough!" Barkan posted his tweet with an image that hilariously implies that he took in the flick with a companion that would have had his fellow moviegoers sprinting for the exits.
So far, it's unanimous: Annabelle Comes Home is a winner, with Dauberman and his talented cast apparently having crushed it. The flick stars Patrick Wilson and Vera Farmiga, reprising their roles as Ed and Lorraine Warren; also among the cast are Captain Marvel's McKenna Grace as Judy, Jumanji: Welcome to the Jungle's Madison Iseman as her babysitter Mary Ellen, and Supernatural's Katie Sarife as Mary Ellen's troubled friend Daniela. The flick hits the big screen on June 26.