Swamp Thing Actor Breaks Silence On Show's Early Cancellation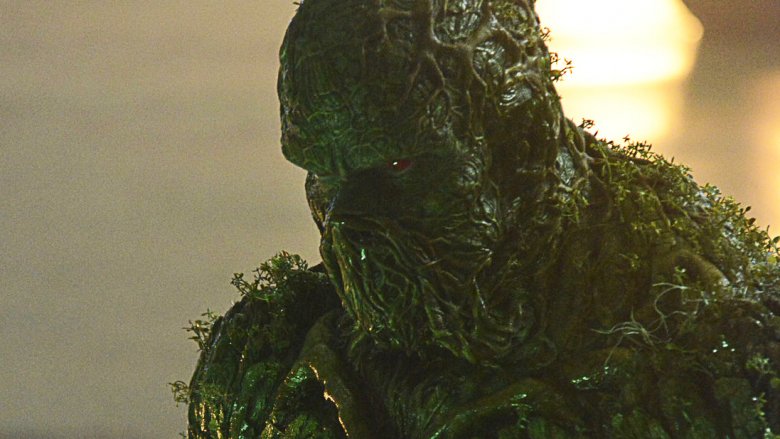 Brownie Harris/Warner Bros. Entertainment Inc.
The Swamp Thing has something to say. 
During a recent appearance on Collider's horror podcast The Witching Hour, actor Derek Mears, who portrays the titular character on DC Universe's Swamp Thing, broke his silence about the series' shocking cancellation that came less than a week after its premiere. 
"It was such a heartbreaker to find out after our first episode that we got canceled for the second season, but all we've heard up until that point was how amazing everything was. And everyone's going, 'We have a big hit on our hands. This is crazy,' said Mears. "So it's a weird nebulous space that we're all in now because we don't know officially why that would happen, or why they cancelled it. Even if you are going to cancel it, wouldn't you wait until later on until to see how it plays with fans before? So, something's going on somewhere."
He continued, "I'm very proud of what we did, but also very saddened by the almost the sense of lack of respect. We have a brand new baby we worked so hard on, and having someone like slit their throat and go, 'Here's the baby,' and going like, 'Oh, you get no more baby after this.' Why would you do that?"
It's understandable why Mears would feel blindsided and heartbroken by studio Warner Bros. pulling the plug on Swamp Thing. Based off the DC Comics characters created by Len Wein and Bernie Wrightson and developed for television by Gary Dauberman and Mark Verheiden, Swamp Thing overcame a rocky production to launch on DC's streaming platform on May 31, when it received rave reviews. Critics praised its high production value, its gothic-horror vibe, the spookiness of its story, and performances by Crystal Reed as Abby Arcane, Virginia Madsen as Maria Sunderland, Andy Bean as Alec Holland, and, of course, Mears as the Swamp Thing whom Alec turns into. One reviewer even wrote that Swamp Thing was a cut above its fellow DC Universe series Titans and Doom Patrol, and would definitely "grow on audiences" with each new episode.
Positive feedback apparently didn't sway Warner Bros. and DC Universe executives, and unfortunately, there's no one reason why they canceled Swamp Thing. However, one big problem the show faced during production may have impacted the decision more than anything else. Following reported creative differences between the series' creative team and studio brass, Swamp Thing had its season one episode count slashed from 13 to 10, which was a major issue given that everything had been planned out to cover 13 episodes. Mears told Collider that it was stressful and confusing trying to keep up with the changes made to condense the narrative into just 10 episodes, but the Swamp Thing team wound up succeeding and crafting a satisfying finale — one that will serve as the series finale now that the show is no longer. Mears called the writing team and the Swamp Thing crew "magicians" and praised them for working tirelessly to achieve the unthinkable. 
All things considered, Mears feels lucky to have been a part of Swamp Thing even with the chaos and ultimate cancellation, and is holding out hope that the series' cast could reunite somewhere down the line. 
"Maybe something will switch somewhere, if something will flip, and we can all get together again. But I tell you, it's one of the best experiences I have had, and set the bar really high for working together with a group of people," he said. "I have my good days and my bad days. I'm not a saint at all. Similar to Swamp Thing, I need to strive for that balance — so all the stuff that goes down with the show going like man, we got to be together. I got to work with some of the most talented people in the industry, and it got captured on camera, and people are enjoying it, and hearing that it's moving people, that's all you could wish for. Like I said before, if everything ends now, it's been a great run, so no regrets."