DC Universe Cancels Swamp Thing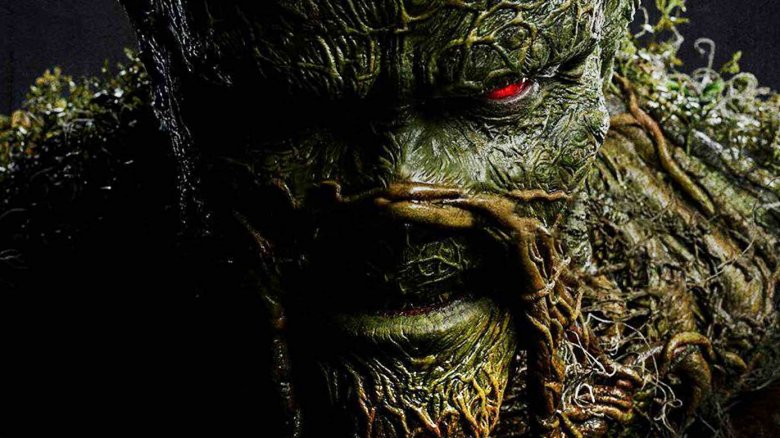 That solves that mystery: the Swamp Thing can't swim. 
Indeed, DC Universe has pulled the life-vest off its latest series, Swamp Thing, after only one episode on air. 
Variety confirmed the news on June 6 — less than a week after Swamp Thing premiered on DC's digital service on May 31. 
Hearing word that Swamp Thing, based on the DC Comics characters dreamt up by Len Wein and Bernie Wrightson, won't score a second season doesn't come as a total shock given the troubles that have bubbled behind the scenes recently. Production issues plagued Swamp Thing so much so that Warner Bros. Television unexpectedly shut down filming. The purported reason for the production halt? Warner Bros. TV producers slashed Swamp Thing's season one order down from 13 episodes to 10, a decision said to be motivated by "creative differences" between the studio, DC Universe, and WarnerMedia. 
When DC Universe released promo footage for Swamp Thing shortly after word of the production shutdown got out, fans believed that the problems had been resolved and all parties could go about their business to make a killer show about the slimy swamp creature living in the murky waters of Houma, Louisiana. Up until now, that was the general consensus: Swamp Thing had a tough start, but it's smooth sailing, right?. 
Clearly, people couldn't have been more wrong — but what caused this cancellation? What irreconcilable differences bedeviled Swamp Thing to the point of no return? 
It might be down to a negotiation error and how that effects the financial viability of Swamp Thing. 
Texas-based cartoonist and writer John Gholson, whose byline you may have seen on sites like Fandango and Movies.com, took to Twitter shortly after trades began reporting on the implosion of Swamp Thing. In an extensive thread, Gholson indicated that the true reason behind Swamp Thing's cancellation was money-related. The long and short of the situation is this: Warner Bros. Television entered an agreement with the state of North Carolina, which allegedly promised a tax rebate to the studio in the amount of between $30-something million and $40 million. Officials were ultimately "unable to deliver" that sum due to a "paperwork error." The roughly $40 million figure is about half of the proposed budget for the first season of Swamp Thing — an estimated $80 million or so. 
Gholson went on to claim that Warner Bros. TV stopped production on Swamp Thing when executives realized that would be "taking a bath on the rebate" — that is, accumulating a massive loss — and shelling out a lot more cash than anticipated to make the first season of the series at the intended level of quality. According to the North Carolina Department of Commerce, Swamp Thing was actually eligible for a tax rebate of $12 million (Gholson claimed it was "something like $14 million"), which is obviously a huge difference from the alleged amount of about $40 million. 
How exactly this mix-up happened, we don't know, as the whole situation is pretty confusing. Star News Online reported that Warner Bros. TV indicated in its applications to the state that Swamp Thing would spend upwards of $85 million in North Carolina while filming its first season, intended to be 13 episodes long. Additionally, the studio is said to have requested "$16.3 million in grant funding based on the 13-episode plan." Did Warner Bros. TV originally ask for a little over $16 million, then changed its request when they mistook the full $31 million available in the grant each year for how much they could receive as a rebate? What was this "paperwork error," and how did it happen? Did the money troubles impact the choice to shorten the season to just 10 episodes?
In any case, it looks like a big miscalculation took place — one that detrimentally impacted Swamp Thing. Per Gholson's tweets, Warner Bros. TV and DC Universe aren't going through with a second season of Swamp Thing because "it's now too expensive to maintain the levels of quality" of the first season, particularly on a platform as niche as DC Universe. 
With Swamp Thing off its slate, it will be interesting to track how DC Universe performs moving forward. The service has Titans and Doom Patrol on its roster already, and is prepping for Stargirl to premiere in 2020, so there isn't a lack of content. However, an astoundingly early cancellation of a series seemingly meant to be a DC Universe flagship could turn potential subscribers away, thus tanking the platform's chance of success down the line.