Tessa Thompson Pitches Valkyrie-Thor Team-Up Film After Endgame's 2019 MTV Movie Awards Win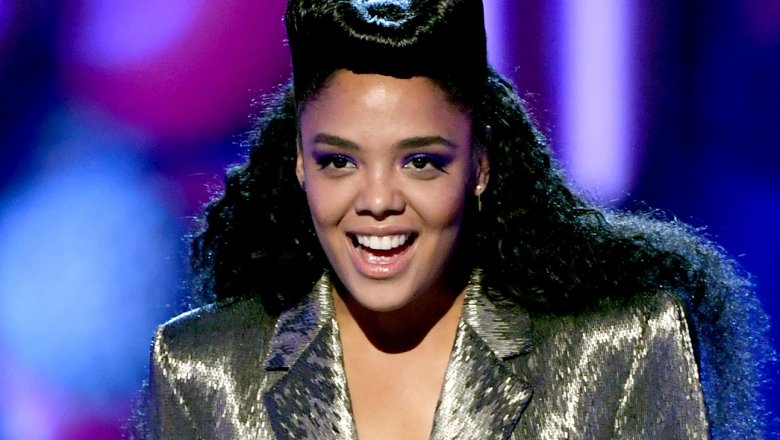 Kevin Winter/Getty Images
Marvel Cinematic Universe mega-star Tessa Thompson has big wins under her belt and even bigger dreams in her head. 
Thompson, who stars as Valkyrie in the MCU, presented Avengers: Endgame co-director Joe Russo with the golden popcorn statue after the superhero ensemble won the Best Movie award at the 2019 MTV Movie & TV Awards. It certainly was a great achievement for Russo and for Marvel Studios, but it was also a fantastic success for Thompson, whose warrior hero came back from the dead to fight the final battle against Thanos (Josh Brolin) in Endgame and was part of one of the most memorable moments of the entire movie.
Riding the high of the film's Best Movie win, Thompson met up with MTV News' Josh Horowitz to chat about what made Avengers: Endgame so special, discuss how she felt shooting that iconic all-female sequence, and tease her character's big-screen return in a Valkyrie-Thor buddy drama she wishes could be made. 
As Horowitz noted, there are many reasons to love Avengers: Endgame and it's clear to see why the pic won Best Movie at this year's MTV Movie & TV Awards. One shining scene that stood out more than others, though, featured Thompson's Valkyrie and her fellow female heroes standing side by side to assist Brie Larson's Captain Marvel in carrying the Infinity Gauntlet to safety. The whole gang was there — Scarlet Witch (Elizabeth Olsen), Okoye (Danai Gurira), the Wasp (Evangeline Lilly), Shuri (Letitia Wright), Mantis (Pom Klementieff), Gamora (Zoe Saldana), Nebula (Karen Gillan), and even Pepper Potts (Gwyneth Paltrow). 
Thompson stated that it was a total treat filming the scene, and hinted that there might be opportunities for more female-focused Marvel movies in the future. 
"To get together, to actually have all the women in that shot, to get to hang out for a day and shoot it, it felt very powerful to us," she said. "And then I've had so many fans come up to me and say that they burst out crying when they saw that shot — that it just meant so much to them. So, for me ... it just got me so excited about all that we can do now."
On the topic of what's to come in the Marvel movie world, Horowitz asked Thompson, "When and how do we wanna see Valkyrie pop up again?" 
Grinning ear to ear, Thompson delivered her pitch for a team-up flick starring Valkyrie and Chris Hemsworth's Thor: "Recently, Chris and I were like, 'What if we make, like, a sensitive drama starring Thor and Val?' Just about them, like, coming down to Earth, trying to get their life together, him trying to lose the weight [that he gained during Avengers: Endgame], and just like a sensitive thing that can travel the festival circuit." 
She added that she's 100-percent serious about wanting to make that movie a reality, saying, "The truth is, I just might do that."
Hey, any excuse to watch on a 50-foot theater screen Valkyrie and Thor embarking on adventures, we'll take. 
Thompson's post-MTV Movie & TV Awards comments track well with what Marvel Studios president Kevin Feige has said about what's to come in the MCU. He has time and again noted that a huge focus moving forward is bringing more female heroes to the forefront of the franchise. The end goal of this initiative, as Feige once told Screen Rant, is to have "more than half" of the heroes in the MCU be women. Considering Thompson's Valkyrie is a fan favorite, Marvel would be wise to give her additional roles in the upcoming fourth phase of the MCU.