What The Critics Are Saying About Toy Story 4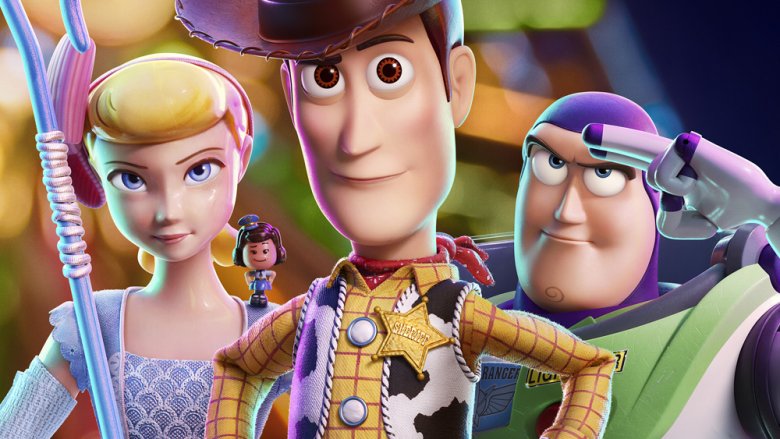 After the masterful Toy Story 3, was another entry really necessary? The answer, apparently, is yes — very.
Reviews are rolling in for Toy Story 4, and they are every bit as effusive as fans of the franchise would hope. The film currently stands at a sterling 100% on Rotten Tomatoes.
The movie comes nine years after the previous entry in the series, and during that time, it was famously rewritten from the ground up after original scribes Rashida Jones and Will McCormack exited the project. If anything, though, the delay and tinkering over the script seems to have only benefited the finished product, as every single reviewer thus far has left the theater absolutely charmed.
The flick tells a somewhat smaller story, as Woody's new kid Bonnie brings home an art project ("Forky," a plastic fork adorned with eyes and a mouth) and declares it to be her new toy. Forky himself laments that he's nothing but trash, so of course, Woody takes it upon himself to impress upon Forky the awesomeness of being a plaything. When Bonnie's family takes a trip to the fair with all of her toys in tow, Woody and Forky end up going on an unexpected adventure that reunites the cowboy with his long-lost friend, Bo Peep — whose independent life has given her quite a different outlook than the last time they were together.
Let's start our review roundup with Kevin Maher of The Times, who didn't keep readers in suspense as to his opinion. "Sweet Lord, this is good," he wrote in opening his review. "You know that you're in the presence of genius when the first five minutes of what is ostensibly the third sequel to a 24-year-old children's cartoon about talking toys is revealed to contain more depth, more thought-provoking content and more soulful passion than any Hollywood movie released this year so far."
Venerable Chicago Sun-Times critic and former Roger Ebert cohort Richard Roeper heaped praise on the film's entire cast, not to mention the new characters, which he admitted to approaching with a bit of trepidation. "When I first heard of this Forky, I thought it sounded like something out of an Onion headline. How stupid of me. This is Pixar; of course, they figured out a way to make Forky an endearing, lovable character," he wrote. "Keegan-Michael Key and Jordan Peele are hilarious as Ducky and Bunny, a couple of carnival plushies who have been pinned to the wall of an arcade game for years and dream of breaking free one day, and Keanu Reeves kills it as one Duke Caboom, a Canadian daredevil toy... Filled with laughs and perfectly choreographed slapstick adventures, Toy Story 4 also knows just when to insert the life lessons and when to deliver those moments guaranteed to put a lump in your throat."
Writing for the 
Star Tribune, Associated Press critic Lindsey Bahr acknowledged the screenplay shuffle before expressing her admiration for the result. "None of [the] disorder is apparent on the screen... If there is a complaint, it's that Woody and Bo's quest takes us away from most of the original toys for a large part of the movie, although Buzz still finds a way to be part of it," she wrote. "Although it doesn't exactly reach the emotional heights of the previous films, the conclusion is still effective and well executed. Let this be a lesson to all franchise cynics: Sometimes more is actually good."
Some of the praise was a little bit more reserved. The BBC's Nicholas Barber opened his review by opining that the first three Toy Story films represented "the finest trilogy in Hollywood history," admitting that for him, "Toy Story 4 was a nerve-wracking prospect." He then went on to praise the movie, calling it "gorgeously animated and as generously sprinkled with jokes as Pixar's best work," while making clear that he doesn't quite consider it to be on par with his beloved trilogy. "Toy Story 4 doesn't tarnish the series, [but] it doesn't polish it either. It's a smaller, less moving, and mercifully, less traumatizing entertainment than the last one, less satisfying in its plotting and less provocative in its themes."
Todd Gilchrist of Birth.Movies.Death was also in this camp, and he copped to having mixed feelings about the whole enterprise going into the film. "It sounds strange to want a sequel that isn't as good as its predecessors, but in the case of Toy Story 4, I was really hoping for one that just didn't try to be... making another one of these movies, no matter how well, is not going to recapture that emotional energy, much less return them to the peaks they enjoyed a decade ago," he wrote. Nevertheless, he opined that the film succeeds in its own ambitions, calling it a "well-told, exquisitely beautiful finale [that] is perhaps only 'very good' in comparison to the [movies] that came before it. But a victory lap feels like more than enough — and the best way to walk away from the franchise — after 24 years and three bona fide home runs."
Most observers, though, were simply floored that Pixar was able to maintain the impeccable level of quality established by the first three films, and one even expressed an opinion that may become a popular one once the flick hits theaters. "The great thing about the creative [minds] at Pixar is that they love movies every bit as much as you do," wrote Jamie Graham of Total Film. "Sure, nobody wants [the series to run] 'to infinity and beyond,' but Toy Story 5 now seems like a rather good idea."
Well, we could have predicted this; we've been incredibly psyched for this movie ever since the first amazingly rendered, awesomely whimsical promotional materials started to drop. We expected no less than for Pixar to knock it out of the park with the fourth installment of their flagship franchise, and the critics are unanimous — the animation house has delivered, big time.
Toy Story 4 hits the big screen on June 21.