First Look At Loki Disney+ Series Teases Time-Traveling Adventure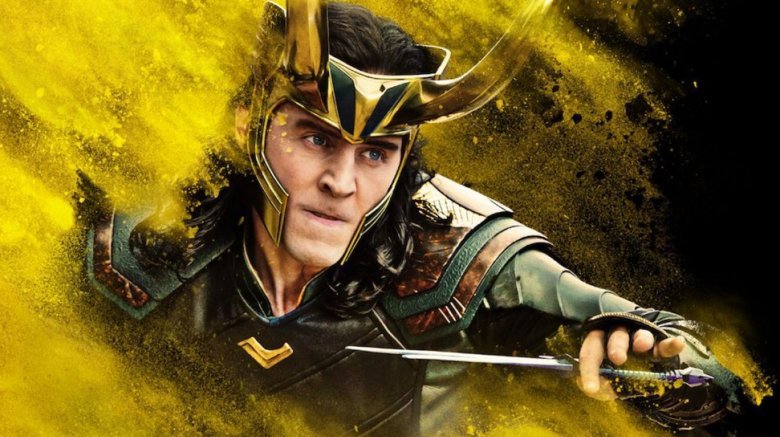 The God of Mischief will get back to his old tricks soon. 
During the Disney Investors Day meeting held in April, Marvel Studios president Kevin Feige took the stage to discuss the several superhero shows hitting the Walt Disney Company's forthcoming streaming platform Disney+ — including the Tom Hiddleston-starring series Loki. The event was available to watch online, but only those in attendance had the good fortune to see promotional material not displayed for the webcast. Disney has now unveiled official images from the meeting, giving Marvel fans everywhere their first look at Loki.
Posted to Twitter by the Marvel Cinematic Universe news account MCU Direct, the Loki photo is actually a picture within a picture, and teases a time-traveling adventure for everyone's favorite trickster god. The screen just behind Feige shows Loki standing in front of a car outside a movie theater, which is screening Steven Spielberg's 1975 classic Jaws. In front of Loki are a man and a woman dressed in fur coats and bell-bottom pants — attire totally apropos of the time period. 
Though MCU Direct notes that the Loki image is actually concept art, some outlets are reporting that it is indeed an official snap from the series. From our perspective, it looks more like a production still, but even if it's actually just an illustration meant to capture the mood and aesthetic of Loki, it still offers valuable insight into the show. 
A retro vibe tracks perfectly with what we've already heard about the series: it will follow Loki as he bounces through time, depicting him as an "unlikely influencer on historical events." This sneak peek at the show may feature only one big pop culture moment from 1975, the theatrical debut of Jaws, but it's basically guaranteed that Loki will impact other events from that year. And the '70s are just the start: Loki will probably wind the clock back to various other decades and get stuck in some pretty hilarious situations. 
Loki has Rick and Morty writer Michael Waldron on board as showrunner. His experience with the timey-wimey nature of the Dan Harmon and Justin Roiland-created animated show will serve him well on the upcoming Marvel/Disney+ series as he crafts scenarios for the time-hopping Loki to work through.
The closer Disney+ gets to its stateside launch on November 12, the more we should learn about Loki.