New Wonder Woman 1984 Poster Is Totally '80s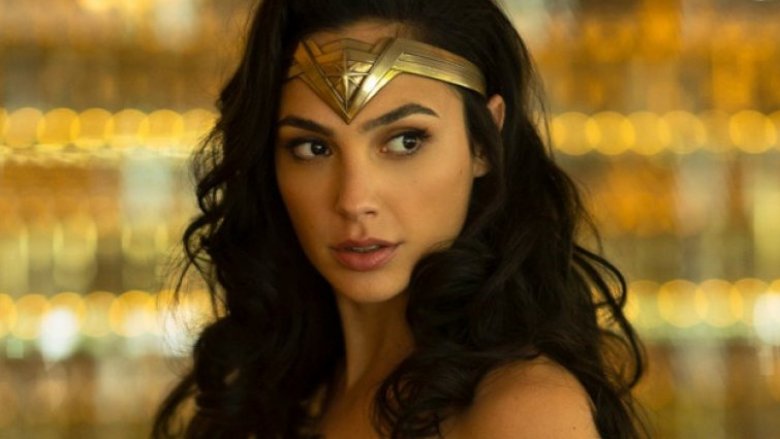 Wonder Woman 1984 is going to be, like, totally rad — to the max!
A brand-new poster for the upcoming Wonder Woman sequel hit the 'net earlier this week, posted to Twitter by none other than director Patty Jenkins herself. 
Jenkins offered up the one-sheet as a sort of apology for Warner Bros. skipping San Diego Comic-Con 2019. The studio will miss out on the biggest entertainment convention of the year and won't be unleashing any sneak peeks at Wonder Woman 1984, but Jenkins didn't want to leave fans high and dry. She tweeted in the caption of the new poster, "By now you've heard: WB isn't going to Hall H this year. We're so sad to miss you there! And waiting until Dec. to start our official #WW84 campaign in full–  But the truth is... we can just... barely... wait..."
We can't blame Jenkins for wanting the world to see the dazzling Wonder Woman 1984 poster as soon as possible. In a word, it's retro. Bursting with every shade of the neon rainbow that all come together to form a massive W (for Wonder Woman, duh!), the one-sheet flawlessly captures the aesthetic of the 1980s. 
But it's much more than just an ultra-cool-looking piece of promotional material. This Wonder Woman 1984 poster gives fans their first look at Diana Prince's brand-new costume. Standing strong with her fists clenched and her shoulders back, Gal Gadot's Wonder Woman is seen decked out in upgraded garb that looks a whole lot like her Gold Armor (also referred to as the Golden Eagle Armor) from the DC comics. In the source material, Diana obtains enhanced abilities when she dons the glimmering get-up: she's able to fly; withstand explosions, bullets, energy blasts, and physical attacks; and can utilize the retractable faceplate on her helmet to breathe from a protected air supply if her oxygen is low or if the air around her is unclean. 
Canonically, the Themysciran artisan Pallas created the Gold Armor and gifted it to Diana for use in battles against incredibly powerful opponents. It proved useful in Wonder Woman's fights against villains like the living weapon Devastation and the entropic galaxy-slayer Imperiex. 
Given that Wonder Woman 1984 sees the titular heroine face off with the Barbara Ann Minerva iteration of Cheetah, played by Kristen Wiig, it makes sense why she would need new armor: she's as formidable a foe as Diana has ever gone up against before. A British archaeologist and wealthy heiress, Barbara transformed into her super-villain alter-ego after traveling to Africa to visit a tribe led by a woman with all the force, strength, and agility of a cheetah. When marauders kill the woman, a priest named Chuma carries out the conference of powers from the slain leader to Barbara. The ceremony comes with severe consequences, though, as Barbara doesn't meet all the requirements to be the perfect host for the Cheetah entity. As a human, she's overcome with pain; as Cheetah, she's vicious, vile, and bloodthirsty.
We don't yet know how Wonder Woman will cross paths with Cheetah, but once she does, there's a strong chance that their first fight could leave the Amazonian warrior shaken. She might make a quick trip to Themyscira and seek the aid of Pallas, who could outfit her with the Gold Armor to help ensure a win over Cheetah in their next battle. 
This isn't the only Wonder Woman 1984 poster that fans got a glimpse of this week. The Spanish-language fan account DC Universe shared another one-sheet for the sequel as displayed at the 2019 Licensing Expo currently taking place in Las Vegas, Nevada. 
Much like the one Jenkins shared, the Wonder Woman 1984 Licensing Expo poster shows Diana Prince sitting front and center. Here, she rests her arm on her knee and basks in yellow-orange neon light that perfectly fits the vibe of the decade. Behind her is the super-stylized title of the film, shown as WW84 rather than the full Wonder Woman, because, you know, everyone in the '80s was all about those gnar (gnarly) abbrevs (abbreviations). They apparently left the superfluous synonyms in the '70s, and Wonder Woman 84 left 'em in its superhero predecessor.
The DC Universe Twitter account later shared a second shot of the poster, this time offering a clearer and closer view at Wonder Woman.
Though the Licensing Expo poster is certainly a visual treat (it really nails the metallic bronze hue that was prominent in '80s fashion), it doesn't reveal much by the way of plot. Warner Bros. and DC Films have stayed incredibly tight-lipped about the long-awaited Wonder Woman sequel, revealing very little about what adventures the eponymous heroine will embark on for her second turn on the silver screen. All we truly know about Wonder Woman 1984 is its time setting (1984, of course), its villain, and that Pedro Pascal will appear as a mysterious and yet-unnamed politician and Chris Pine will return as the miraculously revived pilot Steve Trevor. Diana is said to experience conflict with the Soviet Union during the Cold War and then go head-to-head with Cheetah, but there's no intel on how everything unfolds. 
As backward as it sounds, that shouldn't be a cause for concern. Director Jenkins seems to have it all figured out, telling Deadline in May that there's a reason why the film takes place in 1984 — which will connect to the sequel's story and resonate with modern audiences.
"All I can say is that 1984 itself is definitely very evocative to what's important in that movie and resonates with right now. I picked 1984 for a very specific reason. I think it was the pinnacle of the success in the '80s, in my opinion, because it's before the market started to get a little more struggling as the '80s went on. And it was like the top of the top," Jenkins explained. "It was such an incredible time. I feel like there's something about the excess of that period of time, which is so linked up to where we are in the world right now, that it's set there for a reason. That's all I can say."
With Wonder Woman 1984 nowhere near its June 2020 launch date and the film's promotional cycle not kicking off until December, fans sadly must wait a while before they can feast their eyes on more posters and first-look footage at the film. Something tells us that when all is said and done, the end result will outweigh the months-long moratorium on the release of information.
Wonder Woman 1984 will hit theaters on June 5, 2020.