Wonder Wonder 1984: Get Your First Look At Pedro Pascal In Character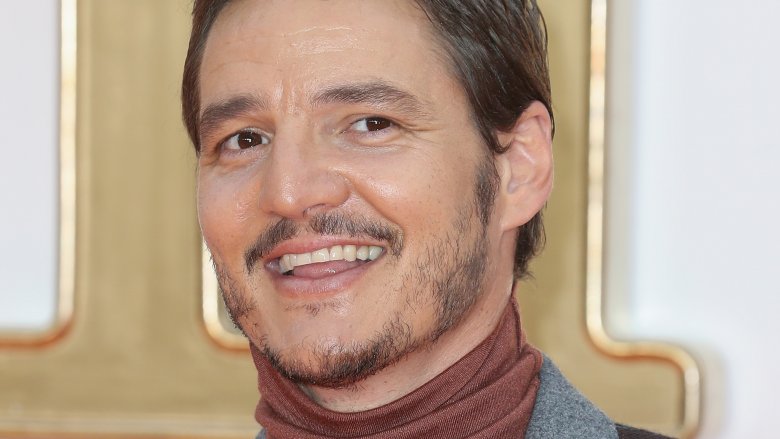 Getty Images
Actor Pedro Pascal is 1980s incarnate in the newest photo from Wonder Woman 1984. 
Taking to Twitter on Monday night, director Patty Jenkins shared a snap of Pascal in character for the upcoming Wonder Woman sequel. 
"Can't...Stop... Watching... @PedroPascal1 !!! #WW84" Jenkins captioned the photo, which shows Pascal sporting a striped blue suit, sandy blonde hair (a stark contrast to the Chilean-born American's naturally dark locks), and a yellow and navy geometric-patterned tie and matching pocket square. He's also got a dubious look on his face — which might signal that Pedro's mystery character will be a thorn in Wonder Woman's side. 
Pedro later shared the image to his Instagram page, adding a caption that perfectly captures just how done-up and different from himself he looks in character: "Power suit. Power hair. #WW84."
While this photo gives us the first look at Pascal's Wonder Woman 1984 character, we still don't know who exactly that is. At the time of his casting, all that was announced was that he had scored an "undisclosed role" in the follow-up film. Four months later, and that part still hasn't been made known publicly. 
Popular speculation suggests that Pascal is portraying the powerful, cunning businessman Maxwell Lord — yes, that Maxwell Lord who, in the comics, funneled his cash into funding and founding the 1980s' incarnation of the Justice League. Despite his altruistic origins, Lord was eventually revealed to be a villain in the mid-2000s during The Omac Project crossover event. A masterful manipulator, Maxwell Lord went to great lengths to coerce heroes into becoming part of another super group that would carry out an evil plan to "save" the world from vigilantes by completely taking it over.
Eventually, Wonder Woman had to deliver Maxwell to death's doorstep after he seized control of Superman's mind. Maxwell's murder was broadcast across the globe, which ruined Wonder Woman's reputation, caused Superman and Batman to turn on her despite the fact that they were only alive because of her actions, and resulted in a great divide between the members of the Justice League. 
If Pascal really is playing Maxwell Lord in Wonder Woman 1984, that would effectively mean the film has two main villains: Pascal's Maxwell and Kristen Wiig's Cheetah, also known as Barbara Ann Minerva. 
Since not a lot is known about Wonder Woman 1984 — apart from the facts that it's set in 1984 (duh), takes place in America, possibly features a fight sequence in a shopping mall, and apparently sees Gal Gadot's Diana Prince reunite with Chris Pine's Steve Trevor — almost any assumption goes at this point. Pascal taking on the role of a mind-controlling magnate certainly isn't the wildest Wonder Woman theory we've heard thus far. 
Wonder Woman 1984 is set to fly into theaters on November 1, 2019.
Can't...Stop... Watching... @PedroPascal1 !!! #WW84 pic.twitter.com/6s7YdkGQNL

— Patty Jenkins (@PattyJenks) July 30, 2018