Sophie Turner Has Some Blunt Words For The GoT Fan Petition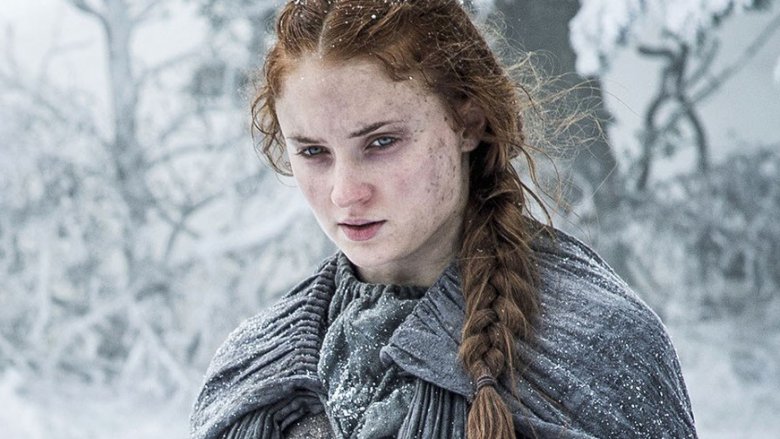 Contains spoilers for Game of Thrones season 8
While more than a million Game of Thrones fans found no issue crying out for HBO to remake the eighth and final season with a different group of writers, actress Sophie Turner feels their actions are incredibly rude. 
Turner, who portrayed Sansa Stark on the series since the premiere episode in 2011, addressed the recent fan petition in an interview with The New York Times.
Created by a Change.org user known only as "Dylan D," the appeal slams Game of Thrones series creators, showrunners, and frequent directors David Benioff and D.B. Weiss as "woefully incompetent writers when they have no source material (i.e. the books) to fall back on," and demands that network HBO hire a team of "competent writers" to create "a final season that makes sense."
Turner told The New York Times that she's dismayed at the petition, finding it deeply disrespectful to those who have poured countless hours into the final season — not to mention nearly a decade into the series as a whole. In her eyes, it's as if the people who signed the petition are oblivious as to what goes into making a television show, and are only concerned with their own feelings about the finished product. 
"Honestly, I'm not surprised," the actress said when asked for her thoughts about the vitriol from fans — which reached an apex with the penultimate episode of the series that featured the newly minted Mad Queen Daenerys (Emilia Clarke) flaming King's Landing.
Turner continued, "People always have an idea in their heads of how they want a show to finish, and so when it doesn't go to their liking, they start to speak up about it and rebel. All of these petitions and things like that — I think it's disrespectful to the crew, and the writers, and the filmmakers who have worked tirelessly over 10 years, and for 11 months shooting the last season. Like 50-something night shoots. So many people worked so, so hard on it, and for people to just rubbish it because it's not what they want to see is just disrespectful."
She also argued that it "shouldn't be such a negative things for fans" to watch the series subvert expectations and send characters down dark and dangerous paths. Game of Thrones has been doing that since the very beginning, so why should it change course during the final season? As Turner put it, "The thing about Game of Thrones that's always been amazing is the fact that there's always been crazy twists and turns, right from Season 1 with Ned's beheading. So Daenerys becoming something of the Mad Queen — it shouldn't be such a negative thing for fans. It's a shock for sure, but I think it's just because it hasn't gone their way."
Turner is far from the first Game of Thrones star to speak out about audience backlash. Her onscreen brother-slash-cousin Kit Harington, who portrayed Jon Snow, told Esquire in April that any critic who makes a "negative judgement" on the final season can "go f*** themselves," as he feels they don't fully understand how difficult it is to make even one episode of Game of Thrones. 
"Because I know how much work was put into this. I know how much people cared about this. I know how much pressure people put on themselves and I know how many sleepless nights working or otherwise people had on this show. Because they cared about it so much. Because they cared about the characters. Because they cared about the story. Because they cared about not letting people down," he said. "Now if people feel let down by it, I don't give a f***. That's how I feel."
The woman whose character's downfall catalyzed the demand for a season 8 remake, Daenerys Targaryen actress Emilia Clarke, recently opened up about the fan petition. Speaking with The New Yorker, Clarke revealed that the Mother of Dragons falling from grace to become the Mad Queen and then facing the ultimate betrayal when Jon Snow (Kit Harington) murders her "seemed like the only way it could end" for Dany. 
"It absolutely breaks my heart that anyone would think anything bad of her. But I'm sure they will, and I can't control that," she said. "I don't know that there was any other way."
Contrarily, Turner's character completed her arc in an almost universally loved way. After members of the remaining Great Houses of Westeros met with one another and agreed with Tyrion Lannister's (Peter Dinklage) suggestion that Bran Stark (Isaac Hempstead Wright) should be appointed king, Sansa declared that the North will separate itself from the other kingdoms, stand independent, and never vote on who will become the protector of the Realm. Everyone supported Sansa, and when she returned home to Winterfell, she was crowned the Queen in the North. 
Turner said of Sansa's ending, "I loved it. It's the only place that she really, truly feels safe. The place that she's the most capable of ruling. She would be a fair and loving ruler, and it's what she's been striving for this whole series: to go back home, to protect her home. And finally she has that."
Though she's frustrated by the way audiences have reacted to the final season of Game of Thrones, Turner isn't letting the negativity stain her good memories of the series and what it was like to be a part of it. 
"One of the things that I'll remember the most is just the camaraderie and the family that we all created from being on the show," she said. "I've never felt such a strong bond with a group of people in my life; I know that they're going to be my family forever ... We were stuck in the mud and the rain for 10 years together. It's hard not to bond with those people — I think that's what I'll take away the most."