Emilia Clarke Reacts To Petition Demanding A GoT Season 8 Remake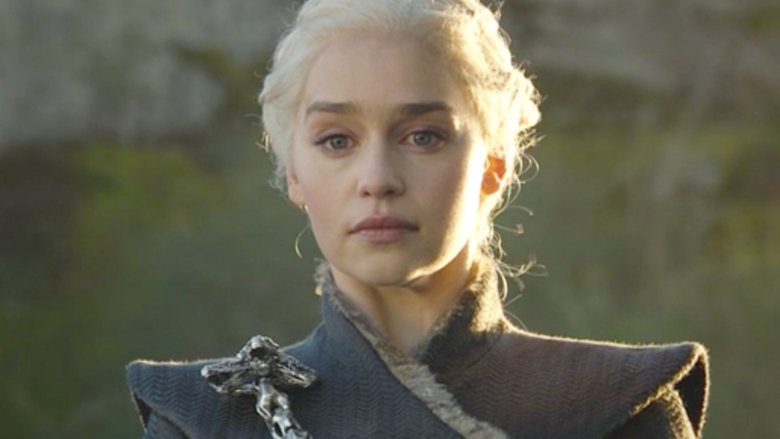 Contains spoilers for Game of Thrones season 8
When a long-running television series comes to an end, fans get emotional. When a show as massively popular as Game of Thrones wraps up, though, viewers ricochet between dozens of emotions. As it turns out, Thrones enthusiasts weren't entirely sad over the show coming to a close — they were mostly mad, and started a petition demanding HBO remake the eighth and final season with a whole new script so the show would end differently. 
The Game of Thrones season 8 remake petition gained international attention and well over a million signatures as of this writing, but one person who was unaware of its existence was the actress whose character's demise started the intense fan outcry in the first place. 
Daenerys Targaryen actress Emilia Clarke was finally made aware of the petition when she sat down for an interview with The New Yorker, during which she offered her thoughts on what she would want to happen if the series' final season was to ever get redone. 
"No, I didn't," said Clarke after The New Yorker staff writer Sarah Larson asked her whether she had heard about the petition. She then shared her hopes for a hypothetical season 8 remake, revealing that she would have loved if Daenerys interacted with her handmaiden, Missandei (Nathalie Emmanuel), and her greatest enemy, Cersei Lannister (Lena Headey), more than she did during season 8. 
"Well, I can only speak to my own character, and the people that I interact with on the show. But I would've loved some more scenes with me and Missandei. I would've loved some more scenes with me and Cersei," Clarke stated. "I would've loved some more scenes between Grey Worm and Missandei. I would've loved to see a bit more between Cersei [and Daenerys]."
The actress continued, noting that she wanted to "see a bit more" discussion between characters during the divisive fifth episode of the final season, which followed Daenerys and her allied forces as they stormed King's Landing. When the city surrendered, ringing the bells to signal that King's Landing was Daenerys' for the taking and that its citizens would not fight against her, the Mother of Dragons became the Mad Queen and ordered her dragon Drogon to burn down everything in sight. Clarke said that Dany's tumbling into madness was inevitable, but she would have enjoyed additional conversations included in between all the action. 
"The genocide was there. That was always going to happen. And I just think more dissection and those beautifully written scenes that the boys have between characters — that we are more than happy to contently sit there and watch ten minutes of two people talking, because it's beautiful," she said. "I just wanted to see a bit more of that."
Clarke also expressed a desire to see Dany's "last images being that of kind of a hopeful, childlike love" before she dies in the arms of her lover-slash-nephew, Jon Snow (Kit Harington), who murders her when he realizes that she will cause more harm than good to the people of Westeros. Daenerys' death was a "shocker to read," but the actress admitted that she isn't sure the character could have had a more triumphant ending. 
"I just really want that to be the last image of her. And it absolutely breaks my heart that anyone would think anything bad of her. But I'm sure they will, and I can't control that," said Clarke. "Even for a part that I've given so much to and I've felt so much for, and for a character that's seen and lived through so much, I don't know that there was any other way ... I always knew that the show was never going to satisfy everyone. I watched and loved too many television series to ever think that would be possible. The stories are too vast, the characters too complex. The show is, in a certain way, divisive: 'Whose side are you on?' Also, if you're pleasing everyone, then it's probably quite tepid. But to me it seemed like the only way it could end."
Clarke was quick to clarify that she isn't criticizing what showrunners David Benioff and D.B. Weiss did with Daenerys' character arc, or how they mapped out the series' conclusion. "I'm in no position to critique the geniuses that have written eight seasons' worth of wonderful stuff," the actress stated. 
It couldn't have been easy for Clarke to come to terms with what happened to her character, whom she has played since 2011, on the final two episodes of Game of Thrones. Her response to the petition asking for a re-do is incredibly level-headed — which is admirable considering Clarke's Daenerys was the only character to die on the finale episode. Clarke could have become bitter or scorned, taken a sour attitude to it all, and huffed and puffed about Dany's unfortunate fate, but that's just not what she's about. 
It's unlikely that those who hated Game of Thrones' final season will suddenly change their minds after hearing Clarke's response to the online backlash, but perhaps her diplomatic disposition might inspire them to ease up a little. If the woman who had to play the character who went mad and was murdered by her lover can remain calm about the situation, the people who only had to witness it should be able to do the same.