John Wick Director Says More Movies, TV Series In The Works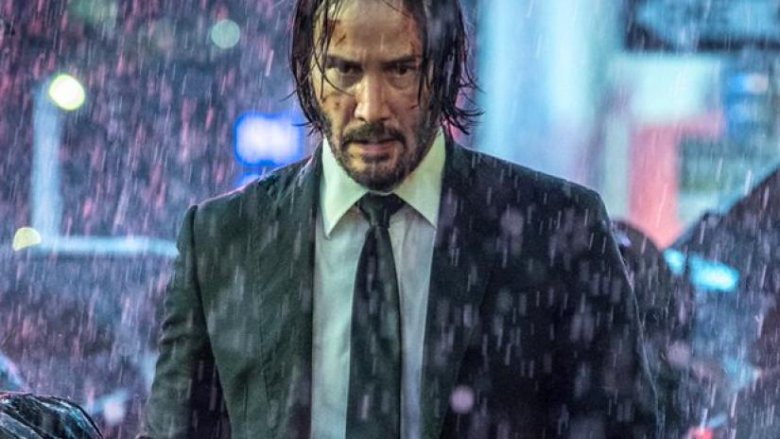 As long as people keep coming to see 'em, Chad Stahleski and Keanu Reeves will keep makin' em.
The John Wick: Chapter 3 — Parabellum director said in a recent interview that, although the franchise's continued success never fails to surprise him, he and Reeves just keep coming up with new ideas on where to take it. Stahleski also gave a brief update on the status of the long-awaited TV series set in the universe of the films. (via Entertainment Weekly)
With the third installment in the ongoing story of Reeves' titular ace assassin scoring nearly $6 million dollars in Thursday night previews — better by far than the previous two films — Parabellum looks poised to storm the box office with guns blazing this weekend. But Stahleski, who scored his first directing gig on the the 2014 original, related in endearingly self-deprecating fashion that it's still tough for him to believe that the franchise has become such a phenomenon.
"I can't tell you enough about how amazed we are by everything," he said. "We did the first one, and my co-director at the time Dave Leitch (who would go on to direct Deadpool 2), we finished the movie, watched the first cut, and we were already looking for second unit jobs. We were like, 'Our directing careers are over! We're done! They're going to laugh at us!' The second one, me and Keanu watched, and went, 'We got a little weird on this one. We're never going to work again.' And it did well. This one, I'm already starting to look for janitorial jobs."
Somehow, we doubt we'll see Stahleski collecting trash in our office any time soon. While the first flick only pulled in just under $90 million dollars at the worldwide box office, word had gotten out by the time John Wick: Chapter 2 dropped in 2017. That film nearly doubled the performance of its predecessor, and with Parabellum on track for a $40 million dollar opening weekend domestically, that trend of increasing returns looks likely to continue.
The John Wick movies have developed a well-deserved reputation as some of the best pure action flicks being made today, and Stahleski — a former stuntman — implied that if audiences are waiting for the high-octane series to start running out of gas, they're going to be waiting a long time.
"I enjoy making these movies because there's no limit," he said. "We create our own mythology, and [studio Lionsgate] both stays out of our way and supports us on the wacky decisions. If people go see the movie, and it makes money, and they came back to us, Keanu and I have ideas for days. It's a fun world. I could live here for the rest of my career. If people like it and want to watch more, I could think of way worse ways to spend your career. We'll let the audience figure that out."
The director and his star may have ideas for days, but if the film franchise has to end one day, Reeves has at least one idea of how he'd like to see it play out — and it's probably not what you'd think. Asked in an interview with ScreenRant if he'd rather see Wick die fighting or walk off into the sunset, he first quipped, " Hmm... if it was Marvel, I could do both. I can die in battle and then come back," before continuing, "But what would I prefer? I want John to be happy. So, let's have him walk out in the sunset because he's not, he's fighting for his life. So if there's a battle to be won, it's his life... So, walk off into the sunset."
We suppose we shouldn't be surprised anymore at just how darn sweet that guy is. At any rate, with all of the world-building Stahleski, Reeves, and writer Derek Kolstad have done with the films, the Wickverse (a descriptor that we coined, just now) was bound to bleed over to the small screen at some point. A series revolving around the films' famous Hitman Hotel, The Continental, has been in development for almost two years — and Stahleski suggested that it's finally starting to come together in earnest.
"They have a writers' room working on it right now, trying to develop the first season," he said. "Keanu and I have sat with that creative element, and laid out what we feel makes John Wick special, and what would make the TV show unique. Now, it will be a round of back and forths. But, yeah, Lionsgate is in actual full development [on] it... It should be fun."
Yes, it certainly should be. Chris Collins (who has worked as a writer and producer on series like The Wire and Sons of Anarchy) has been tapped to showrun the series, and although it hasn't been officially confirmed, it was reported early last year that Deadwood's Ian McShane was circling a role on the show.
All signs point to a long and storied run for one of the most flat-out kickass action franchises of all time, and we sincerely hope that Mr. Wick won't be walking off into the sunset any time in the near future. By the way, John Wick: Chapter 3 — Parabellum is getting crazy good reviews, and it hits the big screen in wide release today, so we're honestly not sure why you're still reading this — you've got a movie to go see.