The Purge 5 Gets Summer 2020 Release Date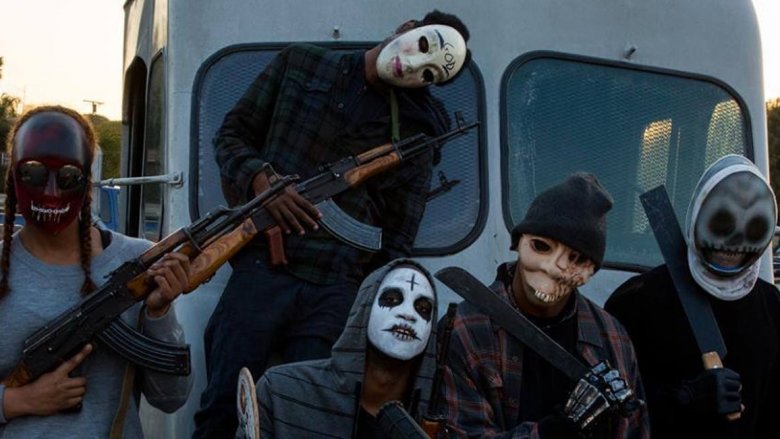 The Purge is coming around once more, perhaps for the last time.
Universal Pictures has announced a release date for the as-yet untitled fifth film in the Purge series, a film that may constitute the swan song for one of the more profitable horror franchises of all time. The flick will hit theaters on July 10, 2020, according to Variety.
2013's The Purge, which starred Ethan Hawke and Game of Thrones' Lena Headey, was a surprise smash, raking in nearly $90 million dollars worldwide on a miniscule budget. In case you're unaware, the films take place in a world where all crime (including murder... heck, especially murder) is legal for 24 hours once a year, and the first flick's lean, mean home invasion narrative did an admirable job of fully exploiting the premise while keeping the focus tight on one hapless family whose foolproof plan for surviving the event goes terribly awry. 
Each new film in the series has garnered increasing global box office returns, something of a rarity. 2014's The Purge: Anarchy clocked in with $112 million dollars, 2016's The Purge: Election Year (which capitalized on its release during one of the most bizarre and divisive election years in recent memory) collected $118 million dollars, and last year's prequel The First Purge topped them all with a $137 million dollar worldwide gross. With that kind of track record, one could reasonably expect the series to continue on ad infinitum — but James DeMonaco, the creator of the franchise and director of the first three installments, revealed last year that he has designs on bringing his creation to an end.
"I have [the series' ending] in my head. I think I'm going to write it," he said. "I think it's a great way to end it all. We want to end it all, I think, in this one, and I'm very excited. When I came up with the idea and pitched it to everybody, they seemed psyched, and I think it will be a really cool ending, how we take this one home."
For a series with a premise as incendiary as that of the Purge flicks, we suppose it's better to go out with a bang than a whimper, and if DeMonaco's concept is as killer (no pun intended) as he thinks it is, then the franchise has a chance at becoming the rare multi-installment horror series to go out on a high note. The fifth film won't necessarily be a definitive ending, however, thanks to the USA Network spin-off series (also called The Purge) which aired its first ten episodes last year. 
While critics were in general agreement that the concept wasn't working quite so well on the small screen as it did at the multiplex, the series was still well-received by fans, and USA picked it up for a second season late last year. It can often take new series a season or so to find their footing, and the show sports a talented cast that kept audience engagement high despite a touch of those first-season doldrums.
We'll have to wait to see if DeMonaco makes good on his promise to bring the theatrical series to a close by jumping straight from The First Purge to... well, the last Purge, but something tells us that if the fifth entry continues its predecessors' tradition of hauling in more cash than the film that preceded it, he might be persuaded to come back for another go-round or two (or three). It's not like he has a heck of a lot else on his plate; other than serving as a producer and writer on the USA series, his IMDb page lists only one other feature in post-production, but it's an intriguing one. 
Titled Once Upon a Time in Staten Island, it's described as an '80s-set coming-of-age family drama, which is about as far away from the world of The Purge as it gets. DeMonaco wrote and directed the film, which sports a killer cast featuring the likes of Naomi Watts (The Ring), Frank Grillo (the Marvel Cinematic Universe's Brock Rumlow/Crossbones), and Wu-Tang Clan rapper Method Man, who knows a thing or two about Staten Island.
At any rate, The Purge 5 is once again being co-produced by DeMonaco's Man in a Tree production company along with Michael Bay's Platinum Dunes and horror juggernaut Blumhouse. No casting details have yet been announced, but we'll keep both ears to the ground, and fill in details as they become available.