The Purge Creator Thinks Next Film Will Be The Last In The Franchise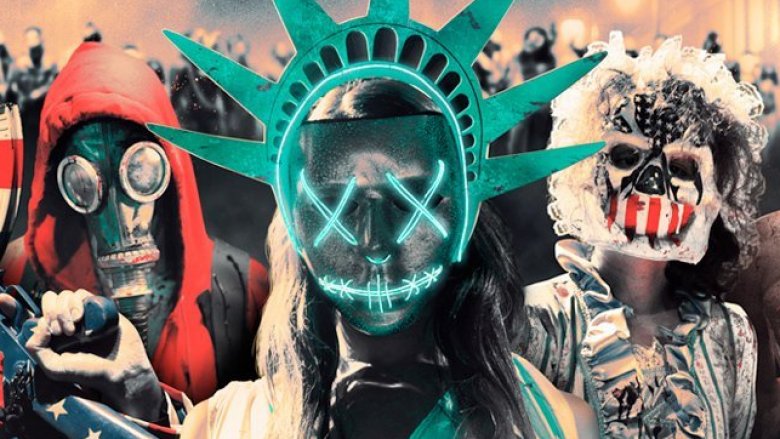 Start zeroing in on your crime-committing plans, gang — the last Purge could be coming soon. 
The Purge franchise creator James DeMonaco revealed to Entertainment Weekly that he has already envisioned an ending for the horror movie series, and he thinks the upcoming installment will serve as that very conclusion. 
"I have it in my head. I think I'm going to write it," DeMonaco said, referencing the concept he has for the next Purge movie. "I think it's a great way to end it all. We want to end it all, I think, in this one, and I'm very excited. When I came up with the idea and pitched it to everybody, they seemed psyched, and I think it will be a really cool ending, how we take this one home."
Having written all four Purge films – The Purge, The Purge: Anarchy, The Purge: Election Year, and The First Purge — and directed all but the most recent entry, DeMonaco has a firm grasp on the fabric of the franchise, which takes place in an alternate America where all crime is legal for 12 hours on one night out of the year. That said, there's little doubt that he'll bring the series to a conclusion that will spook and satisfy fans. 
While The Purge franchise may wrap up with the next installment (The Purge: Trump Era? The Purge: One Last Riot? The Purge: It's Not Over 'Til Lady Liberty Sings?), the television show that spawned from the film series has a chance of living on. Another of DeMonaco's creations, The Purge series centers on Penelope Guerrero (Jessica Garza), a member of a cult of Purge-worshippers who vows to sacrifice herself in a murder ritual to please her leader. Once Penelope learns of the "ghastly realities of the Purge," her entire system of screwed-up beliefs comes crumbling down and she attempts an escape — but things only get worse when her older brother Miguel (Gabriel Chavarria) takes to the dangerous streets to try to save her. 
Unfortunately, the series isn't nearly as solid as its cinematic counterparts, with casual viewers and critics agreeing that The Purge doesn't really work as well in a shorter, smaller format. The Purge series is only in its first season, and there's currently no telling whether NBCUniversal will renew it for a second turn. But if the network doesn't deem the show worthy of another season, and if DeMonaco really will end the film franchise in the near future, The Purge will sadly be gone from all screens before we know it.