The Suicide Squad Reportedly Eyeing Michael Rooker To Play King Shark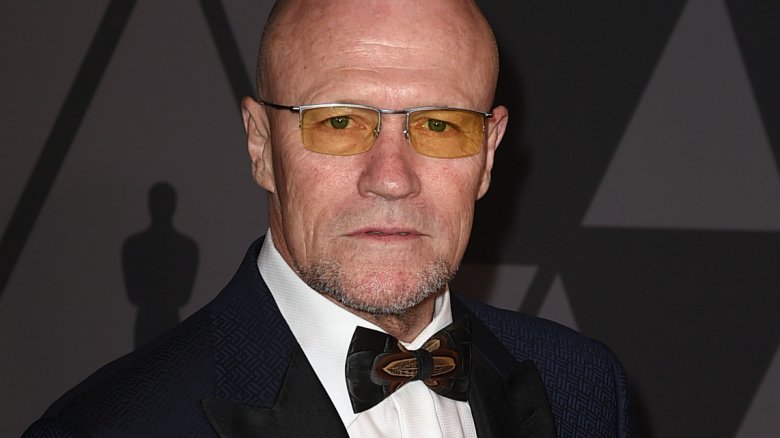 Kevin Winter/Getty Images
The Suicide Squad director James Gunn is apparently keeping things in the family. 
A new report published by TheWrap indicates that Guardians of the Galaxy alum Michael Rooker is in talks to portray King Shark in Gunn's upcoming DC feature The Suicide Squad. 
This would mark another comic book movie collaboration between Gunn and Rooker, as Gunn previously directed Rooker as Yondu Udonta in 2014's Guardians of the Galaxy and its 2017 sequel. It would also continue the long-running professional relationship the pair has, given Rooker has held roles in the horror-thriller film Gunn produced The Belko Experiment and will appear in the Gunn-produced sci-fi horror Brightburn. 
For the uninitiated, King Shark (a.k.a. Nanaue) is a humanoid shark and the son of the Shark God, or the King of All Sharks. The comics explain King Shark's first brush with the Suicide Squad as essentially accidental: he had no other choice but to assist the group when Superboy and Sam Makoa were tasked with defeating the Silicon Dragons, a criminal crew lurking around the Hawaiian Islands. King Shark had to ensure Makoa stayed safe on the mission, because if he didn't, an explosive tied around his waist would detonate. At that time, Deadshot and Captain Boomerang were also members of the Suicide Squad. 
In DC's New 52 run, King Shark, now a hammerhead shark rather than a great white-looking one, joins the Suicide Squad after Amanda Waller captures and torments him. He does some pretty messed up stuff as part of the gang, largely at the demand of Amanda, like eating fellow Squad member Yo-Yo alive. (She survives, though, so it's not all that awful.) 
King Shark was originally meant to appear in 2016's Suicide Squad, but was left out because the character likely would have been completely CG. Director David Ayer previously shared that he wasn't quite comfortable with that idea, and instead opted to include Killer Croc (Adewale Akinnuoye-Agbaje) in the film, as that character didn't require much post-production special effects and was brought to life using practical effects like prosthetics and make-up. 
It's unclear if Rooker will give a live-action performance as King Shark, or if he will simply provide the voice for the CGI character.
Studio Warner Bros. has yet to confirm or deny news of Rooker's potential casting in The Suicide Squad, though TheWrap notes that the intel came from a source with inside knowledge of the production. If Rooker genuinely does board the sequel-slash-reboot flick, which is said to reimagine the DC Comics property and make bold storytelling choices to differentiate itself from the first Suicide Squad movie, he will join Margot Robbie as Harley Quinn, Viola Davis as Amanda Waller, Jai Courtney as Captain Boomerang, Daniela Melchoir as Ratcatcher, David Dastmalchian as Polka-Dot Man, and Idris Elba as a yet-unidentified character. Joel Kinnaman may also return to reprise his role as Rick Flag.
Elba's character, Ratcatcher, Polka-Dot Man, and King Shark are a handful of DC Comics villains set to make up the new Suicide Squad roster under Gunn's vision. Rumor has it that The Suicide Squad will also feature the ironically named Peacemaker, a pacifist who so ardently wants to bring peace to the world that he will go to dangerous, forceful lengths to achieve his goal. Once Rooker's on-boarding is officially official, it appears the only other major character left to cast is Peacemaker. We aren't the betting kind, but if we were, our money's on John Cena, whose name has already cropped up in connection to the character. 
Sadly, it'll be quite a while before fans see (or hear) Rooker as King Shark in The Suicide Squad. The film is scheduled to open in theaters on August 6, 2021.