Pokemon Detective Pikachu Zaps Up $5.7 Million In Thursday Previews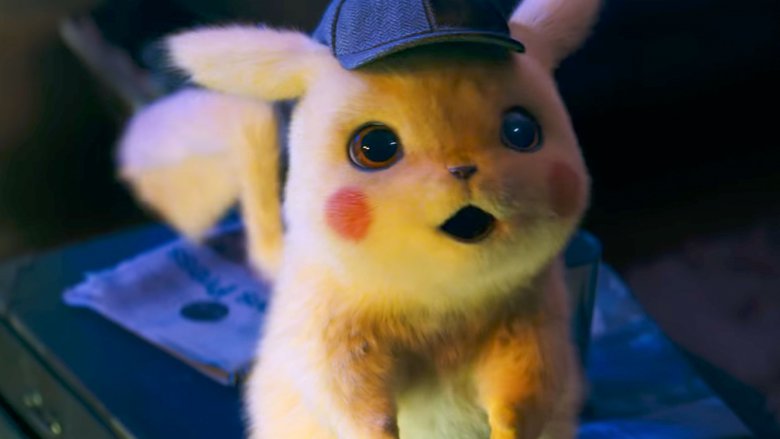 Pokemon Detective Pikachu is aiming to become the very best, like no one ever was. 
The film, a fantasy-mystery based on the famous Pokémon franchise and the video game Detective Pikachu, debuted to the tune of $5.7 million at the domestic box office during Thursday night previews on May 9. 
Deadline has the facts and figures, further noting that Detective Pikachu's Thursday pull falls in line with the cash Shazam! took in when it debuted in early April. The superhero solo flick managed an impressive $5.9 million Thursday evening, then kept the momentum going to post a $20.3 million domestic Friday and a $53.5 million stateside opening weekend. 
Analysts are predicting that the Ryan Reynolds and Justice Smith-starring Detective Pikachu will earn between $50 million and $50 million domestically in its first three days at the box office. This would, as Deadline indicates, far exceed the first weekend figure Pokemon: The First Movie pulled in when it debuted in 1999. That film grossed an unadjusted $31 million stateside in its initial three-day turn. 
Some may have been worried about how well Pokemon Detective Pikachu will perform at the box office given that its arrival comes just two weeks after Avengers: Endgame touched down in theaters. The mammoth Marvel movie has already broken the $2 billion barrier, beating out James Cameron's Titanic to become the second-best-earning film of all time. Those concerned that Endgame would crush Pikachu were probably right to be worried initially, but it's looking like the latter will still be able to hold its own and not get completely overshadowed. Many moviegoers have already seen Endgame (and some hit the theater several times over to experience the superhero ensemble a second and third time), so it's likely that they're now ready to avert their attention elsewhere. 
It remains to be seen whether Pokemon Detective Pikachu will win the domestic box office this weekend, or if Avengers: Endgame will stay in the top spot. Variety reports that Endgame is looking at another $60 million to $80 million in its third weekend out, so if the film does achieve those earnings, Detective Pikachu sadly won't be number one. Should Endgame end up coming in lower than expected by the end of the day on Sunday, May 12, Detective Pikachu could zap to first place. 
Profits aside, Pokemon Detective Pikachu has already tasted success through some pretty wonderful critical reviews. Early reactions to the film praised it as delightful, heartwarming, incredibly funny, and appealing to longtime Pokémon fans and newcomers alike. Warner Bros. Pictures lifted the official review embargo for the film not long before it hit theaters on Thursday, and the consensus has largely remained the same. Though some have argued that Detective Pikachu could have been better in certain aspects and may have benefitted from a tighter story, the main takeaway is that the pic carries a "wonderfully bizarre premise" and is an "offbeat adaptation" that "should catch most — if not all — of the franchise's fans."
Check back with Looper post-weekend to see how Pokemon Detective Pikachu fared at the domestic and global box offices.