Detective Pikachu First Reactions Praise Franchise-Starter As A Cute Crowd-Pleaser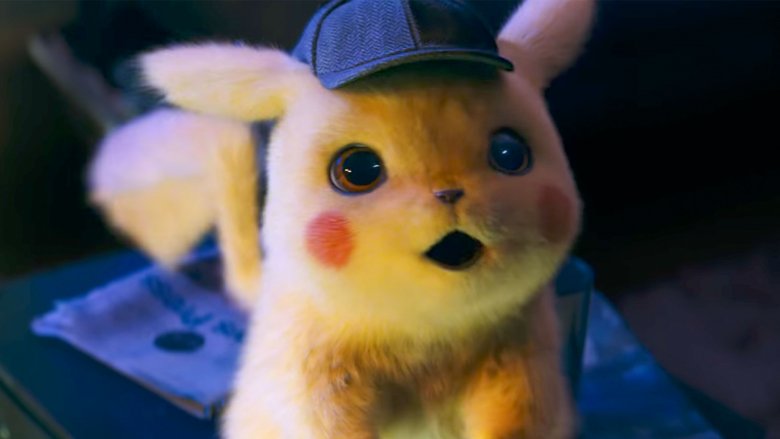 Forget about catching 'em all — the only critter you'll want to capture is Pikachu. 
The first reactions for Detective Pikachu are in, and they're praising the live-action-slash-CGI Pokémon pic as not only the best of the property's many, many films but also as an adorable, endearing flick that has finally broken the video game movie curse. 
Featuring the voice of Ryan Reynolds (yes, the Ryan Reynolds of Deadpool fame) as the titular yellow rodent and starring Justice Smith as former Pokémon trainer-turned-Detective Pikachu partner Tim Goodman, Detective Pikachu is, based on these early responses, "a pure joy from start to finish," a film that captures the spirit of the Pokémon IP, "perfectly suited for fans and non-fans alike," heartwarming, oh-so adorable, and the perfect film to kick off a new series. 
"It's a heartfelt, relentlessly charming story filled with excellent worldbuilding. Plenty of deep cuts for #Pokémon fans. There must've been a grass-type in the theater because I got surprisingly misty-eyed in parts," Nerdist creative director Dan Casey said of the film. 
JoBlo editor-in-chief Paul Shirley tweeted, "Had a fun time with Detective Pikachu. Silly, heartfelt and chock full of Pokémon, which makes for some great world building in what is sure to spin off into one hell of a franchise." Added The AV Club's Marah Eakin, "My reactions to #DetectivePikachu: so cute! Fun for the whole family! Pokémon obsessives will be pleased, but Poke novices will be able to follow along — and will maybe even get sucked into the whole world. In summary: I want to cuddle Pikachu."
Pikachu's cuteness was a selling point for many others, including IGN editor-in-chief of entertainment Terri Schwartz. She posted on Twitter, "I just got out of #DetectivePikachu and my first thought is OMG HOW DID THEY MAKE PIKACHU SO CUTE!!!" Schwartz also applauded the film's story, and gave kudos to Smith and his co-star Kathryn Newton, who portrays a reporter named Lucy Stevens. "The story is very sweet with some good twists and predictable beats. @VancityReynolds does a great job differentiating Det. Pikachu from Deadpool (of course)," said Schwartz. "@standup4justice + @kathrynnewton are super charming. The tongue-in-cheek noir vibes they brought to it totally work."
"Just saw the #DetectivePikachu movie and it was delightful! It brings your favourite Pokémon to life in a super vivid and very real way," said YouTube creators Simon and Martina. "And Pikachu? He was absolutely adorable. Relentlessly cute. Pokémon fans, prepare yourselves!"
ComicBook.com's Megan Peters tweeted that Detective Pikachu is a smashing success, a pitch-perfect live-action take on the property millions of people know and love. "It's a hit for #DetectivePikachu. Pokemon fans new & old will rejoice in this heartfelt and authentic take on the franchise. @Legendary and @wbpictures have nailed this live-action adaptation. I laughed hard and felt my heart swell. This Pokemon film is just the start!" she said. "For diehard Pokemon fans, #DetectivePikachu is a must see. Never before has the franchise made its pocket monsters so accessible. It balances its massive world with such love, and @standup4justice is as captivating as any Poke Ball."
Dave Trumbore of Collider, too, was swept up by the magic of Detective Pikachu: "Just saw #DetectivePikachu here in Tokyo and, man, I wish Ryme City was a real place because I really want a Pokémon pal."
Den of Geek associate editor David Crow stamped Detective Pikachu, which is based on the 2016 video game of the same name, with an impressive designation: "easily the best video game movie ever made." He tweeted that the film is "a real delight for anyone who grew up with early Pokémon," then added, "Who ever thought Ryan Reynolds in a furry ball of cuteness can carry a movie deserves a raise ... The first act is Who Framed Roger Rabbit with Pokémon and works so well. Seeking other movie tropes instead of video game ones gives Detective Pikachu a sturdy foundation to do some silly Poké stuff."
Hearing that Detective Pikachu has heart and humor and heaps of Pokémon both popular and underrated is great — but what's even better is knowing that the film both justifies its own existence and genuinely warrants a follow-up. Many raised eyebrows when Universal Pictures greenlit a Detective Pikachu sequel in late January, over three months away from its debut date in May. These initial reactions put worry to rest for now. 
Likewise, it's wonderful knowing that you don't have to live and breathe Pokémon to enjoy Detective Pikachu. A lot of projects nowadays aren't as easily accessible to non-franchise-fans, like many movies in the Marvel Cinematic Universe that require a certain level of knowledge before tucking into. Detective Pikachu's evident ability to appeal to Poké-enthusiasts and everyday guys and gals alike will work to its benefit upon release, both critically and commercially. 
There's very little time left before Detective Pikachu hits theaters. Directed by Rob Letterman and also starring Ken Watanabe as Detective Yoshida, Paul Kitson as Tim's missing father Harry Goodman, and Omar Chaparro as Pokémon trainer Sebastian, Detective Pikachu will touch down on May 10.