Wachowskis Reportedly Working On Fourth Matrix Movie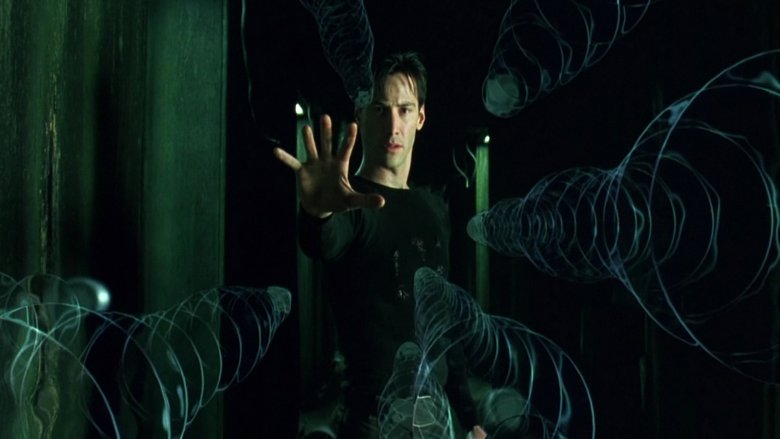 UPDATE: Slashfilm reports that a representative for Chad Stahleski contacted the site to inform them that their source, whom we also cited, reported his quote inaccurately. He was not confirming the involvement of the Wachowski's with Warner Brothers' Matrix project — which remains in development — but was talking about their possible return in a hypothetical sense. Our original story follows.
Let's hope this isn't a glitch.
Writers/directors Lana and Lilly Wachowski are reportedly at work on a third sequel to their seminal 1999 sci-fi flick The Matrix, according to John Wick 3 director Chad Stahleski, who served as Keanu Reeves' stunt double on all three previous films. (via Yahoo! Movies U.K.)
A return to the world of The Matrix has been in the works for some time. Way back in March 2017, it was reported that Warner Brothers was moving forward with a reboot; however, at that time, the Wachowskis were said to have no involvement with the picture. Zak Penn (The Incredible Hulk) was in talks to draft a treatment, and the studio was eyeing Michael B. Jordan (Black Panther) to star — but as intriguing as that sounds, it was tough to imagine the prospect of a Matrix without the Wachowskis, who created the franchise and who had written and directed all of the prior entries.
Apparently, the siblings saw their way clear to hopping on board the production, although it isn't certain exactly what duties they'll be handling. Said Stahleski, "I'm super happy that the Wachowskis are not just doing a Matrix, but they're expanding what we all loved. And if it's anywhere near the level of what they've already done, it wouldn't take more than a call to go, 'Hey, we want you to be a stunt guy' and I would probably go and get hit by a car."
The stuntman-turned-director doesn't have to get hit by many cars these days; his John Wick franchise, which just happens to feature Matrix star Keanu Reeves in the title role, is among the most well-regarded and profitable action series of the last decade. The third entry in the saga of the badass professional killer with a soft spot for pooches, John Wick: Chapter 3 — Parabellum, is set to hit screens in a week, but Stahleski seemed just as excited about the forthcoming Matrix flick while making the promotional rounds. Asked whether the Wachowskis were in fact directing the new film, Stahleski offered that wasn't sure, but added that "if they wanted help, I would absolutely put down whatever I was doing to help them." 
Ah, but what about Neo himself? When news of the project first broke in 2017, Reeves was asked whether he'd be aboard a new Matrix, to which he responded with a pretty specific set of conditions: "The Wachowskis would have to be involved," he said. "They would have to write it and direct it. And then we'll see what the story is, but yeah... it would be weird, but why not?"
Presented with the knowledge that the duo were indeed back on board, Reeves stood by his statement. "That would be a gift," he said. "I wouldn't say no to that. Yeah." He then went on to wax philosophical about possibly returning to play an older, even wiser Neo. "I think when you get to revisit a story and continue to tell a story, you're bringing in the past and the work that you've done. So for me, it's about placing the emotional state of where you are into who the character is. How do they feel? How do they think? And then putting on the suit [and seeing] if the costume really becomes the exterior that you fill in."
It's safe to say that in selling fans of the franchise a new chapter, having the entire band back together would go a long way toward generating excitement. The Matrix is hands-down one of the best and most influential sci-fi films of all time, and while most would agree that sequels The Matrix Reloaded and The Matrix Revolutions were a mixed bag, it'd be supremely interesting to see how the Wachowskis would approach revisiting the films' world after 17 years or so. Of course, none of this has been confirmed by Warner Brothers as of yet; we'll be on the lookout for any additional news, and fill you in as it becomes available.