Avengers: Endgame Posts Biggest Opening Day In History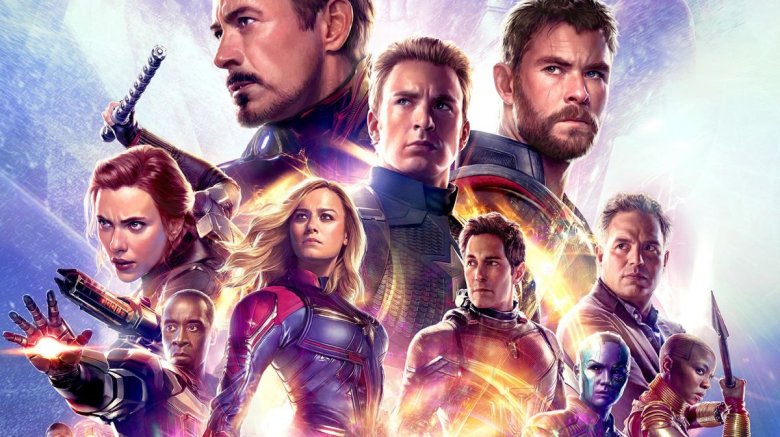 Avengers: Endgame's opening night wasn't just marvelous — it was downright historic. 
The capper to Marvel's Infinity Saga raked in $60 million domestically in Thursday previews, edging out the $57 million posted by 2015's Star Wars Episode VII: The Force Awakens to score the best opening night of all time. The total obliterated the $39 million opening achieved by last year's Avengers: Infinity War, which would go on to cash in to the tune of $679 million domestically en route to a worldwide gross of $2.04 billion.
When it comes to global box office receipts, Infinity War is fourth all-time behind The Force Awakens, Titanic, and Avatar — three films that may be in serious trouble if Endgame's early numbers are any indication whatsoever. Just a few days ago, we reported that the film had garnered $120 million in advance sales since tickets became available on April 2, a figure which almost certainly climbed substantially higher over the following days. Endgame has also shattered records in China, an absolutely gargantuan market, with a $107 million opening; combined with the 45 additional overseas markets in which it's currently screening, the movie has blasted past the $300 million mark, a total which it is expected to approach — if not surpass — in its first full weekend of stateside release.
When the dust settles after this weekend, it could all amount to the first billion-dollar opening weekend in film history, thanks in no small part to the fact that Endgame hit theaters all over the world simultaneously, rather than being rolled out in different markets over the space of a week or two. The previous champ: Avengers: Infinity War, of course, which scored over $640 million worldwide in its first frame. It seems insane to think that Endgame could best its predecessor's record-setting debut by roughly 50%, but here we are.
It's worth noting that not only is Endgame pasting the opening frame numbers put up by Infinity War, but it's far outpacing the debut performances of the previously mentioned top three earners of all time, meaning that some (if not all) of those top spots are about to get shuffled. If the film does happen to post that billion-dollar weekend — or even get reasonably close — then it's all but certain that Titanic ($2.187 billion)  and The Force Awakens ($2.068 billion) will get bumped down to the #3 and #4 slots, respectively. Avatar's eye-watering $2.788 billion worldwide gross has long been thought to be unassailable, but the way Endgame is smashing records like the Hulk plowing through Chitauri warriors, absolutely nothing is certain. It's starting to look more and more likely that before the final outing for Earth's Mightiest Heroes finishes its theatrical run, we'll be crowning a new all-time worldwide box office champ — and if so, it could very well be a record that stands, like, forever. The Marvel Cinematic Universe has been building to this point for 11 years and 21 films, making a hardcore promotional blitz seem completely unnecessary — but Marvel Studios ponied up for one anyway, spending a head-spinning $200 million on the promo campaign for Endgame, roughly the amount of your average superhero tentpole's production budget.
Simply put, the flick constitutes the kind of seismic pop culture event that transcends fandom; if you enjoy superhero films, or big-budget spectacle, or even just have an average level of interest in pop culture, you're probably going to buy a ticket for the mere fact that everyone you know is (or already has). It's been called a once in a generation event, and it certainly doesn't hurt that so far, critics are in near-unanimous agreement that it lives up to the hype.
All of which is to say that when you go to see the movie this weekend (which, come on, we know you are), you won't just be witnessing the culmination of the most ambitious feat of cinematic storytelling ever — you'll be an actual part of film history. Also, we'll see you there, because we need to take it all in at least another time or two (and now we know the best spot to take a bathroom break). Avengers: Endgame opens all over the world today.