Jason Momoa Shaves Off His Beard For The First Time Since 2012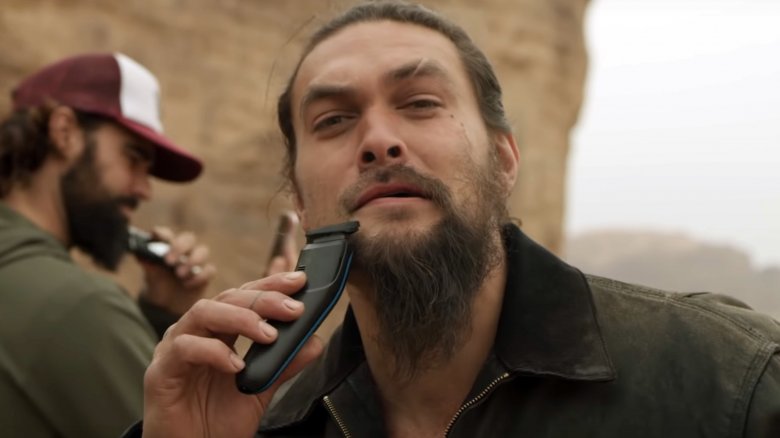 Game of Thrones fans witnessed the death of Khal Drogo long ago, when the powerful warlord perishes at the hands of his then-wife Daenerys Targaryen. It was tough to say goodbye to the Dothraki warrior, who proved himself rather sensitive when not engaged in acts of violence on the battle field, and few can forget how they felt when they watched Dany smother him with a pillow to put him out of his misery. That was seven years ago now — but on April 17, 2019, Khal Drogo experienced something of a second death when actor Jason Momoa shaved off his signature beard for the first time since 2012.
Momoa, who appeared as Khal Drogo on Game of Thrones for only 10 episodes and still managed to win the hearts of millions, posted to his YouTube channel a video of himself shearing off his famous facial hair. Out in the open wilderness, presumably on location filming the Dune reboot, the actor took an electric clipper to his beard and, with each chunk he shaved, bid farewell to a character he played while rocking it. 
"Goodbye, Drogo. Goodbye, Arthur Curry. Goodbye, Declan," said Momoa, referencing his Thrones, Aquaman, and Frontier characters. 
The actor quickly revealed that he wasn't getting rid of his whiskers all willy-nilly. Rather, Momoa stripped his strapping face of all its hair and stubble for a good cause: to increase awareness about the importance of reducing plastic to help preserve the environment.
"Most importantly, I just want to do this to bring awareness [to the fact] that plastics are killing our planet, and I think I have a solution," Momoa explained as he continued shaving his beard. "There's only one thing that can help our plane and save our planet, as long as we recycle, and that's aluminum."
Momoa continued, detailing that he's launching a line of aluminum cans of water that are completely recyclable.
"About 75 percent of all aluminum that's ever been used is still in circulation today, and it's 100 percent recyclable. So you drink the can, and in about 60 days, it'll be back — 100 percent. Infinitely recyclable," said Momoa. "About over the last two months, I really kicked it into gear. I wanted to make my own water ... so I had a product that I could take out and give to the world, and that I could take to other companies. Hopefully, they will do the same ... It's just water, but I feel good about it." 
As Momoa cleaned up the last remaining hairs on his face, he gave a little shoutout to his superhero character to drive his point home: "Aquaman's trying to do the best he can — for my kids, for your kids, for the world. Clean up the oceans, clean up the land. Love you, guys."
A video as momentous as Momoa buzzing off the beard he's had for the better part of a decade was bound to garner a ton of attention — and get people talking it surely did. Fans quickly flocked to the comments section of the video and to Twitter to react to beardless Momoa. 
Nerd About Town founder Stephanie Yeboah gave a hilarious response after watching the clip: "Jason Momoa has shaven off his beard. I– we've arrived at an interesting point in our relationship and would be extremely greatful [sic] if you could respect our privacy during this trying and emotional time." She took the joke a few steps further when she added in follow-up tweets, "Jason...you know, I've never had a betrayal cut so deep. I genuinely thought we had soul ties and were spiritually connected. I guess not. Life is funny you know. Anyway, it is well. We move. It's been fun Jase! We'll always have Comic Con."
Many, like Twitter user @MissDonnaCooke, pointed out the unfortunate truth that not only do we live in a world where most people don't recycle, but we now also live in a world where Jason Momoa no longer has a beard. "Well done guys, first you destroyed the planet and now you destroy Jason Momoa's beard. I don't know which is worse. Shame on you all," she wrote, adding #bringbackthebeard.
To others, Momoa still looks great without a beard. Many were more blown away by the actor's activism than by his new look.
"With and without beard!! He's still attractive," one fan wrote on Twitter. "Jason Momoa shaving his beard for a good cause. Spreading awareness and a solution: infinitely recyclable aluminum!" Another posted in the video's comments, "This is beautiful beyond words, Jason. Thank you so much for using your platform to initiate change!"
At the end of the day, hair does grow back, so Momoa might again sport the lush Khal Drogo beard his fans clearly love. Whether or not that happens, though, one thing's for certain: Momoa will continue trying to save the planet — and that's arguably more badass than anything Drogo did on Game of Thrones.