Creepshow: Tom Savini To Direct Adaptation Of Joe Hill Story For Shudder Series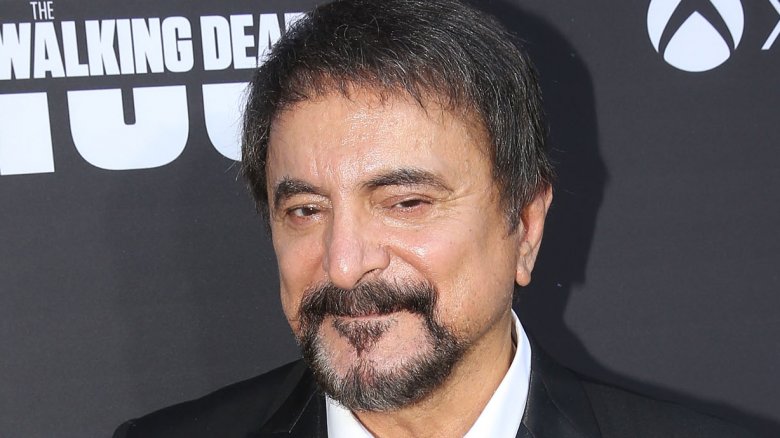 Getty Images
We may receive a commission on purchases made from links.
Shudder's horror anthology series Creepshow just keeps getting creepier. 
During a panel at last weekend's Monsterpalooza, the horror legend revealed that he directed an episode of the series which was based on "By the Silver Water of Lake Champlain," a short story by Joe Hill. (via Collider)
In case you're puzzled as to why this is incredibly, mind-bogglingly awesome (and it is), allow us to fill you in. The 1982 film Creepshow was the brainchild of Stephen King (who wrote the screenplay) and George A. Romero (who directed). Romero, of course, was the father of the modern zombie genre, having directed Night of the Living Dead fresh out of film school in the late '60s; he would go on to helm five more films in the loose Living Dead series, and he is owed a debt of gratitude by everything from The Walking Dead to Zombieland to seemingly every survival horror game ever made. As for King, he's... well, if you don't know who Stephen King is, we're not sure there's anything we can say to bring you around on this project.
Savini is a horror legend in every sense of the word, having helped to establish the art of horror makeup effect as we know them. Among his first jobs: Romero's 1978 masterpiece Dawn of the Dead, which was nominated for a Saturn award for his visual effects and led directly to his next gig, which was simply a murder mystery set at a secluded camp, its plot little more than a framework for his gory setpieces. That film was 1980's Friday the 13th, and it deservedly earned him his reputation as the undisputed master of gore effects. (Incidentally, that chair-jumper of a scene at the film's conclusion when the horribly deformed Jason Voorhees emerges from Camp Crystal Lake to drag the heroine down into the murky depths? That was Savini's idea.)
Creepshow is being showrun by Walking Dead co-creator Greg Nicotero, who basically learned everything he knew about makeup effects from Savini. Oh, and that other name we mentioned? Joe Hill is an acclaimed horror author who writes under a pseudonym, because he wants his work to stand on its own merits, preferring not to be given any special consideration due to the fact that he is Stephen King's son. Additional fun fact: the original Creepshow film featured a framing device in which a young boy named Billy takes ghastly revenge on his abusive father for taking away his horror comics. Billy was played by Hill (then, of course, still going by Joe King), all of ten years old at the time.
Now that we've unwoven that tangled web, here's what Savini had to say about his segment. "I just directed an episode of the Creepshow television series. There's 12 [stories] altogether — each show will have two episodes in it. Mine's a combination of Stand By Me, The Fog, and Jurassic Park. It's really something."
Well, that... really does sound like something. Let's check the source material. Here's Amazon's synopsis of Hill's story: "Little Gail London and her friend Joel Quarrel are out on a cold and lonely morning at the end of summer, when they make the find of the century: a dead plesiosaur, the size of a two-ton truck, washed up on the sand. With the fog swirling about them, they make their plans, fight to defend their discovery, and face for the first time the enormity of mortality itself... all unaware of what else might be out there in the silver water of Lake Champlain."
Improbably enough, Savini's description actually seems dead accurate. It sounds like a fine addition to what promises to be an exciting series, part of a recent renaissance of TV horror anthology that includes such titles as Hulu's Into the Dark, CBS All Access' revival of The Twilight Zone (produced by newly-minted horror auteur Jordan Peele), the forthcoming Netflix series 10 After Midnight (produced by widely recognized horror auteur Guillermo del Toro), and that streamer's smash hit Black Mirror, which should be dropping its fifth season any old time now. Shudder has previously announced the titles of eight more of Creepshow's segments along with their writers: they are "The Companion" by Joe Lansdale (Bubba Ho-Tep); "The Man in the Suitcase" by Christopher Buehlman (the novel The Lesser Dead); "All Hallow's Eve" by Bruce Jones (HBO's The Hitchhiker); "Night of the Paw" by John Esposito (From Dusk Til Dawn); "Bad Wolf Down" by Rob Schrab (Monster House); "House of the Head" by Josh Malerman (the novel Bird Box); and "Gray Matter," adapted by King from his own short story. Announced directors include Roxanne Benjamin (the upcoming feature Body at Brighton Rock), David Bruckner (The Ritual), John Harrison (Tales From the Darkside: The Movie), and Nicotero.
No premiere date has been announced for Creepshow, but multiple outlets have reported that it's expected to debut sometime this fall, and we have a funny feeling that the series will drop just in time for Halloween. We'll keep our eye out for more details, and report them as they become available.