Julianne Moore To Star In Stephen King's Lisey's Story For Apple TV+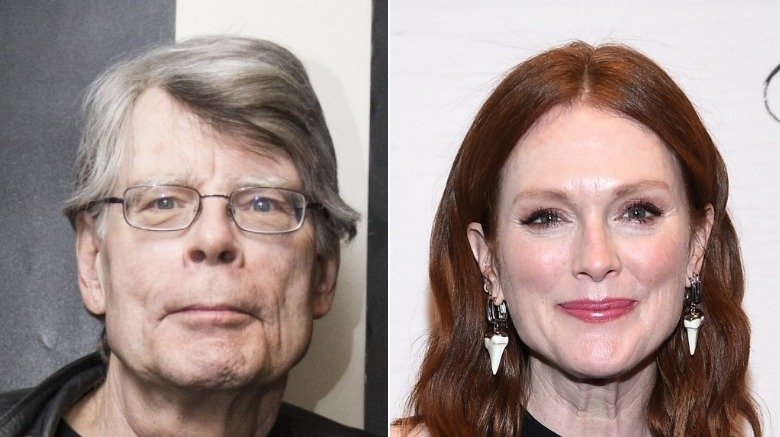 Getty Images
The Stephen King renaissance continues — and along with it, the parade of high-profile project announcements for Apple TV+.
The forthcoming streamer has tapped Oscar-winning actress Julianne Moore to star in Lisey's Story, an eight-part limited series based on King's 2006 novel. J.J. Abrams will produce through his Bad Robot production house, and the Master of Horror will pen all eight episodes himself, according to The Hollywood Reporter.
Apple announced that its service is set to debut this fall at an event in Cupertino, California, last month. While it's not expected to immediately field its raft of original content, the projects that have so far been announced go a long way toward revealing the tech titan's strategy: enlisting big names, and lots of them. King, Abrams, and Moore are only the latest in a long line of entertainment giants who have been revealed to be developing projects for the streamer; the list includes the likes of Steven Spielberg, M. Night Shyamalan, Oprah Winfrey, Octavia Spencer, Reese Witherspoon, John M. Chu, Taika Waititi, and Chris Evans, to name a few. For all the tons of projects it has in development, however, Apple TV+ has so far fielded only one in the horror/thriller genre (Shyamalan's series Servant), and partnering up with King is as good a way as any to begin expanding its slate of such offerings.
Lisey's Story centers on Lisey Landon, whose husband Scott had been a successful novelist. Two years after his death, she begins the process of cleaning out his studio — and in doing so, she must confront certain aspects of her husband's life which she had previously repressed (including his family's long history of violence born of mental illness), and also deal with a deranged fan who begins stalking her. The novel has been described as equal parts romance and psychological horror, and if it's not necessarily among King's most well-known works, perhaps it should be: he's described it as his favorite of all of his novels.
In a 2017 Variety interview, the Master even foresaw that the rise of streaming services would allow for this particular story to be told in a way that no big-screen treatment ever could. "I would love to see [Lisey's Story] done, especially now that there's a kind of openness on the streaming services on TV and even the cable networks," he said. "There's more freedom to do stuff now and when you do a movie from a book, there's this thing that I call the sitting on a suitcase syndrome. That is where you try to pack in all the clothes at once and the suitcase won't close, so you just sit on it until it latches. And sometimes when it comes down on the baggage carousel, it busts open and your dirty laundry is everywhere. So it's tough to take a book that is fully textured and has all the wheels turning and do it in two hours and 10 minutes. But as a TV show you have 10 hours."
Indeed, the streaming explosion has produced a plethora of King-inspired works that may otherwise have had trouble finding daylight. King's previous collaborations with Abrams include the Hulu series 11.22.63 and Castle Rock, and adaptations of other King works have found homes on DirecTV's Audience Network (Mr. Mercedes) and Shudder (Creepshow, based on the classic anthology film written by King and directed by the great George A. Romero). Netflix has also mined the author's work for a trio of original features: Gerald's Game, 1922, and the upcoming In the Tall Grass.
As for Moore, Lisey's Story will mark only the second time in her three-plus decade career that she's popped up in a King adaptation (she appeared as Margaret White, the mother of the title character, in 2013's Carrie). The actress is no stranger to genre work, however; she portrayed President Alma Coin in the final two films of the Hunger Games series, and most recently starred in 2017's Kingsman: The Golden Circle as the villainous Poppy Adams. She's been nominated for Academy Awards no fewer than five times (including twice in one year, 2003, for her work in The Hours and Far From Heaven), and took home the trophy for her lead role in 2014's Still Alice.
The search is now on for an equally high-profile director to preside over Lisey's Story, and we feel comfortable offering up a few Bad Robot-affiliated names which might fit the bill. There's Dan Trachtenberg, who helmed 10 Cloverfield Lane in addition to the stellar Black Mirror episode "Playtest"; perhaps Justin Lin, who handled Star Trek Beyond for the production house, as well as two episodes of the second season of True Detective. There's also Julius Avery, who made his directorial debut with last year's underrated thriller Overlord; and, of course, there's always Abrams himself, who just wrapped up work on Star Wars: Episode IX, and who does not currently have any other directorial projects in the pipeline that we know of.
No further casting details have yet been announced, but with Moore in the lead and King adapting what he considers to be his best novel, it's a safe bet that there will be no shortage of acting talent ready to jump on board. We'll keep an eye out for further details, and fill you in as they become available.