Creepshow TV Series Assembles Killer Cast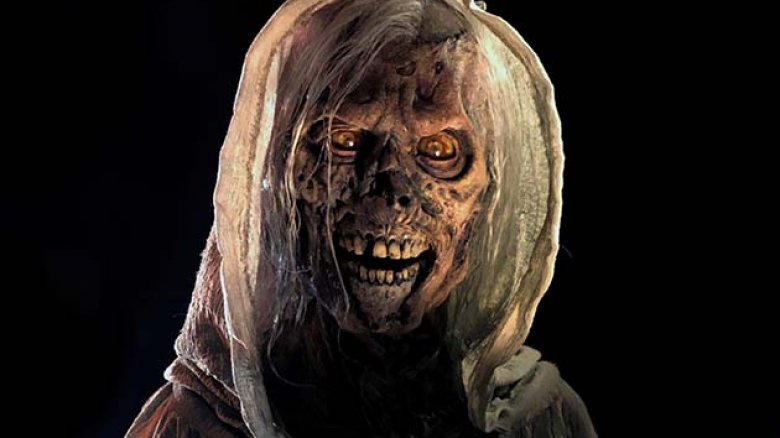 Shudder
Welcome (back) to the Creepshow. 
AMC Networks' streaming service Shudder announced on Wednesday the first round of casting for Creepshow, the horror anthology based on director George A. Romero and screenwriter Stephen King's 1982 film of the same name. News of the project came to light back in July of 2018, but this is the first we're hearing of the actors who will bring the new Creepshow to life. 
The Hollywood Reporter had the scoop on the upcoming series' killer cast. The outlet relayed that The Fog actress Adrienne Barbeau, Breaking Bad and Better Call Saul star Giancarlo Esposito, and Saw legend Tobin Bell are set to appear in Creepshow's "Gray Matter" installment. That episode adapts a short story written by King, and has The Commuter duo Byron Willinger and Philip de Blasi attached as writers and The Walking Dead's Greg Nicotero (who also serves as the showrunner of Creepshow) on board as director. "Gray Matter" is the premiere episode of Creepshow, expected to launch on Shudder later this year. 
Nicotero issued a statement expressing excitement over the casting and gratitude for the opportunity to adapt Creepshow for television: "I feel I'm in great company getting the opportunity to direct a story written by Steve. Between Salem's Lot, Pet Sematary, and The Stand, I've always found his stories rich in relatable characters forced into supernatural situations beyond their control — the everyday person's primal fears. To visualize 'Gray Matter' for Creepshow with the help of Adrienne, Giancarlo, and Tobin was about as good as it gets for a horror fan from Pittsburgh."
Barbeau, who appeared in the "Crate" segment of the '80s film, added, "I was thrilled when Greg asked me to join the Creepshow world once again. And then working with Tobin and Giancarlo, with Greg as our director, well, that was the icing on the cake — no, not that cake. Oh, you know what I mean."
Details on which characters Barbeau, Esposito, and Bell will portray on the "Gray Matter" entry in Creepshow weren't immediately available. However, given what we know about King's "Gray Matter" short, we can safely deduce that the trio will play characters who meet a young boy, the son of injured local man Richie Grenadine, during a heavy snowstorm one night. Published in October of 1973, "Gray Matter" is set in Bangor, Maine and sees a convenience store owner and his group of friends sitting inside the shop when Grenadine's son runs in, scared out of his mind and asking to purchase a cheap case of beer. As it happens, his reclusive father is suffering serious health problems (that's putting it really lightly, but we don't want to spoil the plot for you) and can't curb his craving for the yeasty beverage... or for warm blood. Typical Stephen King stuff, you know?
Creepshow is set to run for six episodes, with two segments comprising each installment. THR notes that the anthology will also include adaptations of "By the Silver Water of Lake Champlain" (done by Joe Hill), "House of the Head" (done by Bird Box's Josh Malerman), "Bad Wolf Down" (Rob Schrab), "Night of the Paw" (John Esposito), "The Companion" (Joe Lansdale), "All Hallows Eve" (Bruce Jones), and "The Man in the Suitcase" (Christopher Buehlman).
Anthology series are becoming more and more popular these days, with CBS All Access being the latest platform to craft a new episodic show in the Twilight Zone revival. Netflix's Black Mirror and FX's American Horror Story are two of the biggest anthologies out there, but if Creepshow turns out as fantastic as it sounds at the minute, it could rise to the top of the ranks and sit amongst those beloved shows. 
Shudder hasn't set a release date for Creepshow as of this writing. Check back with Looper for updates as more information is revealed.