It: Chapter Two Footage Revealed At CinemaCon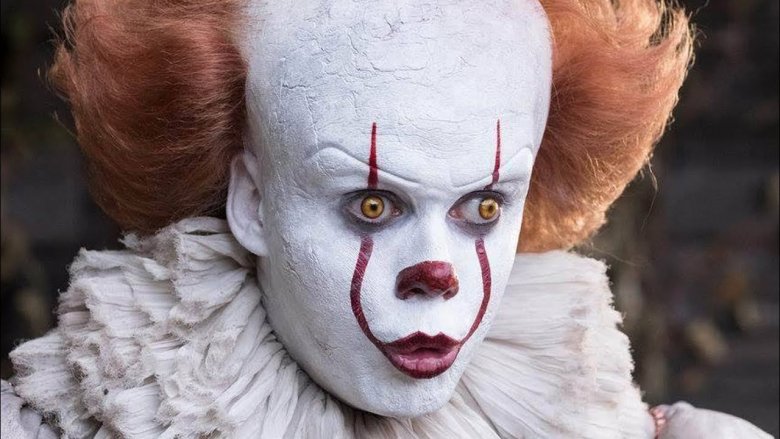 Like Pennywise's collection of kid victims in his underground lair, the first footage for It: Chapter Two floated in mid-air on Tuesday, then drifted into CinemaCon at Caesars Palace in Las Vegas, Nevada. 
During Warner Bros.' "Big Picture" presentation at the convention, organized by the National Association of Theatre Owners, It: Chapter Two director Andy Muschietti took the stage, carrying a bouquet of bright red balloons and spilling out an apology for not having Pennywise actor Bill Skarsgård in tow, to usher in the first look at the highly anticipated horror sequel. 
While the actual footage hasn't yet made its way online as of this writing, the lucky people who were present at Warner Bros.' CinemaCon panel have provided detailed descriptions of what was shown — and we've got you covered with the details, courtesy of Entertainment Weekly. 
It wouldn't be a proper footage unveiling without the Losers' Club standing at Muschietti's side, so the filmmaker brought the cast up on stage before rolling the clip. Both the kids from the 2017 adaptation and the adults who portray the grown-up versions of each character in the forthcoming movie, set 27 years after the original, were in attendance: Jessica Chastain and Sophia Lillis as adult and young Beverly "Bev" Marsh, Jay Ryan and Jeremy Ray Taylor as adult and young Ben Hanscom, James Ransone and Jack Dylan Grazer as adult and young Eddie Kaspbrak, Andy Bean and Wyatt Oleff as adult and young Stanley Uris, Bill Hader and Finn Wolfhard as adult and young Richie Tozier, and Isaiah Mustafa and Chosen Jacobs as adult and young Mike Hanlon. Adult Bill Denbrough actor James McAvoy was also there, but his younger counterpart, Jaeden Martell, unfortunately couldn't make it. As Looper has previously reported, It: Chapter Two will primarily focus on the Losers' Club as adults as they to the fictional Maine town of Derry to battle the demonic entity presenting as Pennywise in hopes of vanquishing it for good, but the younger cast is still a part of the story (an "important component in the next film," as Muschietti put it) and will appear in flashback sequences. 
With the formalities out of the way, the clip began playing. 
It opens on adult Beverly returning to her childhood home in Derry and meeting its new resident: a sweet old woman who introduces herself as Mrs. Kersh, who then tells Bev that her father has died. Bev is invited inside and walks through the home, quipping to Mrs. Kersh that everything is "cleaner" than she remembers it being and telling her she has "hair like winter fire." Bev continues reminiscing when she finds a postcard from Ben — but the airiness of the moment turns sinister when something drags a figure behind Bev into a room. 
Things go from subtly strange to overtly unsettling when Bev and Mrs. Kersh sit down for a cup of tea. Bev notices that flies surround the old woman, who warns, "You know what they say about Derry — no one who dies here ever really dies." Mrs. Kersh's mouth then spreads into a wide, frozen smile as Bev looks at the photographs on the walls, one of which features her father wearing the grin of a certain evil clown that terrorized her and her friends in their youth. She quickly realizes what's happening: Mrs. Kersh is just another form of Pennywise. The old woman takes off all her clothes and charges at Bev, completely naked and growling, "I was always a daddy's girl. Are you a daddy's girl, Beverly?"
Off the horrifying opening stinger (and we do mean that quite literally — that scene sounds sharp and scary), the clip then focuses on the rest of the characters in It: Chapter Two, namely the adult Losers' Club. It chronicles each of them making their way back to Derry, intercut with flashbacks of themselves as children. One shot is sure to haunt viewers for days: all seven members of the Losers' Club catch their reflection in a shop window, which displays back at them their younger selves. 
Soon, red balloons begin floating all throughout Derry as the town spirals out into disorder and mayhem. Pennywise has well and truly returned, and he makes his presence undeniably known in the final moment of the first-look footage. His white face and enormous red smile appear on screen, exactly as he looked 27 years ago, and gives one chilling world: "Hello." 
Cut to black and cue the flurry of tweets from fans who were spooked by this piping-hot clip of It: Chapter Two. TheWrap senior film reporter Beatrice Verhoeven had the best response: "Well footage for #ItChapter2 just made me scream NO NO NO out loud."
In general, sequels have a very tough time living up to their predecessors. Some are flat-out bad, others are good but not as good as the original, and a fair few turned out so terrible that they completely killed the franchise after their release. It's hard to predict where on that scale It: Chapter Two will fall, but based on this footage description and the reactions to it, something tells us the film will be a smash — just like the one that came before it. 
Get ready to float again when It: Chapter Two opens in theaters on September 6.