Arrow: Emily Bett Rickards' Felicity Smoak Won't Be In Final Season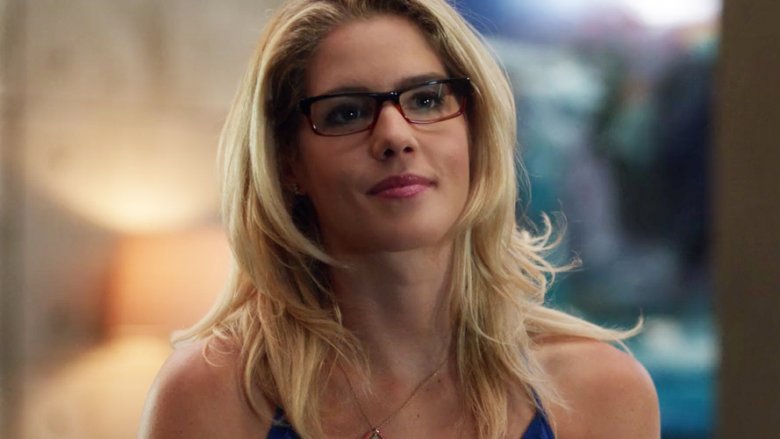 Farewell, Felicity. 
Arrow star Emily Bett Rickards, who has portrayed Felicity Smoak on the superhero series since the very first season, announced over the weekend that she will not be a part of the show's eighth and final season. 
The actress broke the news on Instagram, sharing a collage photo of herself in character as Felicity throughout the seasons and writing a heartfelt poem in the caption — an incredibly Felicity thing to do. 
"The time has come to talk of many memes / Of bows and arrows and superheroes and Olicity and Queens / And why TGA is so damn hot / And yes, canaries need more scenes... But wait just one minute before we go and do all that / For this makes me out of breath / To have this not small chat / Felicity and I / are a very tight two / But after one through seven / we will be saying goodbye to you," wrote Rickards, adding a string of colorful heart emojis to the top of the text. "I thank you all for the time we've shared / The elevators we have climbed / The monsters we have faced and scared / And The burgers we have dined / I will keep her in my heart for always / And I hope that you can too / Because she would not be alive if it weren't for all of you. Love, Felicity and Me."
In the wake of Rickards' announcement that she will exit the show before its final turn on television, Arrow showrunner Beth Schwartz and series executive producer Greg Berlanti issued a statement expressing how "heartbroken" they are to have to say goodbye to her. 
"We've had the pleasure of working with Emily since season one and in those past seven years she has brought one of TV's most beloved characters to life. And although we're heartbroken to see both Emily and Felicity leave the show, we're completely supportive of Emily and her future endeavors," the pair wrote (via TVLine). "She will always have a family at Arrow."
Schwartz also posted to her Twitter page an adorable picture of her and Rickards together behind the scenes of Arrow, presumably during the show's early days given that the caption reads, "Meet cute."
Marc Guggenheim, another executive producer on Arrow, took inspiration from Rickards' social media poem and penned one himself. He edited his creation over a photo of Rickards as Felicity, captioning it, "Two can play at this game..." Guggenheim's poem details how the role of Felicity Smoak went from being a single-episode character to a pivotal part of the series, all thanks to Rickards.
"I'll never forget that one special day / When a certain audition tape came my way / The part was a 'one-off,' so we cast an unknown / Who would have imagined how the role would have grown? / But she was so great in episode three / That 'one-off' became two / And two became three / And it was very clear that this was meant to be," Guggenheim wrote. "And now after seven seasons, it's come to an end / Nothing to say except, 'Thank you for everything. Be well, my friend.'"
Judging by the method of announcing her departure and the circumstances surrounding it, it seems as though Rickards' Arrow exit may not have been planned. Had Schwartz, Berlanti, and Guggenheim known ahead of time that Rickards either wanted to leave Arrow or that the show would naturally see her character arc come to a close before the season 8 finale, it's likely that the news would have been kept under wraps until after Rickards' final appearance on the show happened. 
It's difficult to say one way or another what exactly transpired, whether anyone but Rickards knew in advance that she was departing, or who made the decision and why, but one thing is clear: Arrow is going to have one heck of a time tying up the story without Rickards' Felicity in it, as she and Oliver (Stephen Amell) are expecting a child. 
Sadly, Rickards jumping off Arrow isn't the only shocking exit that has rocked the TV world lately. The Walking Dead was recently hit with the news that Michonne actress Danai Gurira is leaving during the series' upcoming tenth season. That came just months after Andrew Lincoln hung up his hat as Rick Grimes and Lauren Cohan bid adieu to her character Maggie. Lethal Weapon fans waved goodbye to Damon Wayans, who chalked his exit up to being "too old" to work the long days that television often requires of actors. Chelsea Peretti also recently announced her upcoming exit from Brooklyn Nine-Nine, while Shameless faced a devastating departure when Emmy Rossum confirmed she would be leaving the show. 
With any luck, Arrow can go out on a high note even without Rickards' Felicity on board. 
Arrow season 8 doesn't have a set release date as of this writing. Check back with Looper for an update when more information becomes available.