Game Of Thrones' Brendan Cowell Cast In Avatar Sequels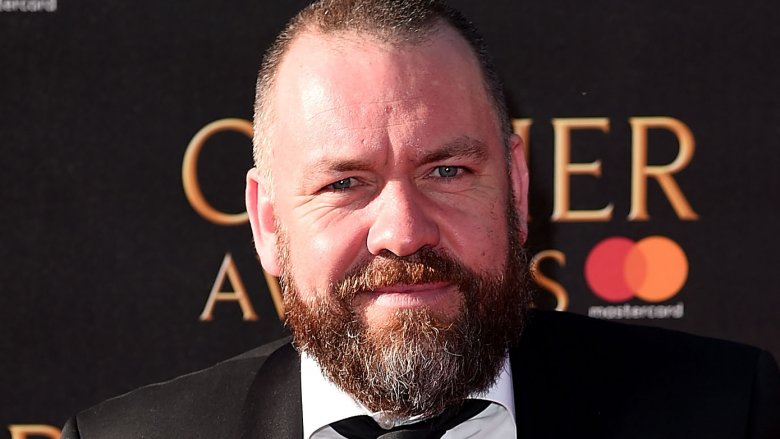 Getty Images
A new face has booked his seat on the return trip to Pandora.
Actor Brendan Cowell, who appeared as Harrag on the seventh season of Game of Thrones, has been cast in a major supporting role in James Cameron's Avatar sequels, according to The Hollywood Reporter. The move comes just over a week after the franchise-in-the-making — along with all the rest of Fox Studios' film and television assets — were acquired by Disney.
The Aussie actor sports a list of TV and film credits a mile long, most of which were produced in his home country. He acquitted himself nicely as an addition to the GoT ensemble, appearing in three episodes as the Ironborn raider whose vessel was one of the few to make it through the Iron Fleet's assault on the Targaryen fleet relatively intact. Although Harrag wasn't explicitly shown to have perished at the season's end, his return for the eighth and final season is in no way certain; after all, this is Game of Thrones, in which even major characters can be snuffed out at a moments' notice.
The Avatar gig, however, should keep him busy for awhile, as there are no fewer than four sequels to the 2009 film expected to hit screens within the next six years. He'll be portraying Mick Scoresby, the captain of a private sector vessel which trawls the oceans of Pandora; while it's not clear whether he's signed on for the long haul, Cameron has been locking up a lot of his talent for all four films, including stars Sam Worthington, Zoe Saldana, Giovanni Ribisi, and Sigourney Weaver (who is said to be playing a major role throughout the series despite her character having apparently died in the first film). Also returning from Avatar are Joel David Moore (Bones), Matt Gerald (Marvel's Daredevil), and CCH Pounder (Sons of Anarchy); new additions to the cast include Oona Chaplin (Taboo), Cliff Curtis (Fear the Walking Dead), and Cameron's Titanic star Kate Winslet.
You could say that the Avatar sequels have had a long road to production, if you were prone to egregious understatement. With all of the blockbusters that have blown up the box office in the last ten years, it's easy to forget that Avatar rules over them all; it's the all-time, undisputed box office champ with a staggering worldwide gross of $2.78 billion dollars, a figure which even the most highly-anticipated Star Wars and Marvel Cinematic Universe flicks have failed to even approach. You'd think that Cameron and company would have struck while the iron was hot in getting future installments to the screen, but according to producer Jon Landau, the delay had nothing to do with the changing cultural landscape (see: the rise to utter dominance of the superhero genre) and everything to do with crafting a story that would resonate with audiences. Speaking with Slashfilm last month, Landau said, "What we learned about the response to Avatar: people want to return to the world of Pandora, and they want to spend more time with Jake and Neytiri. Rather than rushing into doing the sequels, because Jim doesn't rush it, we have to build our foundation, and that's the scripts. Knowing that we wanted to tell multiple stories, we didn't want to just solve one script, we wanted to solve the scripts for all of the movies we wanted to make before we ventured out to making them, that's what took us the time."
For that matter, one should remember that Cameron — rather than looking to existing technology — created an entirely new method of shooting 3-D for Avatar, and his sequels will be pushing aspects of big-budget filmmaking into the future in a similar fashion. For Avatar 2, he's employing state of the art technology for underwater motion capture, and working out its bugs took longer than most films' entire production schedules. "[Underwater mo-cap has] never been done before and it's very tricky because... it uses markers that are photographed with hundreds of cameras. The problem with water is not the underwater part, but the interface between the air and the water, which forms a moving mirror," the filmmaker told Collider. "That moving mirror reflects all the dots and markers, and it creates a bunch of false markers. It's a little bit like a fighter plane dumping a bunch of chaff to confuse the radar system of a missile. It creates thousands of false targets, so we've had to figure out how to get around that problem, which we did. Basically, whenever you add water to any problem, it just gets ten times harder. So, we've thrown a lot of horsepower, innovation, imagination and new technology at the problem, and it's taken us about a year and a half now to work out how we're going to do it."
Better late than never, we suppose — and now that production on Avatar 2 is in full swing, we can probably expect the casting news to continue rolling in. On the project's latest score, Landau said in a statement: "Jim and I are thrilled to welcome Brendan to the Avatar family and know that he will bring a great depth to the character of Mick Scoresby." Eloquent in its brevity.
Avatar 2, 3, 4, and 5 do not yet have official titles (although a BBC News leak late last year revealed a few of the options that Cameron is currently considering), but they do finally have release dates. Avatar 2 hits screens on December 18, 2020, followed by Avatar 3 on December 17, 2021, Avatar 4 on December 20, 2024, and Avatar 5 on December 19, 2025. We'll keep you apprised of further developments.