Hellboy Star Reveals Embarrassing Moment On Set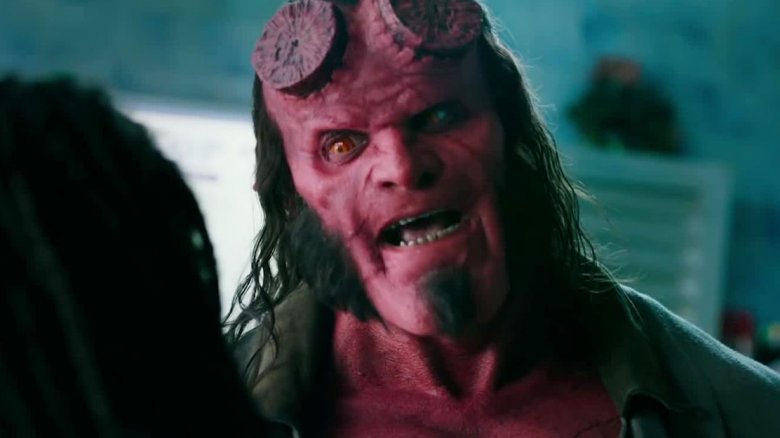 This Hellboy star has one heck of a silly story to spill. 
David Harbour, best known as the gruff but growing-more-tender-hearted Chief Jim Hopper on Netflix's Stranger Things, is the world's new Hellboy — taking over as the double-horned demon from original actor Ron Perlman, who top-lined Guillermo del Toro's Hellboy duology from the mid-2000s. A gig of this caliber requires a lot of blood, sweat, tears, and dedication — and we're not just talking about the effort it takes to capture Hellboy's powerful personality. To go from an everyday man to the hulking, red-skinned Dark Horse Comics character for the Neil Marshall-directed Hellboy reboot, Harbour had to spend several hours in a makeup chair — which is where a few embarrassing on-set moments occurred.
Chatting during MCM Comic Con in Birmingham, United Kingdom on Sunday, March 24, Harbour revealed that he just couldn't stay awake while getting his Hellboy makeup done. A three-hour makeup session meant that Harbour had to be awake at an ungodly hour of the morning to make it to set, transform into Hellboy, and be ready in time to begin shooting at 6:30 AM. Harbour shared that he repeatedly fell asleep in the makeup chair, and while he caught some accidental Zs, his makeup artist recorded him snoring loudly. 
Here's how Harbour explained his blush-inducing set secret when answering a fan question about how he entertained himself while getting prosthetics and red paint plastered on his face and body. 
"It took about three hours in the morning. So let's say I had a 6:30 call to start our day, I would get to the makeup chair around 3 AM. I'd wake up around 2:15 or something, jump in the car and drive to the studio for 3 AM, then we'd shoot at 6 and shoot for about a 15-hour day," he said. "The way I'd entertain myself was I would go to sleep. Because basically you can get in that chair and they'd start to put the mask on and I could just put my headphones in and lie back. They would do all this work, all these four people doing all this work, and I would just try to doze off."
He added, "There's lots of recordings that my makeup artist has of me just snoring while he applies makeup, so hopefully those will never hit the internet. Because that would be embarrassing."
Harbour might be a little self-conscious about taking unintentional kips on set, but it's a pretty common occurrence among actors — even ones who didn't wear heavy, intricate makeup for movies. Harry Potter series actor James Phelps admitted to falling asleep while filming Harry Potter and the Deathly Hallows — Part 2, during a heartbreaking scene that saw him simply lay there and remain as still as possible. Norm Macdonald took an impromptu nap in the middle of a scene while filming 1994's Billy Madison. Even supermodel-turned-actress Cara Delevingne once snored her way through hair and makeup (presumably for her role in Valerian and the City of a Thousand Planets, based on a comment her co-star Dane DeHaan added to the video evidence) and shared the clip with her 41 million-plus Instagram followers. "Here is something natural for you to chew on... or maybe not so natural," Delevingne captioned the video. "Commence the snoring."
Guardians of the Galaxy actress Zoe Saldana can relate to the lengthy makeup process Harbour endured, as she spent several hours a day for months on end getting painted green to portray Gamora in the James Gunn-helmed Marvel movie — then did it all over again for Guardians Vol. 2 and Avengers: Infinity War. Though the days filming Guardians Vol. 1 were long and her time for sleep was shortened, Saldana has said that it was totally worth it: "[For] this one, I got picked up at three in the morning — and my dog wasn't even happy about that. I had to sit for five hours for five months. It was crazy, but it paid off. The movie is fantastic."
Judging by the two trailers for the Hellboy reboot that Lionsgate has released already, the upcoming film should be fantastic as well. Though the first-look footage raised a few eyebrows, leaving fans worried that Hellboy would be more Thor: Ragnarok than the thrilling, R-rated monster movie Harbour had promised it would be, the red-band trailer blew everyone away and calmed any frazzled nerves. Fire and fury and F-bombs galore — plus Milla Jovovich getting her spook on as the evil sorceress Nimue the Blood Queen and Harbour embracing his dark side while fighting massive giants as the half-demon Hellboy? That's the kind of stuff a behind-the-scenes blooper more than makes up for. 
See a very much awake and completely done-up David Harbour as Hellboy when the reboot movie opens in theaters on April 12.