David Harbour Calls Hellboy Reboot A 'Dark And Scary' Monster Movie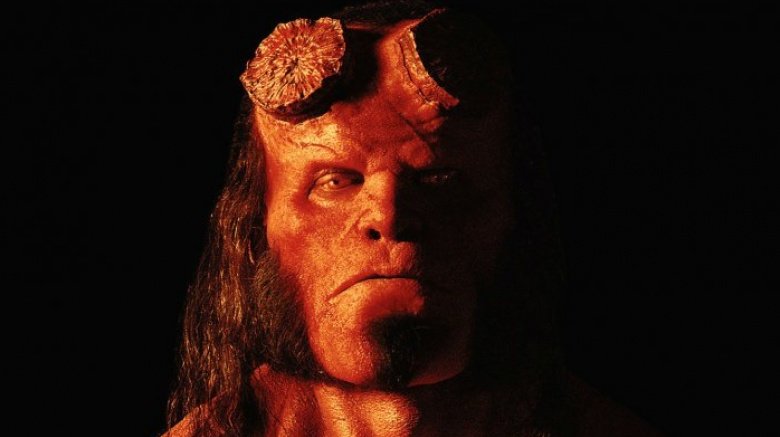 According to David Harbour, the upcoming Hellboy reboot will be an entirely new kind of superhero movie. 
Speaking with Variety at the outlet's studio during the Dubai International Film Festival, Harbour spoke candidly about director Neil Marshall's take on Hellboy, noting that what initially attracted him to the role was how closely the film follows comic creator Mike Mignola's original graphic novels. These have a gritty, horror-oriented feel that will, as Harbour teases, seamlessly translate to the big screen, making the Hellboy reboot a "real monster movie."
Harbour explained further, commenting that though superhero movies have "been of a certain brand" over the past few years, pics like Deadpool and Logan have been breaking barriers and subverting genre tropes–something Hellboy will aim to achieve as well through dark, spooky themes. 
"I was really excited by that concept," said Harbour. "To make a real monster movie that's dark and scary and about the end of the world was exciting."
The Stranger Things star also stated that his connection to the Hellboy graphic novels, which he read in his 20s, helped inform him that today's superhero movies are something of a modern mythos. "The Ancient Greeks had Agamemnon and Achilles, and Troilus and Cressida, and we have Captain America and Iron Man and Superman, right? And so, they are a mythos," Harbour explained. 
He then said he felt a desire to be a part of that conversation with Hellboy, but in a fresh way that's much more sullen than typical Marvel and DC fare: "I wanted to be involved in that conversation, clearly, right? Like Aeschylus writing about Elektra, as opposed to Euripides writing about Elektra. Like Euripides' take is much darker and sort of weirder, and stranger, and much more cynical. And I think that Hellboy sort of has that thing, and I think the mythos is looking for maybe a little bit more of that."
Cutting through the seriousness, Harbour also joked that he is "way too told" to be doing the stunts involved in the Hellboy movie, as it's "the most physical role" he has ever played. "The challenges are extreme, there's tremendous challenges," he said. "The stunts are incredible, and the action and stuff is really incredible." 
Another aspect of the role Harbour had to overcome was getting done up as the red-skinned demon every day on set. "The makeup is very challenging. I mean, it's like two to two and a half hours in a chair every morning, sort of being painted red, and with all these prosthetics and everything," the actor laughed. But hey, at least the process was worth it, as Harbour looks pretty incredible in costume. 
Hellboy features Underworld actress Milla Jovovich as the main villain, a sorceress known as the Blood Queen; American Gods star Ian McShane as Hellboy's adoptive father Professor Trevor "Broom" Bruttenholm; ex-Hawaii Five-O actor Daniel Dae Kim as Major Ben Daimio, a member of the Bureau for Paranormal Research and Defense. Sasha Lane as Alice Monaghan, Penelope Mitchell as Ganeida, Sophie Okonedo as Lady Hatton, Alistair Petrie as Adam Glaren, and Brian Gleeson as Merlin round out the cast. 
Mark your calendars for a Hellboy release on January 11, 2019.