Shazam! Tracking For $40 Million-Plus Debut Weekend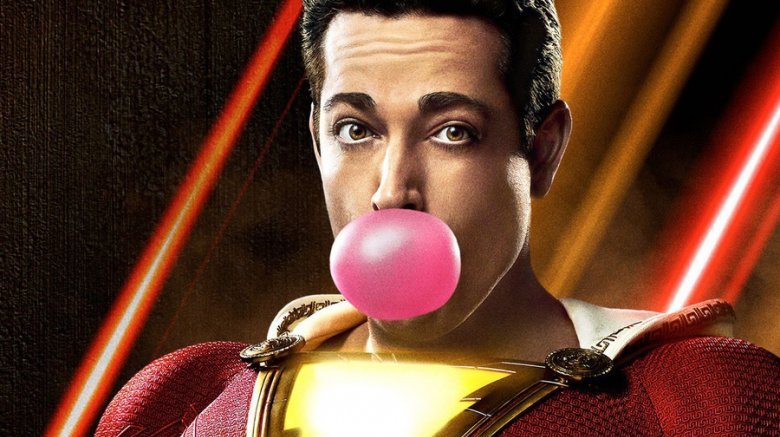 When Billy Batson blasts into theaters the first weekend of April, he's bound to make some big bucks at the box office — but the situation is a little more complicated than it seems. 
Variety reports that Shazam!, the forthcoming DC Extended Universe superhero flick starring Asher Angel as the teenage orphan Billy and Zachary Levi as the full-grown adult vigilante he can turn into with the uttering of a single word, is on track to earn $40 million or more across theaters in the United States and Canada in its first three days out. More specifically, industry analysts are predicting the David F. Sandberg-directed adventure, billed as Superman meets Big, will take in between $40 million and $45 million from Friday, April 5 to Sunday, April 7, excluding profits from late-night screenings on Thursday, April 4. 
That sounds pretty dang fantastic, right? Some movies skate through their entire theatrical run without making that much moolah, so to hear that Shazam! will end its opening weekend with an eight-figure pull seems rather incredible. And it is... on its own. Looking at the bigger picture, though, one can see how quickly that revenue prediction goes from glistening to grim. 
A $40 million to $45 million domestic debut would see Shazam! have the lowest stateside box office opening of any DCEU movie thus far, coming in over $20 million lower than Aquaman's domestic launch of $67.9 million in December of 2018. For comparison, all other DCEU entries have made $90 million or more upon launch, with Justice League earning $93.8 million, Wonder Woman taking $103.2 million, Man of Steel grabbing $116.6 million, Suicide Squad scooping $133.7 million, and Batman v. Superman: Dawn of Justice raking in $166 million. Taking this into consideration, Shazam! hopefuls might start panicking about the fate of the film they're so looking forward to seeing, worried that the pic sitting at the very bottom of the DCEU's debut weekend rankings will hinder its overall success. 
However, things take a turn from dark back to light again when accounting for one very important statistic: Shazam!'s cost of production. Variety pins it at roughly $80 million prior to money spent on marketing the film and distributing it to theaters. That's less than half of the staggering $160 million worth of cash Warner Bros. and DC Films shelled out to make Aquaman. Led by Jason Momoa as the fin-flipping hero, Aquaman made back about 42.5 percent of its production costs over its opening weekend. Should Shazam! take home $40 million or so in its initial three-day frame, it would recoup about half of the money it took to produce the pic. In that regard, Shazam! already has Aquaman beat by a margin of 7.5 percent. 
There's no ignoring the fact that Shazam! could potentially open to the lowest weekend pull of the six already-released DCEU movies, but sources state that Warner Bros. isn't stressed about it becoming a hit with audiences. And moviegoers shouldn't be either. It's important to remember that box office predictions are just that: educated guesses, but guesses all the same. This $40 million-plus estimate could very well be updated to a $50 million or $60 million pull the closer New Line Cinema and Warner Bros. get to launching Shazam! in theaters. The studios do still have a few weeks to fill with fun promotion for the film, which will hopefully lead to an boost in anticipation and an uptick in its tracking figures to reflect that. 
In the same respect, Aquaman had the lowest domestic opening of the DCEU bunch thus far, but that didn't stop it from going on to becoming the highest-earning film in the overarching franchise (based on worldwide revenue). The James Wan-helmed underwater adventure has grossed a monumental $1.14 billion across the globe — and those are no small potatoes, kids. 
It goes without saying that Shazam! doesn't need to be a billion-dollar-earning box office bombshell to be successful; it need only turn a profit with a total, global pull of about $100 million or more, and that will be easy-peasy to achieve. That it's set to make about half of that in its first three days in theaters — not accounting for what it will rake in from international territories — is enough to indicate Shazam! will shine. Couple that with the splendid first reactions to the film that critics have already offered up (many are calling it charming, heart-warming, hilarious, and unlike anything the DCEU has offered viewers before), and it sounds like we've got greatness dressed in a red-and-gold costume coming our way. 
Also starring Jack Dylan Grazer as Freddy Freeman, Djimon Hounsou as The Wizard Shazam, and Mark Strong as the evil Dr. Thaddeus Sivana, Shazam! flies into theaters on April 5.