Game Of Thrones Season 8: How Long The First Two Episodes Are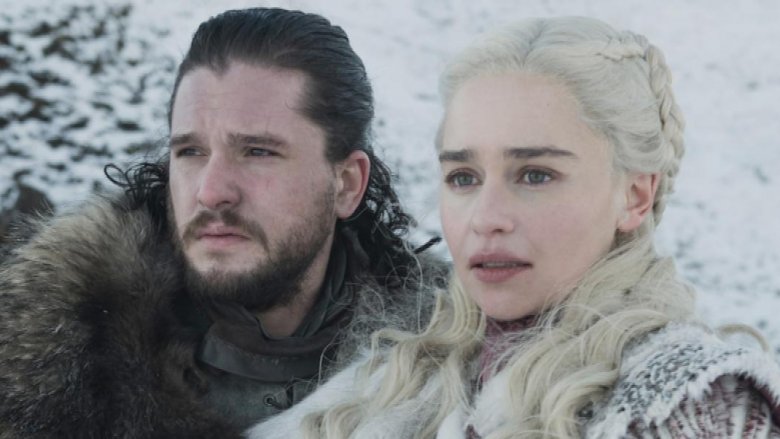 Winter is here and the eighth season of Game of Thrones is coming soon — but when the final chapter arrives on HBO, it won't make quite as big a splash as everyone had anticipated. 
The folks over at Winter is Coming got their hands on the runtimes for the first two episodes of Game of Thrones season 8 after taking a peek into HBO's programing schedule for the upcoming weeks. Paging through to Sunday, April 14 and Sunday, April 21, the airdates for the first and second installments of Thrones' final season, the outlet discovered that the first episode will run for 54 minutes and the second will last 58 minutes. 
Runtimes for each of the final six episodes of Game of Thrones has been a hot topic of discussion for a while now, with chatter building to a boom when series director David Nutter revealed during a Reddit AMA (Ask Me Anything) session that he was fairly confident that each episode would be longer than 60 minutes. "They'll be dancing around the bigger numbers, I know that for sure," he wrote in November of 2018. 
That remark echoed what Thrones sound designer Paula Fairfield noted about the impending season 8 episodes. She stated during the Game of Thrones fan convention Con of Thrones in July of 2017 that every last one of the installments would feel like a feature-length film. 
So, what gives? Why are the first two episodes of what's expected to be the biggest, boldest, most jaw-dropping, WTF-inducing season of Game of Thrones a little shorter than expected? 
The answer is simple and certainly not as dramatic as the events yet to unfold on Thrones during season 8: the episodes hadn't been finalized when Nutter wrote that they would all be around 60 minutes or longer, and the editing process clipped away a few minutes from each. An executive at HBO relayed to Entertainment Weekly in January that "the exact length of each episode has yet to be announced by HBO" — a statement given after Premiere magazine reported two episodes of Thrones season 8 would be roughly 60 minutes long, with the final four (i.e., the only other ones of the season) clocking in at 80 minutes a piece. 
With only six episodes to fit a whole season's worth of story into, Thrones will have to make the most of every minute of season 8. Though the first two installments are coming in under 60 minutes (and certainly aren't the movie-length episodes that were hinted at a year and a half ago), fans can rest easy knowing that the action and drama featured in each will be oh-so satisfying. 
As Sansa Stark actress Sophie Turner once revealed, "I was satisfied with how unpredictable the show's ending really is. People have come up with so many fan theories about how it's going to end, and who will end up where, and who will end up with who. It really is so unpredictable the way that it ends up. I'm very satisfied with that, and I think that the fans will be satisfied with that, too."
Game of Thrones will premiere its eighth and final season on HBO on Sunday, April 14. Check back with Looper before the season 8 launch to learn what the final six episodes are titled.