Captain Marvel soundtrack details you missed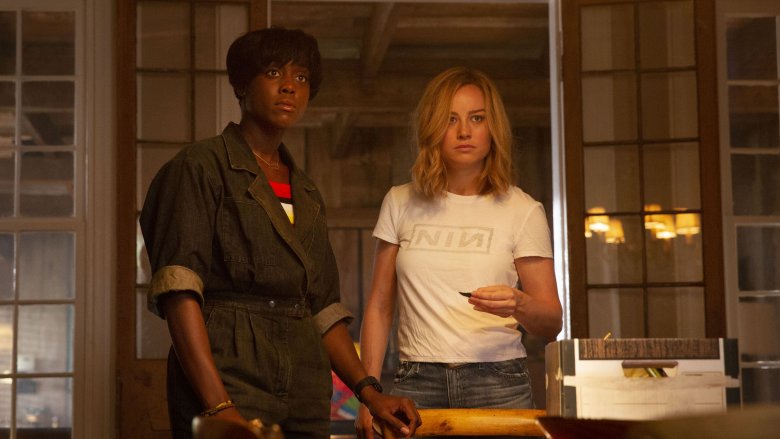 There's no better way for a period piece to establish a sense of time and place than music. Think about how The Wedding Singer set the stage for its '80s pastiche with a colorful collage of pop, or how Forrest Gump sprinted from the early days of rock n' roll to the peak of the Vietnam protest song in its carpet-bombing of Boomer nostalgia. If you want to play on an audience's fond memories or preconceived notions of the past, just drop a quarter in your cinematic jukebox.
The Marvel Cinematic Universe has dabbled in the sounds of days gone by, occasionally punctuating soundtracks with original tunes like Captain America's U.S.O.-tinged "Star Spangled Man" or the retro Stark Expo theme heard in Iron Man 2, "Make Way for Tomorrow Today," which effortlessly recalls '60s-era Disneyland optimism. Real-world tracks have also enriched the characters' personalities, with Iron Man blasting AC/DC as his own personal theme music and Sam Wilson praising the healing powers of Marvin Gaye. But it was Guardians of the Galaxy that truly ooga-chaka'd its way into fans' hearts with its mixtape of classic jams held up by Star-Lord as all that is good and beautiful about Earth culture (and his mom).
Anyone who recalls the movies and music of the 1990s will remember the decade as the heyday of the "Music From and Inspired By" album. With the MTV Generation coming of age and corporate synergy running rampant, soundtrack CDs and tapes of radio-friendly songs related to each new blockbuster movie flooded the shelves of every corner record store (and a lot more corners had record stores back then). Fittingly, Captain Marvel is scored with the sounds of its summer '95 setting, along with a few classic tracks highlighting Carol Danvers' tenacious attitude.
Whether these songs sparked long-forgotten memories or offered a glimpse at a world before your time, we're here to rocket you back to the glory days of Radio Shack and Sam Goody. Put down your Game Boy and pump up your Walkman for a look at Captain Marvel's soundtrack.