Captain Marvel Soundtrack Details You Missed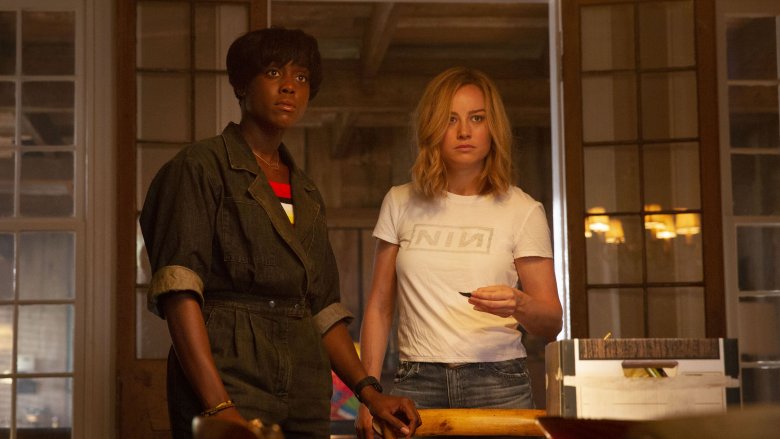 There's no better way for a period piece to establish a sense of time and place than music. Think about how The Wedding Singer set the stage for its '80s pastiche with a colorful collage of pop, or how Forrest Gump sprinted from the early days of rock n' roll to the peak of the Vietnam protest song in its carpet-bombing of Boomer nostalgia. If you want to play on an audience's fond memories or preconceived notions of the past, just drop a quarter in your cinematic jukebox.
The Marvel Cinematic Universe has dabbled in the sounds of days gone by, occasionally punctuating soundtracks with original tunes like Captain America's U.S.O.-tinged "Star Spangled Man" or the retro Stark Expo theme heard in Iron Man 2, "Make Way for Tomorrow Today," which effortlessly recalls '60s-era Disneyland optimism. Real-world tracks have also enriched the characters' personalities, with Iron Man blasting AC/DC as his own personal theme music and Sam Wilson praising the healing powers of Marvin Gaye. But it was Guardians of the Galaxy that truly ooga-chaka'd its way into fans' hearts with its mixtape of classic jams held up by Star-Lord as all that is good and beautiful about Earth culture (and his mom).
Anyone who recalls the movies and music of the 1990s will remember the decade as the heyday of the "Music From and Inspired By" album. With the MTV Generation coming of age and corporate synergy running rampant, soundtrack CDs and tapes of radio-friendly songs related to each new blockbuster movie flooded the shelves of every corner record store (and a lot more corners had record stores back then). Fittingly, Captain Marvel is scored with the sounds of its summer '95 setting, along with a few classic tracks highlighting Carol Danvers' tenacious attitude.
Whether these songs sparked long-forgotten memories or offered a glimpse at a world before your time, we're here to rocket you back to the glory days of Radio Shack and Sam Goody. Put down your Game Boy and pump up your Walkman for a look at Captain Marvel's soundtrack.
No time to be young
While the bulk of Captain Marvel's action — and therefore its music — is set in the '90s, Carol's memories of her youth in the '70s and '80s play a brief but pivotal role in her journey. These flashbacks fly by quickly, but some well-placed blasts of music place them squarely in context. Carol's childhood go-kart races are set to Heart's rip-roaring 1976 debut single "Crazy on You." Another warm recollection finds her in a dive bar dueting with BFF Maria Rambeau on Lita Ford's signature 1988 rocker "Kiss Me Deadly."
These classic rock radio staples set the tone for Carol Danvers' hard-working, hard-partying formative years. Lita Ford (who got her start with the Runaways, memorably featured in Guardians of the Galaxy with "Cherry Bomb") and Heart's leading sisters, Ann and Nancy Wilson, were pioneers of their generation. They were among the first women to embody the sort of blistering attitude and assertive sexuality so often believed to be the exclusive realm of male rock stars — perfect harbingers for the arrival of the MCU's first solo woman. Heart continued to churn out more classics like "Barracuda" and "Magic Man," while Ford found her biggest chart success alongside Ozzy Osbourne with the duet "Close My Eyes Forever." Both Heart and Lita can still be found rockin' fans old and new on the road.
Here's to the future
Captain Marvel isn't the first movie that has paired Marvel characters with the smooth sounds of Salt-N-Pepa. "Shoop" was featured prominently in Deadpool and its marketing. "Whatta Man," the hip-hop trio's collaboration with R&B group En Vogue, is being grooved to by the strip mall security guard who is Carol Danvers' first point of contact with the human race upon her return to Earth. It certainly serves to establish the mid-'90s setting (if the Blockbuster she crashed into moments before didn't already).
Both "Shoop" and "Whatta Man" can be found on Salt-N-Pepa's smash 1993 album Very Necessary. Salt, Pepa, and DJ Spinderella became known not just for their brash swagger and funky beats, but for their blend of upbeat sex positivity and social consciousness (take, for example, the dramatic skit/PSA that closes out Very Necessary, "I've Got AIDS"). En Vogue, meanwhile, had hits of their own with power anthems like "My Lovin' (You're Never Gonna Get It)" and "Free Your Mind." The combo of their head-bopping chorus with Salt-N-Pepa's hard-rapping verses made "Whatta Man" (a reinterpretation of a 1968 Linda Lyndell song) a huge hit. En Vogue released their seventh album in 2018, and although Salt-N-Pepa haven't recorded a new LP since 1997, they continue to put on fan-pleasing shows. Meanwhile, we'll keep hoping that the final showdown with Thanos in Avengers: Endgame is set to "Push It."
The vital connection is made
The "British Invasion" of the 1960s stands as a defining phase in mid-20th century culture. During this brief window, the Beatles, the Rolling Stones, the Who, and a wave of other rock combos from the United Kingdom crashed upon American shores and became the hottest thing since the Revolutionary War faster than you could say "Bob's-your-uncle." Like Woodstock, this moment in '60s music came back around in the '90s. Unlike Woodstock '99, the British pop explosion of the '90s wasn't an unmitigated disaster, even if it didn't give the world quite as many enduring megastars as the first go-'round.
"Britpop" began as a reaction to the dour powerhouse of grunge coming from America. Bands like Oasis, Blur, and Pulp leaned into the aesthetics of "Britishness" to create a subgenre that eventually encompassed everything from the techno-gloom of Radiohead to the cosmic party power of the Spice Girls. Somewhere in the middle came Elastica, who found some chart success in the U.S. with their self-titled 1995 debut album and the single "Connection."
On "Connection," singer Justine Frischmann laments communication breakdown in the dawning Digital Age over a herky-jerky line of stuttering synths and guitars. It evokes the feeling of waiting for a webpage to load in Windows 95, making its inclusion in the scene of Carol Danvers AltaVista-ing for clues to her own identity very appropriate. Elastica released one more album, The Menace, before calling it quits at the turn of the millennium, though rumors of a reunion have swirled in recent years.
Riding high upon a deep depression
After her Kree flight suit earns her a smattering of odd looks from Los Angeles passersby (and one jerk who asks her for a smile), Carol realizes she needs to go undercover in her quest to find answers and evade S.H.I.E.L.D. Commandeering the motorcycle of the aforementioned creep, she dons the outfit of the nearest shop mannequin — leather jacket, pre-worn jeans, a flannel shirt tied around her waist, and a Nine Inch Nails t-shirt. This oh-so-'90s look was assembled by costume designer Sanja Milkovic Hays, who chose the "NIN" logo because it would tie Carol to the music scene of the time while remaining subtle and non-distracting.
The music cue that kicks in as Carol rides off on her stolen hog is not a Nine Inch Nails track, though it is something equally worthy of her grungy new aesthetic. "Only Happy When It Rains" was the breakout hit for Garbage, a band fronted by Scottish singer Shirley Manson. Propelled by the pairing of Manson's sultry vocals and the slick rock power brought by co-founder and drummer Butch Vig (himself a legendary producer behind such masterpieces of the era as Nirvana's Nevermind), Garbage made a name for themselves with this self-deprecating song about how so many grunge and alternative artists loved wallowing in misery. The band has remained consistently active since their 1995 debut, producing five more albums to date (and a James Bond theme to boot).
Victim to your own mind
In the 1990s, TLC had their sights set on every demographic. Breaking out with such fantastically-titled albums as Ooooooohhh... On the TLC Tip and CrazySexyCool, the trio of Tionne "T-Boz" Watkins, Lisa "Left Eye" Lopes, and Rozonda "Chilli" Thomas racked up awards and conquered the charts. '90s kids will also remember their theme song for Nickelodeon's sketch comedy show All That. In short, they were everywhere.
Captain Marvel makes use of one of TLC's biggest hits, "Waterfalls." This 1995 single, from CrazySexyCool, was a perfect storm of radio-friendly grooves under poetic and timely lyrics highlighting the AIDS crisis, gang violence, and drug addiction. It was particularly bolstered by its million-dollar music video directed by filmmaker F. Gary Gray, which visualized the song's dramatic themes and had the group transform into literal waterfalls via some then-cutting-edge Terminator 2-style CGI. Captain Marvel features far more advanced visual effects and less real-world drama, but its use of the song as Carol Danvers and Nick Fury drive into the desert toward danger feels nonetheless appropriate. Still no actual waterfalls to be seen, though.
TLC had a few more massive hits in the '90s, like the instant classic "No Scrubs," before Left Eye's tragic death in a 2002 car accident. T-Boz and Chilli carried on as a duo, finishing the album 3D before taking a hiatus from recording that found them overseeing various hits collections and the VH1 biopic CrazySexyCool: The TLC Story. In 2015, they ran a massively successful Kickstarter campaign to fund a new self-titled album, which was released in 2017. Though the pair definitively declared TLC their final album, they have sworn that they will perform together for the rest of their lives.
Challenge what the future holds
Most of the tracks featured in Captain Marvel are defined by tones of kickass action, brooding angst, or cosmic mystery. The '90s weren't all doom and gloom and danger, though. See "You Gotta Be" by Des'ree. This 1994 single became a feel-good staple of radio and advertising throughout the decade, climbing the charts and featuring in commercials for everything from Good Morning America to the Ford Focus.   
Des'ree has cited her belief in the power of positive thinking and daily affirmations as her inspiration for writing and performing "You Gotta Be." Its gentle strength underscores Carol Danvers' arrival at the Rambeau farmhouse, establishing without dialogue the feeling that, although her memories are still hazy, Carol immediately recognizes her old friend's home as a safe space amidst her world of galactic intrigue.
Des'ree later contributed "Kissing You" to the soundtrack for the Baz Luhrmann film William Shakespeare's Romeo + Juliet, another movie very much steeped in '90s culture. After releasing her fourth album, Dream Warrior, in 2003, she stepped away from the music business to focus on neuropathy. In 2019, Des'ree's longtime collaborator Tim Atack reported that she was returning to the studio.
As a known enemy
Nirvana's place in the pantheon of rock history has grown so mythic that the music is almost obscured by the legend. 25 years after Kurt Cobain's suicide rocked the music world, it takes effort to see past the omnipresent t-shirts and the countless parodies of Nevermind's swimming baby album cover and remember that they really were that good. The Seattle trio of Cobain, Krist Novoselic, and Dave Grohl hit the airwaves like a bomb at the turn of the '90s, inspiring countless imitators and seizing the spotlight by seemingly not wanting to seize the spotlight.
Though "Smells Like Teen Spirit" will always be known as Nirvana's signature song, "Come as You Are" is nearly as immortal, as evidenced by its inclusion in Captain Marvel. Its menacing bassline and intentionally conflicted lyrics set the tone for the final confrontation with the Supreme Intelligence. The song echoes from an imaginary turntable as Carol Danvers approaches her artificial nemesis with clear purpose for the first time, Cobain's stripped-down emotional honesty lending a personal edge to the impending action. 
What's my destiny?
The '90s found a lot of great artists projecting feminist themes through the disaffected, sarcasm-tinted lens of the decade. Perhaps none, however, were better at doing so with hooky rhythms and danceable beats than No Doubt. Frontwoman Gwen Stefani became a mouthpiece and icon for her generation, and "Just a Girl" shows why — over an undeniably catchy, upbeat bop, she cheekily taps into deep frustrations with the thousand tiny ways a young woman is underestimated every day. In its irony, the song weaponizes this underestimation and turns it back on its targets — just as Captain Marvel does in the climactic skirmish with her former Starforce teammates, making "Just a Girl" a clever (if a tad on-the-nose) inclusion in the scene.
Though it was their third album, Tragic Kingdom gave No Doubt their big break in 1995. "Just a Girl" was the first of a whopping seven singles to hit the airwaves in the music world takeover that followed. But — as pretty much anyone who was alive in the mid-'90s can attest — it was the sweeping breakup ballad "Don't Speak" that made No Doubt a truly inescapable pop culture force.
Tragic Kingdom helped to kick off the '90s ska boom that put an embarrassing quantity of trumpets on rock radio, but with future efforts like Return of Saturn and Rock Steady, the band explored the alt-rock and dance facets of their surprisingly diverse sound. A reunion album in 2012 didn't quite recapture their '90s glory, but Stefani's 21st-century career as a solo artist hasn't waned. In fact, there are probably lots of young fans who know her but are completely unfamiliar with No Doubt. To anyone who grew up in the '90s, that thought is bananas — B-A-N-A-N-A-S. 
Here's a little ghost for the offering
With the final battle won, the heroes of Captain Marvel return to the Rambeau farmhouse for a brief respite before Carol ventures into space with the Skrull refugees. Playing softly throughout the scene is the 1992 R.E.M. single "Man on the Moon," from the alt-rock landmark album Automatic for the People. The song is a kaleidoscope of images and references, shouting out moon landing conspiracy theories and the performance art of Andy Kaufman to illustrate the cosmic joke that is life, and the collapse of illusions at the end of it all. Fitting, given all the lies and deception that Carol Danvers has seen — and seen through — by her story's end.
Though it came smack in the middle of a prolific and successful 31-year career, Automatic for the People was a defining moment for R.E.M., as evidenced by the recent celebration of its 25th anniversary. The band amicably agreed to end their run after the release of their 15th studio album, Collapse into Now, in 2011.
It's interesting to note that, out of all the classic songs featured on Captain Marvel's soundtrack, the only two male voices you'll hear are those of R.E.M.'s Michael Stipe and Nirvana's Kurt Cobain. The two were good friends, and both are known for their sensitive, nakedly emotional lyrics and openness about issues of gender and sexuality (for instance, Stipe and Cobain each discussed their own bisexual leanings with The Advocate). Scoring the movie's more vulnerable emotional beats with the music of these men while leaving the action, rage, and inspiration to the female artists lets Captain Marvel subtly subvert the tonal expectations of an action movie audience.
Now you really made it
Courtney Love spent much of the '90s — unfairly, of course — in the shadow of the male rock stars around her. She happened to be married to Kurt Cobain and eventually collaborated with Smashing Pumpkins frontman Billy Corgan. These relationships sparked frequent music press rumors that these massively popular men were secretly more responsible for Love's music career than she let on. But even a passing glance at the discography and live performances of Love's band, Hole, should be enough to prove that she didn't need any help being as aggressive, poetic, and unpredictable as any rock god.
Under Love's leadership, Hole gained something of a reputation for a volatile stage presence, which may have contributed to the rotating roster of more than a dozen members who came and went over the band's 1989-2012 career. But amidst the turmoil, Hole could also craft soaring feminist anthems like "Celebrity Skin," the title track from their third album. Dropping in 1998, Celebrity Skin technically came later than Captain Marvel's setting, but seeing as the song plays over the end credits, that's hardly a problem. The song's high-flying edge is the perfect note to send audiences out of the theater... or underscore their wait for the inevitable post-credit scenes.
Welcome to the big screen, Captain Marvel. So glad you could make it.