The Suicide Squad: New Characters Rumored For James Gunn's Sequel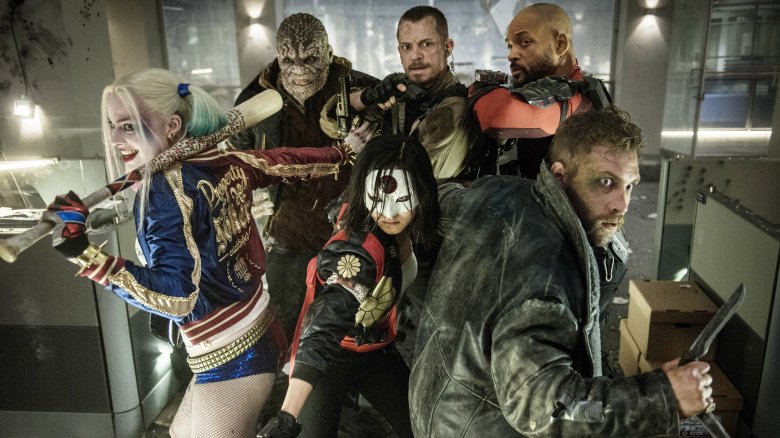 New director, new squad.
News has leaked surrounding the new characters that director James Gunn may enlist to fill out the roster in his forthcoming sequel The Suicide Squad, and it's a very different — although just as eclectic — ensemble from the one featured in the first flick. (via Collider)
First things first: earlier today, confirmation came that while Will Smith would not be returning for the DC sequel, his character of Deadshot would. Stepping in for Smith will be Idris Elba, a brilliant actor who has plenty of prior experience with comic book films thanks to his role as Heimdall, keeper of the Bifrost Bridge, in the Marvel Cinematic Universe. Heimdall (spoiler?) met an unfortunate end at the hands of the Mad Titan Thanos in the opening scene of Avengers: Infinity War, leaving him free to join Gunn (who, of course, has his own extensive experience with the MCU) in the rival DC Extended Universe.
So far, Deadshot is the only member of the original squad from the 2016 film confirmed to be returning for the sequel. Still open to speculation is what, if any, part Margot Robbie's Harley Quinn will play in the proceedings. We do know that she'll be reprising the role in next year's Birds of Prey (And the Fantabulous Emancipation of One Harley Quinn), but beyond that, Robbie's future in the DCEU is murky; a planned spin-off flick featuring Quinn and Jared Leto's Joker has been shelved along with a planned solo film for Leto, and while Robbie was certainly one of Suicide Squad's bright spots, there has so far been no confirmation one way or another on whether she'll return to the fold. A recent, extensive report on the future of the DCEU by Forbes seemed to put the nail in the coffin of the idea, but recent leaks (from those ever-present, mysterious "sources close to the production") indicate that it's still a possibility.
Now that that's out of the way, let's dig into today's news. It's been widely reported that Gunn's sequel (at times referred to as a soft reboot) will offer up a fresh take on the antihero team, and Collider's report certainly seems to bolster that notion. While none of this is confirmed as of yet, here are the characters rumored to be on tap for an introduction in The Suicide Squad:
Ratcatcher: The alter-ego of Otis Flannegan in the comics, Collider's sources report that the character will be gender-swapped for the film. A former exterminator residing in Gotham City, the character turned to crime after developing expertise with all manner of poisonous gases, not to mention the ability to communicate with (and command sizable armies of) rats. A longtime nemesis of Batman, Ratcatcher first appeared in the pages of DC comics in 1988.
King Shark: Also known by his given name Nanaue, the character has no alter-ego as he is literally a humanoid shark, possessed of all of the abilities that implies (such as eating people, we assume). He is the son of Chondrakha, the King of All Sharks, and was first seen in the comics going on a murderous tear through the beaches of Hawaii before being wrangled by Superboy. He made his first comics appearance in 1994, and briefly played sidekick to Aquaman during the 2006-2007 Sword of Atlantis storyline.
Polka Dot Man: AKA Abner Krill, also known as Mister Polka Dot; the Batman villain sports a suit of many (you guessed it) polka dots, which he can remove and transform into nearly any object for any purpose. The character has been around for decades, first showing up in Detective Comics #300 in 1962.
Peacemaker: The alter-ego of Christopher Smith, he's a soldier and vigilante who paradoxically is so dedicated to the cause of peace that he's basically down to murder anybody who isn't. The character first appeared in Charlton comics in 1966, before that imprint's acquisition by DC. Interestingly, it's been reported that Dave Bautista (Guardians of the Galaxy's Drax) may be up for this role, after he publicly lobbied to join the cast late last year; we'd like to add that, as much as we love him as Drax, we can absolutely see this part being a perfect fit for the star.
Today's report further states that Gunn's script sees Deadshot taking on more of an elder statesman role among the Squad, acting as something of a surrogate father to Ratcatcher in particular. That role, sources say, is open to actresses of any and all ethnicities.
As for the rest of the first film's principal cast, it's currently unknown whether Viola Davis (Amanda Waller) or Joel Kinneman (Rick Flagg) will be returning. Also, keep in mind that Gunn only began working on his script last October, and it's bound to go through at least a couple more drafts before the final version is locked in. This means that any of the above characters could be nixed, and on the flip side, it's perfectly possible that additional, as-yet-unannounced characters could be joining the fray.
It's exciting, though, to see the writer/director's vision for The Suicide Squad began to take shape, and it's obvious that he'll not be afraid to go for Maximum Weird in selecting his team's roster. This is, after all, the man who made a sentient tree and an anthropomorphic, gun-toting raccoon into household names — so we're thinking that if anybody can pull off a viable superhero teamup featuring a supercharged rat herder, a human shark, a guy who uses polka dots as weapons, and a "peace loving" stone-cold killer, it's Gunn.
The Suicide Squad is slated to hit screens on August 6, 2021; we'll keep you updated with additional details as they become available.