Riverdale Resumes Production Following Luke Perry's Death, Pays Actor Tribute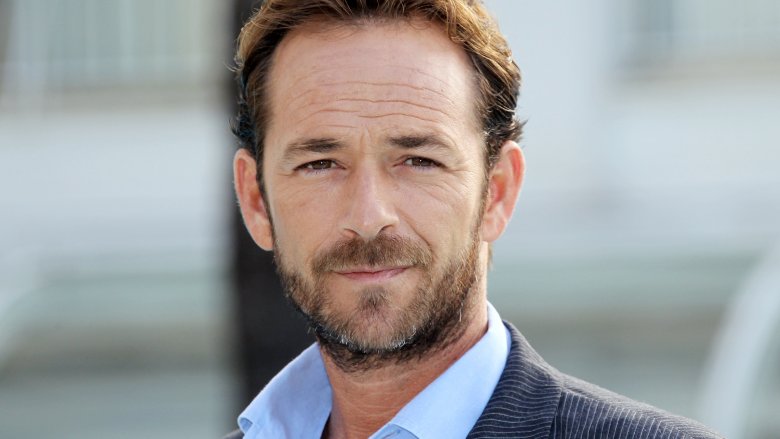 Getty Images
Riverdale is back up and running.
Following the untimely death of one of its brightest stars, Luke Perry, Riverdale has resumed production.
The Archie Comics-based series, on which Perry portrayed Fred Andrews, temporarily shut down production on Monday, March 4 — the day Perry passed away at the age of 52 due to complications from a massive stroke he suffered on Wednesday, February 27. Deadline confirmed that filming on Riverdale began again on Wednesday, March 6. 
That same day, Riverdale aired the first episode since Perry's passing. The 14th installment of season 3, entitled "Chapter Forty-Nine: Fire Walk with Me," it featured a tribute to Perry — an In Memoriam card that displayed on screen at the very end of the episode. 
It's assumed that while the lights of Riverdale's sets were out between March 4 and March 6 that the series' writers, led by creator Roberto Aguirre-Sacasa, revisited the completed scripts for the remaining episodes of the third season, of which there are seven, excluding "Chapter Forty-Nine: Fire Walk with Me." Perry's character, the father of KJ Apa's Archie Andrews, was a crux of the series' story — having been entangled in the Black Hood mystery of season 2 and the ongoing drama and destruction of the Gargoyle King (whose identity remains unknown) and the table-top role-playing game Gryphons and Gargoyles within season 3. As of this writing, it's unclear what the Riverdale writers have chosen to do with Perry's Fred Andrews, though a resolution should reveal itself in upcoming episodes. 
Before Riverdale premiered its most recent episode on Wednesday, Aguirre-Sacasa took to Instagram to share a photo of himself with Perry and several other cast members (like Lili Reinhart, Mädchen Amick, Madelaine Petsch, Hayley Law, and Marisol Nichols) when the series was still in its infancy. He noted that all future episodes of Riverdale — season 3 and beyond — will be dedicated to Perry.
"Going through pictures on my way to set. From the early days. With Luke in the middle. Our heart, always. Tonight's episode of #Riverdale finds Fred doing what he does best — helping Archie. It is dedicated to Luke, as all episodes will be for the rest of our run," wrote Aguirre-Sacasa in the caption of the snap, adding a red heart emoji. 
At the time of Perry's passing, Aguirre-Sacasa and Riverdale executive producers Greg Berlanti, Sarah Schechter, and Jon Goldwater issued a statement remembering him for the incredible person he was: "We are deeply saddened to learn today about the passing of Luke Perry. A beloved member of the Riverdale, Warner Bros. and CW family, Luke was everything you would hope he would be: an incredibly caring, consummate professional with a giant heart, and a true friend to all. A father figure and mentor to the show's young cast, Luke was incredibly generous, and he infused the set with love and kindness. Our thoughts are with Luke's family during this most difficult time."
Actress Lili Reinhart, who plays the ever-ponytailed Betty Cooper on the series, shared to her Instagram page a powerful message in light of Perry's death. 
"When someone you love, gets taken from you. And the small circumferences surrounding you is stuck. Frozen in a moment. Of loss. And shock. Yet the people passing you are moving at full speed. Did they not feel the earth shake? Or slow? Can they hear the thoughts screaming in my head? His name. His face. Memories. Flashes. Of a friend. A lost friend," she uploaded to her Instagram Story (via PEOPLE). "We always expect the earth to stand still. For the universe to grieve the loved ones we have lost, along with us. But it keeps moving. Maybe as a sign that we should too. The movement of strangers, like a wave taking us with them. So we ebb and flow with the passage of others, coasting off their energy and conserving our own. Because it's too hard to give anything right now. To anyone. Except for him. The one we've lost. And I pray that he's silently moving in tandem with us. Guiding us through the waves even when we can't swim."
Reinhart also expressed her condolences on Twitter, writing, "I'm finding it hard to grasp that he will no longer be around to give long hugs and share his wisdom and kindness with all of us. I'm thinking of his family. His children. I pray for them to heal and find peace in this devastating loss. I just can't believe it."
Casey Cott, the 26-year-old actor who portrays Kevin Keller on Riverdale, also honored Perry in a tweet: "I'm totally heartbroken. Luke took me under his wing the day I was cast and made me feel like I belonged. He was the most generous, wise soul with unmatched kindness. He treated everyone with love and joy. We had so much fun. Praying for his family."
Our continued thoughts are with Perry's loved ones during this time of mourning.