Game Of Thrones: Could Catelyn Stark Still Be Alive?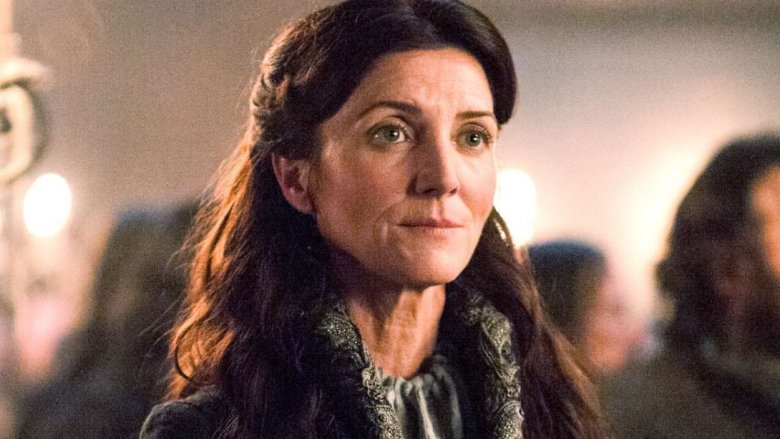 HBO
Contains spoilers for Game of Thrones and George R.R. Martin's A Song of Ice and Fire novel series
The Red Wedding took her out, but did someone powerful bring her back? In the weeks leading up to Game of Thrones' season 8 premiere, fans (like those at Stylist) have yet again started buzzing about the possibility that Lady Catelyn Stark (Michelle Fairley) is alive, and that viewers will soon see how and when she returned from the dead.
From the moment Game of Thrones aired the penultimate episode of its third season, entitled "The Rains of Castamere," audiences have been clinging to the hope that one of the episode's victims, Lady Catelyn, was somehow still alive. That episode, one that sent shockwaves rippling through the Thrones fandom and inspired countless live-reaction videos that A Song of Ice and Fire series author George R.R. Martin later reacted to himself, featured perhaps the bloodiest event in the show's run: the Red Wedding. There, Lady Catelyn was caught in the crosshairs of the fight between her son Robb Stark (Richard Madden) and Walder Frey (David Bradley), who felt betrayed after Robb failed to uphold his promise to marry one of his many daughters and instead wed the Volantene healer Talisa Maegyr (Oona Chaplin). After pleading Lord Walder to let Robb walk free, Catelyn murders Joyeuse Walder's eighth wife Joyeuse (Kelly Long) in retaliation for stabbing Robb and Talisa, then succumbs to death when Walder's son "Black" Walder Rivers (Tim Plester) slits her throat seconds later. 
Lady Catelyn's death was as clear as day: the Lannisters' infamous warning song, "The Rains of Castamere," played over the massacre, and viewers watched as she took her very last breath. But many believe that the fallen Stark woman didn't truly leave our mortal coil. Popular speculation is that Lady Catelyn will make a return on the series' upcoming eighth and final season, assuming a form that, as of this writing, has been seen only in Martin's A Song of Ice and Fire novels: Lady Stoneheart. 
Within Martin's books, Lady Catelyn does die at the Red Wedding — but she's taken out of the hall at the Twins and dumped into the Green Fork, one of the rivers that makes up the Trident of the Riverlands, as a way to mock the funeral customs of her maiden house, House Tully, which requires that the dead be placed on a small boat, sent along a body of water, and then lit on fire. Several days after her passing, the Brotherhood Without Banners finds Catelyn's corpse, and Lord Beric Dondarrion (played on Game of Thrones by Richard Dormer) resurrects her after giving her the last kiss of R'hllor, the Lord of Light. 
Lord Beric sacrificed the flame of life inside him so that Lady Catelyn could live again — just as Thoros of Myr (played on the show by Paul Kaye) had done to Beric after he died during the Battle at the Mummer's Ford. While the resurrection itself worked, the aftermath was terrifying. Because Catelyn had been dead for a few days before the Brotherhood Without Banners stumbled upon her, only a portion of the wounds she suffered at the Red Wedding ever healed, some of them closing up just half way. She's left horribly mutilated, completely mute, and overtaken by bloodlust and a desire to avenge the death of her family. 
"The Freys slashed her throat from ear to ear. When we found her by the river she was three days dead. Harwin begged me to give her the kiss of life, but it had been too long. I would not do it, so Lord Beric put his lips to hers instead, and the flame of life passed from him to her," Thoros of Myr tells Brienne of Tarth (played by Gwendoline Christie on the series) in A Feast for Crows, the fourth book in Martin's series. "And... she rose. May the Lord of Light protect us. She rose."
Martin describes post-resurrection Lady Catelyn in expectedly grisly fashion, writing, "Her cloak and collar hid the gash his brother's blade had made, but her face was even worse than he remembered. The flesh had gone pudding soft in the water and turned the color of curdled milk. Half her hair was gone and the rest had turned as white and brittle as a crone's. Beneath her ravaged scalp, her face was shredded skin and black blood where she had raked herself with her nails. But her eyes were the most terrible thing."
Definitely not the beautiful Lady Catelyn everyone was used to, that's for certain. 
Catelyn soon takes on the moniker Lady Stoneheart and begins her quest for vengeance. Catelyn slaughters and hangs those with connections to House Grey, House Bolton, and House Lannister — regardless if they were involved in the Red Wedding or not. Blood is what Catelyn was out for, and blood is what she got. 
Speeding forward, Lady Stoneheart eventually discovers that Brienne of Tarth is wielding Jaime Lannister's sword, Oathkeeper, an action that she and the Brotherhood Without Banners view as traitorous. When Catelyn was alive pre-Red Wedding, Brienne vowed fealty to her — but carrying a Lannister sword, in Lady Stoneheart's eyes, breaks that pledge. Stoneheart tells Brienne that she must again prove her loyalty by murdering Jaime, which Brienne refuses to do, even as Stoneheart begins to hang her and her men, Podrick (played on the show by Daniel Portman) and Ser Hyle. But when Brienne witnesses Podrick choking, she yells "sword!" (as Martin confirmed in a live reading of the scene) to stop the hanging and signal that she will kill Jaime to save her companions. 
This all leads to the idea that Lady Catelyn will return to the Game of Thrones television series, that if she's alive and facing off against characters in the books, that she could do the same on the show. 
Viewers insist that Lady Stoneheart made an appearance on Thrones season 7, popping up in the middle of the sword-fighting sequence between Brienne and Arya Stark (Maisie Williams) that took place during episode 4, "Spoils of War." When Arya asks Brienne, "Didn't you vow to serve both my mother's daughters?", an auburn-haired woman who looks a lot like the late Lady Catelyn is shown walking in the background of the Winterfell castle. 
It hasn't been confirmed whether this was truly Catelyn or just a random woman, but it hasn't stopped fans from latching onto the idea that a Catelyn return is in the cards. 
And speaking of Winterfell, we know that Game of Thrones season 8 will take three of the four living Stark kiddos down to the castle's crypts. A teaser for the upcoming season depicted Arya, Sansa (Sophie Turner), and Jon Snow (Kit Harington) — who is actually a true-born Targaryen, but that's another Pandora's box to open on another day — in the catacombs, walking past the statues of their deceased family members before staring at ones of themselves. Maybe Catelyn will step out of the shadows in the crypt? It would definitely be momentous. 
If Lady Catelyn (as Lady Stoneheart) does resurface in Winterfell, the Brotherhood Without Banners probably wouldn't be far behind. Thoros of Myr, as fans know, died after capturing a wight during season 7 — but Beric is alive. However, his fate is unknown after Daenerys Targaryen's (Emilia Clarke) dragon Viserion took down the Wall where he and Tormund Giantsbane (Kristofer Hivju) were located.
Reuniting with her children at Winterfell would allow Catelyn to see that Brienne really had upheld her vow, to discuss what life has been like for her daughters, to bond with Jon over the horrors of dying and then coming back to life (remember when Jon was dead for a couple of episodes at the start of season 6 before Carice van Houten's Melisandre summoned the Lord of Light and resurrected him?), and to confront Jaime about his involvement with Brienne. 
This would make for some epic Game of Thrones content, especially in the series' final season, but it seems pretty unlikely. We haven't heard a peep about Lady Catelyn becoming Stoneheart, despite Thoros and Beric having every chance to say something about resurrecting her if that really is canon in the Thrones television series. Even more importantly, if Beric did bring her back, he wouldn't be alive. He is — meaning that, as far as Game of Thrones the show is concerned, Lady Catelyn is probably still sitting at the bottom of the Green Fork as we speak. 
Additional nails in this particular coffin are comments from Martin and Fairley, both of whom are insistent that Lady Catelyn is dead as dead can be and that she isn't coming back on television. 
According to A Song of Ice and Fire theorist and YouTube content creator Preston Jacobs, Martin said during 2016's Balticon that Lady Catelyn had "been cut" from the show. "He said if he were involved in the show things would be different, but he's busy trying to finish books," Jacobs noted. 
Fairley herself previously confirmed to Entertainment Weekly that any third-hand chatter about Lady Catelyn returning to Thrones is inaccurate. 
"I don't look that stuff up. I avoid it like the plague," she said. "Yeah, the character's dead. She's dead. You respect the writers' decision. I knew the arc, and that was it. They can't stick to the books 100 percent. It's impossible... they only have 10 hours per season. They have got to keep it dramatic and exciting, and extraneous stuff along the way gets lost in order to maintain the quality of brilliant show."
As of now, it doesn't appear all that likely that Lady Catelyn will make an appearance on Game of Thrones season 8, but there is a slight possibility that she might. Those involved with the show have been known to say one thing when the opposite is true (like insisting that Jon Snow was never coming back to life when that turned out to be a complete lie), so perhaps Martin and Fairley were simply trying to purposefully mislead fans so that Lady Catelyn's return as Lady Stoneheart would be that much more shocking. 
Game of Thrones has plenty of big fish to fry, dangling threads to tie up, and mysteries to solve in its final six episodes — so even if Cat never makes a surprise return, viewers will have lots of juicy storylines to sink their teeth into when season 8 premieres on HBO on Sunday, April 14.