Was Lady Stoneheart In The Latest Episode Of Game Of Thrones?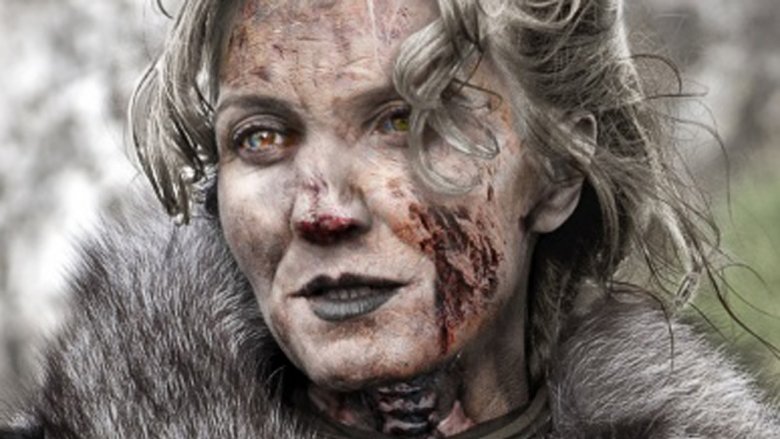 Warning: This post contains spoilers for the Game of Thrones series and the A Song of Ice and Fire novel series. 
Did we seriously miss spotting one of the most buzzed-about figures in all of Game of Thrones history?
The latest episode of Game of Thrones—season 7, episode 4, "The Spoils of War" at the time of writing—featured plenty of epic moments, from a dragon battle that saw Jamie Lannister (Nikolaj Coster-Waldau) going face-to-face with Drogon to Ayra Stark (Maisie Williams) returning to Winterfell to spar with Brienne of Tarth (Gwendoline Christie). But now, some fans are claiming that there was an even grander, more thrilling element in the episode that we were all oblivious to: the appearance of Lady Stoneheart. 
In Game of Thrones lore, Lady Stoneheart is the spirit of Lady Catelyn Stark (played in the HBO fantasy drama by Michelle Fairley), who was murdered at the Red Wedding orchestrated by Walder Frey (played by David Bradley). The George R. R. Martin-penned novels describe Lady Catelyn has having been thrown into a river after her death, later resurrected by Baric Dondarrion (Richard Dormer), who gives her the last kiss of R'hllor, the Lord of Light, and sacrifices his life for hers. None of this is seen in the Game of Thrones television series. That is, until now, a fair few fans are arguing. 
Eagle-eyed viewers noticed a figure lurking in the background of a scene from "The Spoils of War" that shows Arya and Brienne looking at one another. Before the two face off in their playful sword fight, while older sister Sansa (Sophie Turner) looks on, Arya mentions that Brienne "swore to serve both my mother's daughters." It's at this moment that the figure, an unidentified woman with long hair and a green robe, is briefly shown walking in the background. Take a look at the moment in action in the video below, and get a closer look at a snap posted on Twitter.
Given that all the living full-blooded Stark children have reunited in the north, coupled with Arya's perfectly timed statement, it seems pretty plausible that Lady Stoneheart would pop up at Winterfell to keep an eye on her kids. Contrarily, the figure in question could simply be a paid extra that really isn't worth mentioning. In any case, author Martin has previously stated that HBO and the Game of Thrones showrunners let a good Lady Stoneheart adaptation slip out of their fingers, despite producers saying they never genuinely thought about including the character on screen. 
Of course, this is all just speculation for now. While we ruminate on the possibility of a bonafide Lady Stoneheart appearance, read up on the other mysteries Game of Thrones has yet to solve.  
Is Lady Stoneheart in Winterfell???#GoTS7e4 pic.twitter.com/O1OrPDWGQP

— jmt981 (@JoeTorres81) August 9, 2017