Jay And Silent Bob Reboot: First-Look Photo Revealed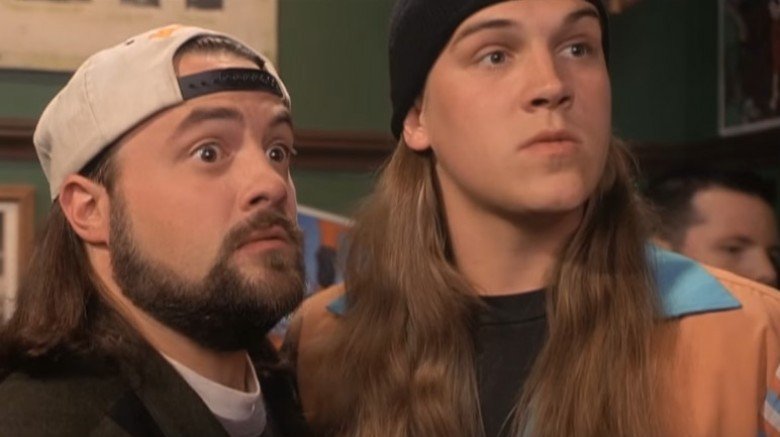 Hollywood had it coming: the first photo from Jay and Silent Bob Reboot is here. 
Kevin Smith, the Silent Bob of the Jay and Silent Bob franchise and the director of the forthcoming reboot, shared an exclusive snap from the new movie. 
Posted to his Facebook page on Friday, March 1, the picture shows Smith and co-star Jason Mewes (who plays Jay, naturally) looking at something off camera. Both dudes are wearing shocked expressions on their faces, while Mewes' Jay is rocking some updated threads. For the reboot, he sports a sweet new Ranger Danger shirt designed by Captain RibMan, the same artist responsible for creating Smith's own Fat Man logo. Smith added another photo to his Facebook update, one of the Ranger Danger: Requiem comic cover displayed on Jay's tee. 
"SNOOGANS! Here's a first look at @jayandsilentbobreboot, courtesy of our genius @dpronlevy and our master stills artist @kylebonokaplan. On this adventure, Silent Bob's dressed pretty much the same as he's been in #Dogma through #clerks2, but Jay's outfit has changed a bit, including his Ranger Danger t-shirt designed by Captain RibMan (the artist who created my Fat Man logo). Years back when I was working on Clerks III, Ribman and I came up with a slew of Ranger Danger comic covers to flesh out the world of the flick and make it seem like Ranger Danger had been around as long as Superman and the Fantastic Four. When Clerks III went away, the artwork sat dormant on my laptop for years," Smith wrote in the caption of the photos. "But when Reboot started taking serious shape, I blew the dust off the Ranger Danger artwork and put it to work all over Brodie's Secret Stash. But I saved the Dark Knight-ish Ranger Danger: Requiem shirt for Jay to wear throughout the flick because in the world of our movie, Ranger Danger: Requiem is a gritty, rebooted version of a childhood superhero fave."
Smith went on to note that Friday marked the end of the first week of filming on Jay and Silent Bob Reboot, which started principal photography on Monday, February 26, one year after he suffered a life-threatening heart attack. Though cameras have been rolling for only a few days now, the Jay and Silent Bob Reboot team has already shot a ton of cool scenes — and some cameo appearances sure to make franchise fans dance in their seats. 
"What a wonderful week it's been! We've already shot a fist fulla cameos and @JayMewes is CRUSHING his return to the role that made him famous!" Smith said. 
It's great to see everything coming up Jay and Silent Bob Reboot, particularly since the movie was originally slated to start shooting over a year ago, in late 2017. Given that it's been 13 years since fans have seen Smith and Mewes as the herbal heroes up on the big screen (in Clerks II in 2006), they're bound savor every little update Smith offers from behind the scenes. And there will be no shortage of such awesomeness: Smith and Mewes have started a "making-of" series called "The Road to Reboot," which will give extra insight into the movie-making process, on Smith's YouTube channel. The first chapter of the series is available to stream now.
For those not caught up on all things Jay and Silent Bob Reboot, the new flick is a fun take on sequels, reboots, and remakes — while being all three at the same time. It is, as Smith once described it, "literally the same f***ing movie" as the original Jay and Silent Bob, and sees the title pair heading back out to Hollywood when they discover that film executives are making a reboot of the movie they made about Jay and Silent Bob all those years ago. 
"In Jay and Silent Bob Strike Back, our herbal heroes found out Hollywood was making a movie based on them, so they journeyed out to Hollywood to stop it," Smith previously noted. "In Jay and Silent Bob Reboot, our herbal heroes find out Hollywood is making a reboot of the old movie that was based on them, so they journey out to Hollywood to stop it again."
Will they succeed? Only time will tell. 
Jay and Silent Bob Reboot is currently without a release date, but we'll update you (probably courtesy of an announcement made by Smith) when it scores one.