Jay And Silent Bob Reboot Begins Filming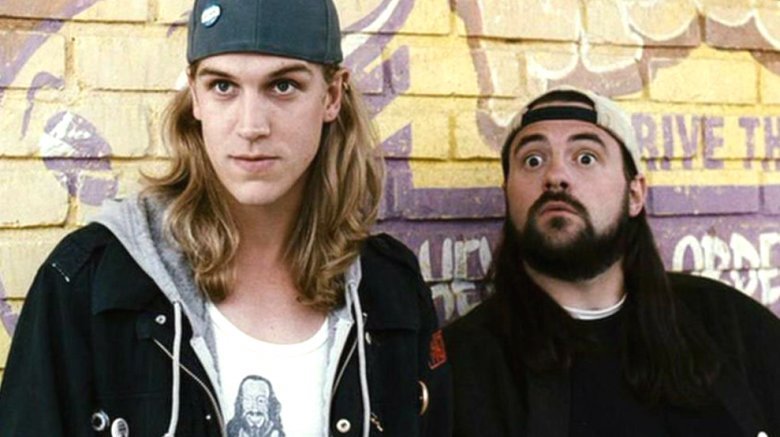 We can almost hear it now: "I feel good today, Silent Bob. We're gonna make some money, then you know what we're going to do? We're gonna make a reboot."
Jay and Silent Bob Reboot has officially begun filming, Kevin Smith announced on Monday. 
The actor and filmmaker, who first portrayed the stoner-slash-gadget-genius Silent Bob in 1994's Clerks, broke the news on Instagram, writing that Monday, February 25 was the first day of principal photography on the new Jay and Silent Bob project. 
Why February 25 to mark the start of shooting on Jay and Silent Bob Reboot, the kooky reimagining of the original Jay and Silent Bob from 2001? As Smith explained in the caption of a photo of himself, co-star Jason Mewes (who plays the long-haired, profanity-loving Jay to Smith's Silent Bob), and Jason Lee (who portrayed Brodie Bruce, a.k.a. Banky Edwards, in Jay and Silent Bob Strike Back), February 25, 2019 is the one-year anniversary of the life-threatening heart attack he suffered after performing a stand-up comedy set at the Alex Theatre in Glendale, California. Smith survived his self-described "widow-maker" heart attack, switched up his eating habits and made big lifestyle changes, and is now more than ready to tackle Jay and Silent Bob Reboot — particularly on a day that represents such a dark and terrifying time in his life. 
"One year ago today, I almost died. So today, I'm living it up on with @jaymewes and Jason Lee on Day 1 of my new flick @jayandsilentbob Reboot!" he began, moving his attention to give thanks to Jay and Silent Bob distributor Saban Films, his daughter Harley Quinn Smith, and his wife Jennifer Schwalbach Smith. "Thanks to @saban_films and Universal for the loot to make this epic, @jordanmonsanto and @destrofilms for making it happen, @jenschwalbach and @harleyquinnsmith for humoring my goofy bulls*** one more time, and #jasonmewes for standing beside me all these years while I do the hardest thing I can personally ever do, either in film or in real life: simply shut the f*** up."
Smith continued, revealing that the first scene the crew shot for Jay and Silent Bob Reboot involved Lee's Brodie Bruce and the local mall. He also reiterated that he couldn't be happier that the heart attack didn't take his life, and noted that the first day of shooting the upcoming film was both hilarious and heart-warming. 
"I couldn't think of a better scene with which to start the shoot than the return to the Mall with Brodie Bruce. The three of us gathered for a couple hours last night to run the lines and realized we first rehearsed together waaaaay back in the mid-90's. It may be 24 years later and we may have 6 kids between us, but Jay, Lee and me partied like it was 1995, giggling while adding jokes and finding inflections," wrote Smith. "The Oscars were on in the background during our practice and I couldn't help but feel relief when the 'In Memoriam' montage ended and I wasn't in it."
He ended the announcement post with a sentiment that will soften even the steeliest of hearts: "We picked 2/25 as the Reboot start date *intentionally*, to celebrate the fact that I did not become Silent Bob forever 365 days ago. But after a blissful couple hours of making pretend with my friends on the set of my 14th film, I'm starting to think I *did* die in that operating room after all. Because what could be more Heavenly than this?"
Fans of Smith's View Askewniverse films — which include Jay and Silent Bob Strike Back, Jay and Silent Bob's Super Groovy Cartoon Movie, Clerks, Clerks II, Mallrats, Chasing Amy, and Dogma — should smile at this news and be giddy to see Lee back in the mix as Brodie Bruce. Mewes previously promised (via MovieWeb) that Jay and Silent Bob Reboot will see the titular duo with a little more edge to them, detailing that both his Jay and Smith's Silent Bob will be "more mature ... older and a skosh wiser," so longtime loyals will have the chance to see the heavy-smoking dudes in a new light. 
But never fear – Jay and Silent Bob Reboot will feature plenty of inanity, goofy antics, swear words, and slapstick comedy just as the original did. That familiarity gets carried over into the reboot-sequel's plot, too: Jay and Silent Bob Reboot is, as Smith has affirmed time and again, essentially the exact same movie as its predecessor. 
"In Jay and Silent Bob Strike Back our herbal heroes found out Hollywood was making a movie based on them, so they journeyed out to Hollywood to stop it. But I've learned so much as a storyteller and have grown immensely as a filmmaker since then, so audiences can expect something completely different: In Jay and Silent Bob Reboot our herbal heroes find out Hollywood is making a reboot of the old movie that was based on them, so they journey out to Hollywood to stop it again," Smith stated, elsewhere adding, "It's a movie that makes fun of sequels and remakes and reboots, while being all three at the same time. It's gonna be a blast."
Jay and Silent Bob Reboot was initially meant to get behind cameras in the fall of 2017, but those plans obviously changed after August of that year. And when Smith suffered the massive heart attack last February, everything came to a stand-still. It's wonderful to see Smith healthy, Mewes and Lee by his side, and the whole gang on set. 
Written and directed by Smith, Jay and Silent Bob Reboot doesn't yet have a release date. Now that filming has begun, we should hear about a prospective launch date sometime in the near future.